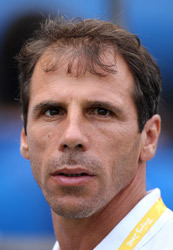 Gianfranco Zola has been SACKED as West Ham manager, but who will replace him? See the next West Ham manager betting here.
West Ham United have sacked manager Gianfranco Zola.
The Hammers have confirmed that they have fired the Italian, following a meeting earlier today.
The news comes as no great surprise as Zola has been at loggerheads with new owners David Sullivan and David Gold since they took charge at Upton Park in January.
The 43-year-old former Chelsea player, who had no previous managerial experience at club level, took over from Alan Curbishley in September 2008.
Zola signed a new four-year deal near the end of his first season, as West Ham finished ninth in the Premier League.
But this season they struggled and ended up in 17th place, only one place above the relegation zone.
The club confirmed Zola's exit in a statement, saying: "West Ham United confirm that they have terminated the contract of Gianfranco Zola.
"The Board of Directors would like to thank him for his contribution and wish him well for the future. The club will now be focusing its efforts on seeking a replacement.
"The club will be making no further comment on this matter."
In a statement issued via the League Managers Association (LMA), Zola stated: "I am extremely disappointed to be leaving West Ham United. Over recent weeks, I have been the subject of various adverse comments, from within the club, which have been widely reported in the media.
"Despite what has been a very difficult period for me, I have thoroughly enjoyed my time at West Ham. I would like to sincerely thank the players and my staff for their continued support, hard work and commitment. I extremely proud of their efforts, over a long and difficult season, in retaining West Ham's place in the Barclays Premier League.
"West Ham is a great club, with fantastic supporters and I wish the club every success in the future. The termination process of my contract is now in the hands of the LMA and I therefore will be making no further comment at this stage."
Commenting on Zola's departure, LMA Chief Executive, Richard Bevan, said; "Clear communication and a supportive framework at the top of a football club are essential for stability and delivering results.
"Gianfranco has had to manage his team through a period of significant uncertainty at the club and has shown dedication, resilience and commitment to his players, staff and the fans.
"Without a doubt Gianfranco is a talented young manager and I am sure that in the fullness of time he will be back working in the game."
Zola, who began his playing career in 1984 for Italian side Nuorese, made his name at Napoli, helping the club to their second Serie A title in 1990.
He moved to Parma in 1993 and played in both legs of the 2-1 Uefa Cup final win over Juventus two years later.
Zola was then brought to Chelsea for £4.5m by manager Ruud Gullit in 1996.
Zola ended his playing career at Cagliari, helping the club to promotion to Serie A in 2004.
Gianfranco Zola has been SACKED as West Ham manager, but who will replace him? See the next West Ham manager betting here.
Make sure you don't miss any of the last news and articles from World Soccer. Subscribe to World Soccer today and take advantage of our all 50th anniversary offer, saving up to 50%!