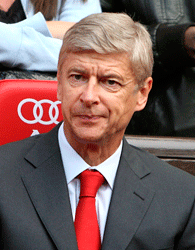 Two of the lowest scoring teams in the Premiership can reward low goals backers tonight, according to Simon Hopper – see the full Fulham v Hull betting preview here.
Arsene Wenger has revealed that he was tempted by an offer to coach Real Madrid, but in the end he could not leave Arsenal.
One factor in his decision to stay is that he made a pledge to his current batch of youngsters that he would remain in charge at Emirates Stadium.
"Real is the club of my childhood. When I was a kid, watching those guys in white, winning everything, then of course I am attracted by that club, but I have a pact with the young players of my team, and I want to succeed with that bet," Wenger told L'Equipe.
"I identified what was important in my job: freedom. Here, I have it.
"I could have earned bigger wages at Real, but I earn a good living in London. At my age, money can't play a key role.
"If I left for Real, I would have tried to filter through my philosophy, re-organized everything. I could have given foundations to the club's structure.
"That would not have prevented me from signing Ronaldo or Kaka. But that team is only built on bought players, while Real has a tradition of a beautiful game.
"They have to do what has been achieved at Barcelona through young players: creating a culture."
Wenger also reiterated his conviction that the current Arsenal side could win this season's Champions League.
"People say I love a 'romantic' game, which is a kind of searching for beauty," he added. "You need such an ambition at the start. However, I am not a champion for beauty and only for beauty. Pleasure also comes from winning. I advocate extra soul: a team built patiently, with young players dedicated to remain together for five or ten years, and that can identify with the culture of the game and the club," said Wenger.
"My team is ready to play a Champions League final. Why not winning it? We have more assets this year than the last one, because we have more certainties and more mental strength.
"Maybe I am more a builder than an investor. Actually I am realistic. When I made them build Emirates Stadium, I told myself: 'How could we stay at the highest level playing with the best players, against the best clubs, respecting the well-balanced finances at the club?' To me, the only solution was creating a team of young players, little by little, to lead them to high level."
He also criticised clubs like Real and Manchester City for spending spending exorbitant sums on players, suggesting it was akin to 'cheating'.
"That is not idealism," he said.
"We are very close to making it in the Champions League with a very young team, respecting a well-balanced budget, facing clubs that do not necessarily respect that. Playing when you lose €150million, to me it is cheating.
"I have been criticised for not hiring Xabi Alonso or Gareth Barry. But if I signed them, I would have killed Song, Diaby and Denilson," he insisted.
"My principles have forbidden me to do that. Actually, the moment when I was the most criticised at Arsenal, last season, was the moment when I did the most for the club.
"I told the shareholders we have to trust this team. Everything is based on my own conviction. If in two years I don't have any success, it will be my fault. It is a bet I made."
Wenger is now the longest-serving manager in Arsenal history and he admits to considering his own legacy, feeling a Champions League title is a necessity for him.
"I am not dreaming to become immortal," he said.
"When a coach remains a long time in a club, he has to leave that stamp, that mark. That is what I am dreaming to achieve. It would be unforgivable to have had the privilege of longevity and leaving no trace after me. But that means a win in the Champions League, because great wins reinforce certainties and give rightfulness to a culture."
The Arsenal boss alsodiscussed his pursuit of Bordeaux striker Marouane Chamakh and he was less than impressed by the French club's attitude.
"He's a player I like, it would be great to have him but I have too many attackers – but frankly, Bordeaux was not very classy to me," he continued.
"They asked too much money and I do not want to pay as much. Chamakh, I even called to tell him: 'Listen, Eduardo came back, I'm not going to let you sit on the bench'."
Two of the lowest scoring teams in the Premiership can reward low goals backers tonight, according to Simon Hopper – see the full Fulham v Hull betting preview here.
For more fascinating features, subscribe and save 30% and use the below link?