Chelsea boot
Few Russian oligarchs got where they are today without possessing a ruthless streak, so the decision by Chelsea owner, Roman Abramovich, to fire Roberto Di Matteo just 6 months after the Italian had led the club to Champions League glory, does not constitute a surprise. Especially when one considers that since Abramovich took over in 2003, he has now waved goodbye to 8 different coaches.
Classy club that they are, Chelsea announced Di Matteo's departure via Twitter. Presumably, they thought this an appropriate medium for a man who had been in charge for just 23 matches. Perhaps the next man in charge, whose appointment seems destined to be short-lived, will discover his fate via a tinyurl link.
Speculation as to the identity of the next Chelsea manager has begun in earnest although it's surrounded Di Matteo since the moment he walked through the Stamford Bridge gates. The preferred choice is believed to be former Barcelona coach Pep Guardiola, but given that he's currently enjoying a one-year sabbatical from the game, Abramovich will have to dig very deep to pull that one off. With bottomless pockets, you never know.
Early favourites with the bookmakers include Rafa Benitez and Harry Redknapp. Both have their credentials: Benitez because he has experience of succeeding a Champions League-winning manager; Redknapp because he and Abramovich can share tips on how to avoid paying tax.
Benitez says he's interested in taking charge at Stamford Bridge. Of course he is. He hasn't worked for two years and as the most recent job he was linked with was QPR, it's clear that the big clubs are not exactly beating a path to his door. 
He told Sport360°: "I have just found out [about Di Matteo]. Obviously Chelsea is a top side and they can compete for trophies so it goes in this category."
Asked if Chelsea had already made an approach, he replied: "You ask directly, I cannot answer directly. In football a lot of people are talking so we will see what happens in the next few days. I am looking for a club that can challenge for trophies and Chelsea is one of these clubs."
We'll take that as a no, then.
He's back
Didier Drogba has asked FIFA for special permission to move on loan from his Chinese club despite being outside the official transfer window.
FIFA said Wednesday it is considering the former Chelsea forward's request for an exemption from international rules.
"The FIFA administration services are looking into it," FIFA said in a statement.
If FIFA grants Drogba's request, the 34-year-old Ivory Coast captain could play for a new team to prepare for the African Cup of Nations, which kicks off on Jan. 19 in South Africa.
Existing rules prevent Drogba from representing another club until January. 1.
Drogba signed a contract until 2014 with Shanghai weeks after helping Chelsea win the Champions League title in May. To say he has been missed at Stamford Bridge would be an understatement, with the European champions facing the ignominious prospect of becoming the first holders to get knocked out of the following season's competition at the group stages.
A return to his former club would make sense for both parties. Drogba could do with some playing time ahead of January's African Cup of Nations, while Chelsea could with someone up front who's not Fernando Torres.
Skill of the day
Andres Iniesta provides a wonderful demonstration of his dribbling skills during Barcelona's 3-0 victory over Spartak Moscow.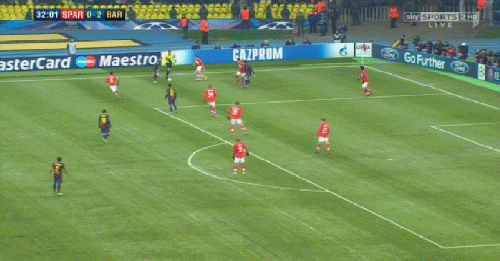 Goals of the day
Willian lashed home from outside the box in Shakhtar Donetsks's 5-2 win over Nordsjaelland.
Striker's instinct
While Willian took the plaudits for his wonderful strike, fellow Shakhtar striker, Luiz Adriano, had some explaining to do following this incident.
Shakhtar coach Mircea Lucescu has claimed that the Brazilian's goal was attributable to his striker's  instinct.
"I'm very sorry that we scored a goal that caused so much controversy," he said after the match. "Luiz Adriano told me that his instinct made him score the goal.

"
But mysteriously disappeared when it came to celebrating it.
Quote of the day
"I repeat what I told before that City will be out of the Champions League. They can win tomorrow because it is a match and they have a team to compete with Real Madrid, so why not, they can win. They can do the same against Borussia but eight points will not be enough so I think City will be the big team that will be out."
Asked about Manchester City's Champions League hopes, Jose Mourinho doesn't mince his words.
Ronaldo does his bit for charity
A number of news outlets are reporting a story that Cristiano Ronaldo has made a charitable donation of €1.5 million to the children of Gaza. It's a slightly misleading piece as the donation comes from the Real Madrid foundation which raised that amount at auction by selling the Golden Boot won by Ronaldo in 2010-11.
Last year the Portuguese forward sold most of his sports shoes at a Real Madrid Foundation auction which was also dedicated to raising funds for schools in Gaza.
The Real Madrid Foundation has helped to build 167 schools in 66 countries.
Messi business
While Lionel Messi continues to set goalscoring records – 2 more last night to take him past Ruud Van Nistelrooy as the second highest scorer in the history of the Champions League – his cousin, Maxi Biancucchi, has accused the president of his Paraguayan club of racism.
Olimpia's Marcelo Recanate is accused of racially abused Biancucchi over reports the 28-year-old was considering a move to Qatar.
"We've sent the letter and all the documents. FIFA will receive them on Thursday," Biancucchi's lawyer Ricardo Scarane told Radio 970 AM.
"Maxi is aware of all that was said. He has been made to feel very hurt by Marcelo's remarks and is fulfilling his contract for the love of the fans."
In demand
The big guns are queuing up to sign David Beckham now that his Hollywood career is coming to an end. Australia's A-League are working feverishly to secure a short-term deal, while the UAE are seen as another possible destination and China, the number one retirement home for ageing footballers, cannot be ruled out. Closer to home, though, and indeed his hometown of London, comes the intriguing possibility of a move to West Ham.
"He was an ambassador for the London 2012 bid and it would be a fantastic statement if he came to us," West Ham chairman David Gold told reporters. "He's an East End boy and it would be a fitting end to his career. We've also been mindful of his value as an ambassador to help us secure the Olympic Stadium."
With Beckham, the football has become more or less incidental.
Finally…
Swansea defender Ashley Williams has berated Luis Suarez, accusing the Liverpool forward of being an habitual cheat and admitting he was so angered by the Uruguayan in one game last season that he wanted to 'knock him out'.
Writing in his book, the snappily-titled, My Premier League Diary, Williams claimed Suarez dived more than any other player he has faced and went on to criticise his 'superior' manner on the pitch.
"Suarez has that aura about him that says, "I'm untouchable", and his manner and behaviour made me want to knock him out," says Williams.
"I'd go as far as to say that the manner in which he approached the game, with utter contempt for us all, means that he's streets ahead of any player I've truly disliked since we've been in the Premier League.
"He dived more than any other player I've played against before – it was so bad I was genuinely shocked.
"Throughout the game, he just dived down and screamed at any given moment.
"Now, obviously, diving has crept into the game more and more in recent years and, as a defender, you have to be aware of it.
"But even the players you know that like a dive at least wait until there is some sort of challenge or contact. Not Suarez.
"A couple of times I'd hear the scream, see him writhing on the floor and for the life of me couldn't see where the contact could have been."
Ironically, the book was approved for publication by former Swans boss, Brendan Rodgers who now, in his capacity as Liverpool coach, has the thankless task of trying to defend Suarez's excesses on a weekly basis. The two clubs meet on Sunday in what should be an interesting return to the Liberty Stadium for Rodgers.