The Terminator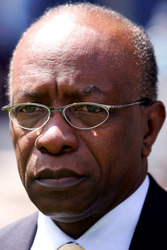 "I'll be back" or words to that effect were uttered by disgraced former FIFA vice-president, Jack Warner, when asked whether he had unfinished business in the world of football. Now, either this is the deluded boast of a man who can't come to terms with his diminished status or, he really does know where the bodies are buried.
Warner, who quit his roles at FIFA and CONCACAF last month amid allegations he had facilitated the paying of bribes, told the Trinidad Guardian: "You can never tell what the future holds. There is some unfinished business which I will have to finish in both FIFA and CONCACAF at the appropriate time and who knows I may go back."
"The only expert on FIFA in this country [Trinidad] is me and in the fullness of time I will tell this country what FIFA is and what FIFA is not."
Don't hold your breath though.
On the move
In a surprising twist to the ongoing transfer saga of Manchester's City's Carlos Tevez, the homesick Argentinian has been the subject of a bid from his former club Corinthians.
The offer has two things going for it: firstly, the Sao Paolo-based club is only a thousand miles from Tevez's home town of Buenos Aires; secondly and more significantly, it's a long, long way from Manchester.
A bid of around £40million is understood to have been lodged by the Brazilian club, who are reportedly able to fund the deal because of sponsorship deals and a new TV deal.
"Negotiations have already begun. Corinthians are in contact with us," said his agent Kia Joorabchian. "His [Tevez] dream and mine is to see him back with Corinthians. He said he has a job that does not end there, he wants to return because he has the dream of winning the Copa Libertadores.
"The priority is Corinthians, but we have other options," added Joorabchian, a man who will never let the grass grow under him if there are fresh deals to be made.
Goals of the day
Tevez was abruptly dropped for Argentina's final Copa America group game against Costa Rica. His replacement, Sergio Aguero, scored twice and Angel Di Maria added a third as the hosts finally found some form in what has been a disappointing campaign thus far.
Lionel Messi played a perfectly-weighted pass for Aguero's and Argentina's second.
.
Almost a replica pass from Messi, this time to set Di Maria free and the Real Madrid winger finished emphatically.
Maradona
Remaining in Argentina, national icon Diego Maradona has been hurt when the car he was driving collided with a bus on the outskirts of Buenos Aires. No idea what caused the crash, but news of Corinthians' shock bid for Tevez might temporarily have disorientated him.
Maradona, who coached Argentina at last year's World Cup finals and who earlier this year agreed to coach United Arab Emirates side al Wasl, was travelling with his partner, Veronica Ojeda, but the pair emerged relatively unscathed.
"Maradona is fine, he suffered virtually no whiplash," said hospital director Oscar Sico. "They (he and Ojeda) were taken hospital as a precaution but have no problems. They can both go home."
Cowards
The England's women's team have reacted angrily to accusations made by Hope Powell that they are weak and cowardly.
Speaking in the aftermath of England's World Cup penalty shootout defeat to France, Powell said: "Three times I had to ask [for volunteers] before anyone stepped forward…You've got to want to take a penalty, but other players should have come forward and they didn't. That's weak, it's cowardice."
Midfielder Jill Scott, supported by two team-mates, was understandably unhappy and Tweeted: "You win as a team, you lose as a team".
Powell's comments were also questioned by defender Casey Stoney.
"I don't think anyone's a coward and that's not the impression I got from Hope when she debriefed us after the game," Stoney told BBC Radio 5 live. "She said she was very proud and we should hold our heads up high."
Powell has hinted that she may step down from her role as England's national coach. No sign yet of a player-led campaign to persuade her to stay.
Blackmail
A South Korean coach has been arrested for blackmailing a player over his involvement in the match-fixing scandal that has engulfed the country's professional soccer league.
The head coach of K-League side Sangju Sangmu Phoenix, clearly aggrieved that he was one of the few people in South Korea not making money out of match-fixing, took the law into his own hands and demanded 10 million won (£5900) from the parents of the player to conceal his role in the scandal.
"Coach Lee has been arrested yesterday on suspicion of intimidation… We are still investigating the case," the spokesperson of the defence ministry's prosecutor's office told Reuters on Tuesday.
Missing in action
Thirteen members of an Eritrean club taking part in a regional championship in Tanzania have disappeared after the side was knocked out of the tournament, a Tanzanian soccer official said on Tuesday.
"Thirteen out of 26 players of the Eritrean team have disappeared," secretary general of the Tanzania Football Federation (TFF) Angetile Osiah said. To lose one player is unfortunate, but 13?
"Some team members colluded in the incident by trying to stamp the passports of the missing players at airport immigration checkpoints but when a physical head count was conducted, it was discovered that 13 players were missing."
FIFA-watch
Poor old FIFA. Even when they attempt to do the decent thing, they still have an enduring capacity to get it wrong.
As part of its World Cup legacy programme, FIFA, in association with sponsors Hyundai, planned to donate 1 million footballs to Africa.
However, according to Alive & Kicking, a sports-and-education charity, the programme is misguided and counter-productive.
"On a practical level the balls being distributed are made of plastic, which will soon deteriorate in the dry African conditions," said Alive & Kicking.
"Apart from leaving millions of children with a useless burst ball within days, Alive & Kicking [estimate] the environmental impact of 1m plastic footballs being dumped on the continent … will amount to 450 tons of plastic littering the landscape."
A drop in the ocean compared to what the western world dumps each year on Africa, but that shouldn't excuse FIFA's shortsightedness.
Money talks
Serie A's clubs have finally reached an agreement to settle the long-running dispute about the distribution of television income.
After months of negotiations, in which a split emerged between the top five clubs – Juventus, Milan, Inter Milan, Roma and Napoli – and the rest, the breakthrough came at a league assembly.
According to TV Sports Markets, the income is to be distributed by taking into account surveys of supporter bases as well as audience ratings for televised matches. The 15 smaller clubs agreed to a significant reduction in the weight given to audience ratings compared to the survey findings.
Translation: the bigger clubs will get a bigger share of the pie.
Finally…
Iraq has appealed to Bahraini authorities to release an Iraqi football player who was detained in the Gulf kingdom this year during anti-government protests. The president of the Iraqi Football Association, Najeh Hamoud, told The Associated Press that his country was trying to "secure the release" of Zulfiqar Naji, a 16-year-old player on the junior team for Bahraini club Al Muharraq.
The news comes in the wake of last week's claims by friends and relatives of the Bahraini internationals A'ala Hubail and his brother Mohammed, that the pair were beaten and threatened in custody after being arrested for their involvement in the protests.
"You are British: imagine David Beckham gets arrested and tortured. It's unthinkable," a friend of Hubail told the Times.
FIFA, which was asked to investigate claims of torture,  says Bahraini football officials have given them assurances that no national team players had been tortured during the political turmoil. Ah well, that's alright then.