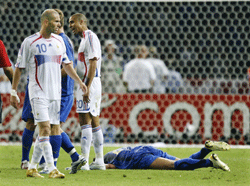 Zinedine Zidane's agent has attributed the player's headbutt on Marco Materazzi to a "very serious" remark made by the Italian defender.
Zidane appeared to react to something that was said and was dismissed for his assault on his opponent.
"He told me Materazzi said something very serious to him but he wouldn't tell me what," agent Alain Migliaccio told BBC Radio Five Live.
Sources in France say it is believed Materazzi insulted Zidane's mother and there have been suggestions that the Italian referred to Zidane as a terrorist.
"I don't know, Zinedine didn't want to talk about it but it will all come out in the next week," Migliaccio added.
"He is a man who normally lets things wash over him but on Sunday night something exploded inside him.
"He was very disappointed and sad. He didn't want it to end this way."
Meanwhile, France defender William Gallas also believes Zidane was provoked by Materazzi.
"I didn't see it but sometimes football is not only with the ball," the Chelsea defender told BBC Sport.
"Sometimes when you have a player who is very clever and says something to you then maybe you are angry and want to 'kill' that player.
"Maybe, and I say maybe, he has made a mistake."
"I don't know what he (Materazzi) said. You'll have to ask him but he's gone. I know why he's gone because maybe he's done something wrong."
"Zidane didn't say anything," said Gallas. "He was very disappointed for everybody – for the team and himself.
"I'm very sad for him. It was his last World Cup and everybody wanted to win for him.
"We deserved to win but that is life. I think we played very well and better than Italy but sometimes football is very strange.
"Everybody is disappointed. I hope we will maybe win next time."
The father of Marco Materazzi believed his son was the victim in the incident.
"I spoke to my son briefly after the game," said Giuseppe Materazzi.
"Marco had told me he had been provoked. It's as though they have something against him each time.
"In the past two years, Marco has only been on the receiving end and the injuries he has sustained are proof of this.
"I don't want to be controversial, but there are things that have to be said instead of just pointing the finger and putting a black mark against someone."
The France squad arrived back on Monday and went straight to a lunch reception hosted by President Jacques Chirac.
Chirac offered his support to the beleaguered player.
Chirac said: "Dear Zinedine, in such a hard and intense moment for you, I would like to express the whole nation's affection and admiration for you.
"You are a virtuoso, a genius of football and an exceptional human being. That is why France admires you."