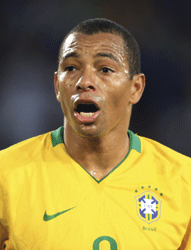 World Soccer: The way you celebrated after winning this year's Confederations Cup was as if you had won the World Cup. Did it feel that good?
Gilberto Silva: What we did was something fantastic. We celebrated the title a lot because it was not easy to achieve. But the personality we have in the team, to come back in the game [Brazil were 2-0 down to USA], and the quality we have was something special.
This year was not so easy for me because I had to fight to get back into the Brazil side, so to be there in the Final was extra important as well. Now we want to go back next year and do the same again in the World Cup.
How important was the experience of the Confederations Cup for Brazil as a team?
Very important. Every competition for Brazil is very difficult because if we don't do our job in the proper way we can't achieve what we want. And because we are Brazil everyone expects so much. We also found out about what it will be like in South Africa next year. We saw the pitches, we felt the atmosphere, we got to understand the country.
Are you prepared for some defensive opponents in the World Cup?
You have to expect it. Sometimes teams will mark man to man, as South Africa did against us in the Confederations Cup, and in these kind of games you need to be patient, which we were. If we think we can win every game very easily it's not right, football has changed. You need to be aware of that. If we are not focused for 95 minutes it's hard.
Has it has worked out well for you at Panathinaikos?
Yes. It was not easy to leave Arsenal, but I needed to be in the team to play for Brazil. And at Panathinaikos I am playing every week and I am playing for Brazil, so in the end it was a good decision.
There was no bad feeling at Arsenal. The only reason I left England was because I didn't have many chances to play. Maybe if I did I would have stayed another season.
Can you ever see yourself playing in England again?
It's not impossible but I am 32 now so I doubt it.