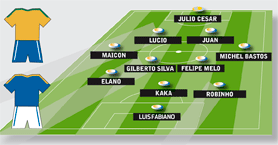 For a while Dunga used a line of Robinho, Kaka and Ronaldinho behind a lone penalty area striker, but there was a feeling that the three of them got in each other's way. Once Ronaldinho was dropped there was more space into which the team could launch its fearsome counter-attack.
In for Ronaldinho came a right sided midfielder – Elano, though Ramires and Daniel Alves are alternatives. The latter two can themselves initiate the counter, but one of the advantages is that whoever plays there can drop and cover the advances of Maicon.
It does mean, though, that the midfield is pulled over to the right. The left back can be isolated, and Brazil can be vulnerable in this area. Fixing the problem entails Gilberto Silva dropping into the defensive line to the right, freeing Juan to cover across.
Up front, Luis Fabiano can at times drop to make space for the ball over the top for Robinho.
Dangerous free-kicks
Daniel Alves is a frequent substitute, occasionally introduced at left back. He freely admits that he cannot play there, but it means that he is on the pitch to take his dangerous free kicks.
Brazil's set pieces are full of variations. They can be struck either to the near, far post or in the middle, with a phalanx of giants attacking the ball. A favourite is the corner that curls out away from the goalkeeper not far from the near post.
Team – 4-2-3-1
Julio Cesar; Maicon, Lucio, Juan, Michel Bastos; Gilberto Silva, Felipe Melo; Elano, Kaka, Robinho; Luis Fabiano.