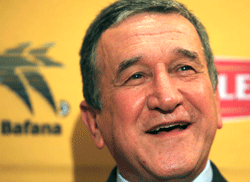 razil are already favourites
to win the World Cup for a record-extending sixth time
next year. Is that justified?
Yes – because Brazil have got it just right to win the World Cup. I've been watching the team closely of course over the last 15 months in the qualifiers. I am not saying that Brazil are ready to go to South Africa and play especially good football, but I can say that they are ready to go there and win. There is a difference. But I have been with Brazil to four World Cups in different roles and I have this strong feeling about their chances now. It's because they look so solid in
defence and this is the big challenge for any national coach of ours: teaching the team to defend.
But that is not enough on its own, is it?
No, but it is an essential part of the work. People didn't used to believe that, but it has always been true. Then, once the team has learned to defend no one else can play as well as we can. We can pass, we can create play as well as any other team in the world – and better than most. Since he became coach, Dunga has worked to build a team which can get nine men behind the ball when it is defending; then, going forward, no one can stop us.
Brazil could almost have run up double figures against Italy in the Confederations Cup couldn't they?
Yes, but don't take the Confederations Cup too seriously as a guide. It was the end of the season and the European players were tired, particularly the older ones. Italy will be a different proposition if we have to play them next year in the World Cup. Different, but not unbeatable, of course. We can score goals from so many areas of the pitch, not just with Kaka, Luis Fabiano, Robinho and so on.
You were manager of South Africa before you had to return home to Brazil. How do you rate their prospects for the World Cup in front of their own fans?
The challenge is the same for any
host nation: you have to get past the first round. That is important for the team, it's important for the home fans and it's also important for the tournament. They did well in the end at the Confederations Cup in reaching the semi-finals but it will be very different when it's the World Cup.
The other countries will bring their strongest teams and they will all be
fit and focused. South Africa should not be overconfident because they finished fourth at the Confederations Cup and nearly beat Spain.
Is there a big risk that South Africa will go out in the first round?
I don't think so. I think they can go
to the second round, though obviously that depends partly on
what the draw in December provides. The problem they have to face comes from the way the game is organised
in South Africa. There is no proper youth development system and that
is a major problem. Young players do not come through in the quality or quantity they should do, the way they do in many other countries.
What can be done?
Nothing that will make any difference in time for the national team at the World Cup. The league in South Africa is very powerful and that creates problems for national team development. When I was national coach I went to the league and suggested that they allow only two foreign players per team per game. At least that would have been some sort of encouragement and help for South Africa's own home-grown players. But they wouldn't do it. It's a pity. As a short-term answer it would have helped. It would have given greater opportunity and confidence for home-based players.
Finally, how do you feel about Rio de Janeiro being chosen to host the Olympic Games in 2016 – two years after Brazil stages the World Cup?
It's great – we deserved it and we are ready for it. The political system is very stable now, far more than for years. The infrastructure will be ready – and the World Cup, of course, will have helped. There is no better time for Brazil than now. I was with President Lula in Copenhagen [for the voting] and I can say there has never been
a Brazilian president who puts so much time and effort into his
personal support of sport. This is very important because in Brazil we don't have the sort of private-sector system as they do, for instance, in the United States. So organising events such as the World Cup and the Olympic Games all depends on public money, not the private sector – that is non-existent.