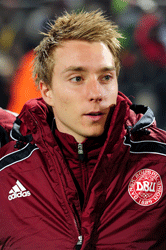 World Soccer: Why did you go to Ajax at the age of 16?
Christian Eriksen: We thought a lot about the best move to make away from Denmark and when to do so. There were a lot of clubs to choose from at the time, but it was a big step for me and I thought Holland would be the best league; and that Ajax, with their reputation for helping young players, would be the right place.
Their attitude to youth is well known in the game and many Danish footballers have been there in the past, like Frank Arnesen, Soren Lerby and Jan Molby.
A big factor was that there would be much more chance of playing regular first-team football quite quickly than if I went to one of the bigger countries. It was very important and it seemed right. I love playing for Ajax and the atmosphere around the club is very good. Now that I live by myself as well, it's a very exciting time.
Many people have compared you to Denmark legend Michael Laudrup. How do you react to that?
I am too young to have seen him play, but I've watched a lot of videos and I have read his books. He was a big personality in the game, the biggest in Denmark, and of course it pleases me to be compared to him. Maybe it's not an easy comparison for me and it brings some pressures with it, but that's how football works and I am okay with that. I can see from the videos why people think we have a similar style. The funny thing is that I have never met him. We have just never been in the same place, but I'm sure it will happen soon.
What about your future, when so many big clubs in Europe are linked with buying you?
At the moment I'm not thinking too far ahead. I am very happy at Ajax, where I have a contract until 2014, and my aim at the moment is just to score a few more goals for the team. There has been criticism that I should score more and I think that's fair enough. In youth football I got many goals, but now I'm in the first team I'm not scoring. It's strange, but I know I'm playing well enough. I'm getting the chances, I'm just not taking them. It's just about confidence really.
What about the speculation that Milan and Liverpool want you to join them?
I have read about Milan's interest, but there has been no contact with them. Liverpool is a new thing to me. It is fantastic to think that such big clubs have their eyes on me, but I don't worry about it. As I said, I am very glad to be with Ajax now, playing as a No10. It's hard to say what will happen in the future, but if I do leave Ajax it will be for a big club.
Which other clubs do you admire at the moment?
Well, Barcelona, of course. They have a wonderful style; the way they move the ball around is very nice to look at. Something is always happening in a game. It's never dull – and you can't say that about every team. It looks so easy when you watch them play, but of course the "easy" thing they do is the hardest to achieve. You know that as a player and it makes them special. My dream, I guess, would be to play in Spain one day. I think it would suit my style. But if I can improve my physical strength in the next year or two, which is my aim, then I could also play in the English Premier League.
This extract is taken from an interview published in the April 2011 issue of World Soccer.