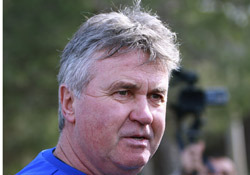 World Soccer: It is clear that the players and supporters at Chelsea would have liked you to remain at the club. Was there ever any chance of you combining the job of Premier League manager with that of Russia's national coach?
Guus Hiddink: I enjoyed working with the squad at Chelsea every day, but I know with all my heart that I have a commitment to Russia as well. Two years ago we started building up to the European Championship in Austria and Switzerland; building a team and improving the organisation around the team. Now we have started the qualification process for South Africa – which isn't going to be easy – I have a mutual commitment with the Russian team and I have challenged them to qualify. It would not be fair to leave them. Even though I loved working at Chelsea, I cannot let these guys down. I don't like that and I won't do it.
But you've had two jobs at the same time before and it worked then…
But that was different, that was with PSV and Australia. Australia had been asking me for many years to help them qualify for the World Cup and eventually I agreed, but I said I would only do it if I could keep my full-time job with PSV. In preparation for the play-off game with Uruguay the Australia squad even came to Eindhoven to prepare so that I could keep my attention on the main job at PSV. The situation now is a little bit different. When we looked at Russia's schedule, from February to the end of May, there was just the Liechtenstein and Azerbaijan games before Finland in June, so that made things easier.
Were you tempted to stay for another go at the Champions League?
Yes I was tempted but, as I said before, I have this commitment to the Russian players. We have started something together and if they are successful I want to be there with them. If we don't qualify, I also want to be with them. We are in this until the end.
You have a great record as a coach, but was it hard for you to sell yourself to the Chelsea players, knowing that they have had strong characters like Jose Mourinho and have won a lot of titles? Did you feel more pressure on yourself because of that?
No I don't feel pressure. I feel the tension, but that gives me energy. The players had won titles but I was curious to see if they had the desire to play and win. The whole team reacted and showed desire.
What did you do to certain players to raise their level of performance? Didier Drogba was struggling before you arrived, Florent Malouda and Salomon Kalou improved. How do you get the best out of players?
Didier had a difficult time in the first half of the season, but he reacted in training. I try to judge players, find what they are capable of, what their ability is. I think everyone can go a little bit further than sometimes they think they can. I look for the boundaries of a player's performance. You have to create an atmosphere in which they can perform and we worked hard with Drogba, as we did with every player. He was eager to play, not because of me, but because he was motivated to show his ability.
Your relationship with the club's owner, Roman Abramovich, made it possible for you to work at Chelsea and Russia. Could he have helped you to stay next season?
This special relationship, which is one of the main reasons I did what I was asked to do at Chelsea, is a relationship between Roman Abramovich, the Russian football federation and Chelsea. That was the only reason I could do both jobs. I could not go to another club and be the manager of the Russian national team as well.
You've worked all over the world. What job have you enjoyed most?
I've been in this profession a long time now, but I still enjoy coming to the training ground every day, working with young players and helping them with their problems. I had some good times in Spain, but even at one or two clubs where things were more difficult I still enjoyed being there and working there, so I have no preference whatsoever.
In your opinion, is the Premier League the best in the world?
It is the best in the world, as was shown by the Champions League semi-finals having three English teams again. I think the concept is very good in England. Players like to play in England, which makes the league strong. It's well organised, players have good contracts and it's lovely to play in an English environment. The stadiums in England are very alive, which makes it special. When the clubs can sign the best players then, yes, automatically it will be the best league.
Fabio Capello has complained there aren't enough English players in the Premier League. In light of that, how do you think he has done as England manager?
He has definitely revived the English team. I talk with John Terry, Frank Lampard, Ashley Cole, and they tell me how much they enjoy being in the national team, playing for England with a lot of pride.
But the first remark is also true. When I've been in charge of a national team I love to have home-grown players playing for the country's big clubs. I think in the future we will see more and more home-grown players coming up through the big clubs.
How do you think Capello has been able to revive the team?
He knows football. He's one of the most successful coaches in the world and he gets to know his players. I think he's very strict and tells his players what he expects from them, but basically he enjoys the game and he allows his players to enjoy the game within a certain discipline.
Do you think it's difficult to keep motivating players at the top clubs because of the big salaries, the big egos and the big lifestyle?
No it's not difficult, I think there is a natural selection. If a player is well paid by a club but is not motivated then he will slip away. If a manager has to motivate players, and they don't have their own motivation and desire, then it's wrong. When you sign players it's no good just looking at how someone plays. As a manager you have to know also more about his personality, about his character, about his desire. The normal desire must be there. If it's not, don't sign them.