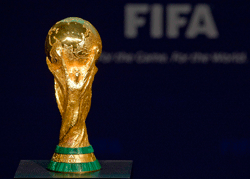 Blatter attacks Sunday Times entrapment but allegations have damaged FIFA
Even the self-secure Swiss have been embarrassed enough by the vote-rigging allegations to consider a rapid change to close a legal loophole by which directors and officials of locally-based international sports organisations are exempt from criminal action concerning alleged corruption and bribery in office.
Parliamentarians were quick to raise concerns over a lack of legal supervision for the likes of FIFA, UEFA and the International Olympic Committee that had come to light following the Sunday Times revelations about exco members Amos Adamu from Nigeria and Oceania president Reynald Temarii.
FIFA president Sepp Blatter was reported by the Zurich newspaper Tages-Anzeiger as fully in favour of a law change.
Yet he also called the move by the Sunday Times "entrapment" and criticised its methods. "Fair play shouldn't be just on the pitch…why would an English newspaper do that?" he asked.
Blatter's critical aside had been buttressed by the wounded complaint of Asian confederation president Mohamed Bin Hammam that the Sunday Times had been unethical.
All this, suggested another article in Tages-Anzeiger, may not have been quite such welcome reading in the "House of Football". This article – under the headline "Sepp Blatter sollte den Journalisten danken" (Sepp Blatter would like to thank the journalists) – was written by Res Strehle, one of Switzerland's senior journalists and an editorial director.
He discussed the fallout from the manner in which Sunday Times men had pretended to be American business representatives to obtain recordings in which Adamu and Temarii appeared to offer to sell their votes in exchange for financial support for personal domestic sports projects.
Strehle's article went on to explain the variation in privacy laws from country to country. He assessed Swiss law as sustaining that undercover pretence was legally permissible when there were no other apparent means of serving the public interest.
Strehle pointed out that tales of possible corruption had circled around FIFA for years – how Germany won the 2006 vote, for example – without anyone having ever been able to come up with proof.
Pitches in Nigeria
Adamu, president of the West African Football Union, had told reporters he wanted £500,000 to build pitches in Nigeria and had suggested that the money be paid to him directly for endorsing the US bid – the real US bid was not involved in any way, of course.
Asked whether the money for a "private project" would have an effect on the way he voted, he replied: "Obviously, it will have an effect. Of course it will. Because certainly if you are to invest in that, that means you also want the vote."
Temarii was alleged to have asked for money to finance a sports academy.
The two were submitted for investigation by the FIFA ethics commission – headed up by former Switzerland international Claudio Sulser and which provisionally suspended them – as were allegations of collusion over voting between Spain/Portugal and Qatar.
All denied the claims ahead of the verdict of the ethics commission, who had also applied provisional suspensions to former exco members Slim Aloulou, Amadou Diakite, Ahongalu Fusimalohi and Ismael Bhamjee. Blatter described it as "a sad day for football".
A Sunday Times follow-up named a key informant in its enquiries as Michel Zen-Ruffinen, the former FIFA general secretary. Zen-Ruffinen was filmed by reporters, again posing as lobbyists, and advised them on what it would take to win the backing of some of the FIFA exco members. He suggested some could be influenced by money, another by "ladies", while another was "the biggest gangster you will find on earth".
Zen-Ruffinen had provided a toxic dossier of ammunition for a cabal of 11 mainly European, anti-Blatter plotters within the executive committee in early 2002. However, the subsequent Seoul congress saw Blatter rout the opposition and kick Zen-Ruffinen out of not only FIFA but, in effect, the world football family. Now described as a "consultant", Zen-Ruffinen's role never came within Sulser's investigatory remit.
Nor was Sulser ever called on to consider a minor and ill-considered spat between England and Russia over reported comments about the London crime rate by Alexei Sorokin, the Russian bid chief executive. Sorokin claimed his words had been misinterpreted and taken out of context.