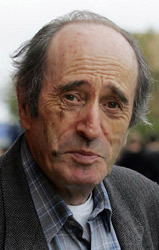 No report I have seen deigned to mention it, but Jimmy Ballard took the field for Fulham off the substitutes' bench at West Ham after 77 minutes. By all accounts he didn't do very much.
How could he, since he hadn't played a first team game since his appalling, severe knee injury in Fulham's fourth match last season. Till then he had looked in coruscating midfield form, an inspiration to the team, having come to them from Wigan. Without him, Fulham's midfield couldn't possibly look the same. Any more than could their attack this season when, early on and with no opponent near him their American centre forward, Brian McBride, was hurt and denied to them ever since then. McBride being far and away their chief hope of making or taking goals, with his evasive positioning, his power in the air, his opportunism.
Such absences were compounded by the policies on and off the field of Lawrie Sanchez, the Northern Ireland manager who replaced Chris Coleman – now doing quite well in Spain with Real Sociedad , the Basques – late last season. Sanchez is known to favour the long ball; all very well when Fulham still had the supreme distribution of Johnny Haynes to exploit it, but largely ineffectual now.
Sanchez's transfer police was deeply controversial. He got rid of his towering centre back Zat Knight, who was happy to move back to his native Birmingham to join Aston Villa, but he left Fulham's defence all too vulnerable in the air. Disputable too was the decision by Sanchez to sell another big man, Senegal's Papa Bouba Diop, to Portsmouth. His sheer strength has unquestionably been missed in midfield. And it was perhaps significant that when Portugal's attacker, Luis Boa Morte, also sold by Sanchez, came on as a sub last Saturday at Upton Park, the Fulham fans who were present gave him a loud cheer. Fulham last season were a very luck team to stay up. They did so largely because Liverpool, disgracefully, put out against them in a vital late match, what was virtually a reserve team; and lost.
So what of Roy Hodgson if Fulham go down, which their present five points disadvantage makes more and more likely? I've known and admired Roy for many years. Not least when in the late 1990s I spent time with him out at Inter's Appiano Gentile training ground near Milan. The son of a Croydon bus driver, never more than a moderate amateur footballer. Roy made his name as a manager in Sweden, above all at Malmo with whom he won no fewer than five consecutive championships.
He realised, he once told me, that he had been spoiled in Sweden when he accepted the chance to coach Neuchatel in Switzerland, with their volatile Italian owner. But from there he went on to become an outstanding manager of the Swiss national team which; under his aegis, qualified for the first time for 28 years for the finals of the World Cup in 1994 in the USA, beating Italy at home enroute and very nearly beating them away. In the USA, the Swiss reached the second round where Spain beat them. "We played the football," recalls Roy, "they scored the goals."
***************
It was Don Quixote who tilted at windmills. An analogy here, perhaps, with those in football journalism who try to defend the indefensible; in the shape of the hapless Steve McClaren.
To suggest that, had he stayed in office, things for England could have gone better stretches credulity. How, with England out of the European finals, could they have got any worse? The suggestion that he has been loyal and true not to blame his players ignores the fact that they were far too often the wrong ones. The endless failure to perceive that Gerrard and Lampard could not co exist. The ludicrous decision to keep Paul Robinson in goal as he was so clearly a bundle of nerves. The 3-5-2 fiasco in Croatia. The fatuous obsession with a waning David Beckham. The defence – or should it be the offence?
***************
Last Saturday, I was at Stamford Bridge to see Nicolas Anelka make, in the 57th minute against Spurs, his debut for his new club, Chelsea. And most impressive it was. Only a glorious save by the Spurs keeper, Cerny, and the underside of the bar prevented him scoring.
With Didier Drogba – still seemingly determined to leave Stamford Bridge and Andrei Shevchenko still injured. Anelka could be of his importance to Chelsea, on his second spell in London. His first of course came years ago when the predatory Arsenal filched him from an outraged Paris Saint Germain, for nothing, though they later tossed PSV a derisory half million pounds. Later selling him to Real Madrid for £22 million plus, his dreadful brothers, acting then as his agents seemed perpetually to wind him up when he was at Highbury, leading him constantly to complain of this and that.
But his supreme talent as a striker were undeniable. Not least when he scored twice for France against England in a Wembley friendly and had a third doubtfully disallowed. He has cost Chelsea £15 million in his transfer from Bolton, money which Roman Abramovich can pull out of his back pocket. But meanwhile, it will be fascinating to see whether Queens Park Rangers, with Ecclestone, Briatore and, above all the super rich Mittal behind them, can in time overhaul even Chelsea.
At least QPR, under the wise aegis of Luigi Di Cano, have spent a lot of money on little known players, their chief preoccupation being to stay in the so-called Championship. Not helped when, it seems, when they were refused a blatant penalty for hands at Sheffield United. But from next season on, watch their smoke.