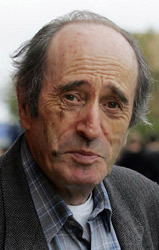 Sometimes, contemplating the ways of soccer managers, I think of an old, satirical American cartoon series called I Go Pogo, featuring a group of animals in the swamps of Florida.
In one version, they were making their way miserably under drenching rain, when they decided to put the alligator in charge. Whereupon it almost at once ceased raining, for which he instantly claimed credit. When they objected he made the memorable response, "It happened during my administration, didn't it?"
What has just happened in the administration of Alex Ferguson at Manchester United and Abram Grant at Chelsea: whose teams are due to contest the European Cup Final in Moscow. Each, on qualification, has been lauded, Ferguson for guiding, if that be the word, United through to the Final for the second time in his long and remarkable managerial career. Grant for allegedly giving the lie to all those critics who for weeks had been deriding and dismissing him. Suddenly he had got the better of Benitez his Liverpool equivalent just as, a mere our days earlier, also at Stamford Bridge, he had bested Ferguson's weakened United.
Yet how much kudos did Ferguson deserve for prevailing against a Barcelona in a state of decline, whom United virtually allowed to dominate the play at Nou Camp and which, with the amazing prodigy Lionel Messi all but unplayable, gave as good or better than they got at Old Trafford? In Barcelona, after the penalty miss in two minutes by Ronaldo which could well, if converted, have changed the whole tenor of the game, United largely had their backs to the wall.
In Manchester, Paul Scholes' goal was superbly struck but never did United dominate the game, and it has to be said that the opportunity for Scholes to shoot and splendidly score was created for him by an abysmal mistake by the Italian international full back Zambrotta who played the ball right to him. In passing, Scholes was immensely lucky not to be booked in the very first minute when he, never the most elegant of tacklers, scythed down Messi just outside United's penalty box. A free kick was duly given – it was certainly not a penalty – but it seemed the referee felt it too early in the game to flourish a yellow card; though he would do so in abundance later on, for far more venial offences.
As for Chelsea, what astonishing luck they had at the very end of their first leg game at Anfield when in a moment of sheer distraction, Riise headed that equalising goal against his own team? So the game was drawn with Chelsea holding the potentially priceless advantage of an away goal; which surely coloured the nature of the return at Stamford Bridge. Where Liverpool were unquestionably weakened by the first half injury to their mobile young centre back Martin Skirtel, the result of an heroic tackle. To be replaced by the older and far less mobile Hyppia, who would give away a penalty.
***************
Those semi finals cast a harsh light on the present iniquities of late season football. The time when the birds come home so emphatically to roost, with a plethora of fixtures and for the bigger clubs, the prospect of major honours.
The Premier League, like the Football League before it, have a rule – truly more honoured in the breach than in the observance – which decrees that clubs should at all times deploy their strongest teams. Late last season, Fulham got off the relegation hook  because Liverpool, with the European Cup Final in view, put out a team including nine reserves. So Fulham won 1-0 and stayed up. This year when history repeated itself they weren't so lucky, Liverpool this time comfortably beating them at Craven Cottage. A week later, at Birmingham, Liverpool just as at Craven Cottage put in a host of reserves. This time they drew 2-2 after being 2-0 down and though there is no doubt about the depth of their resources – hard to understand that after the Chelsea defeat, some commentators thought they were lacking in depth – though it is arguable that, with a full complement, they might well have won.
But what of Barcelona, who, the weekend before the return with Manchester United, fielded a skeleton side at Deportivo Coruna, and duly went down to defeat? It is surely high time that the football authorities involved got down off the fence and properly applied their own regulations. High time that UEFA, surely, intervened.
***************
There has been much controversy over the problems for English fans travelling to Moscow for that Final. Hugely expensive hotels. Potential troubles with visas. The Mayor of Moscow proclaiming that those without tickets don't need them, only to be overruled by a governmental officer. Visas, by the way, at over £90 a time. And given the strained relations between London and Moscow, following that vicious assassination in the West End, no great love lost between the two governments.
Moreover, I understand, there is the bleak prospect of rampant hooliganism among fans. Moscow I am told has some of the worst in Europe, especially those of Spartak and Dinamo, who delight in dressing up in uniform coloured shirts to do battle. And I also hear that the lunatic fringe of Chelsea and Manchester United supporters are eager for battle, some of them planning to infiltrate Russia through Estonia. Let us piously hope that it will never happen.
***************
Allen Stanford, a misguided American billionaire, determined to put a fortune of his fortune into 20-20 cricket, is convinced that cricket can overtake soccer in popularity. In his dreams. Alas, cricket, that splendid game, lost the battle to soccer long ago.
When I was covering a good deal of cricket in the 1960s,  footballer-cricketer largely preferred to play cricket. Earlier than that, the wonderfully versatile Denis Compton, my boyhood idol, batted superbly for Middlesex and England, scored goals from outside left for Arsenal; and England during the war: when no caps were given. But when it came to England cricket tours, he abandoned his football boots and left England for anything up to three months at a time, returning to Highbury late in the season.
And I remember talking outside The Oval before a country match between Surrey and Yorkshire with the latter's batsman Ken Taylor, also the Huddersfield Town First Division centre half. No contest, he assured me, he'd always put cricket first. The career lasted so much longer. But, in recent years, the colossal explosion of salaries in major football, thanks to television, means that football will almost always have the edge over cricket for them multi-talented. Can Stanford's millions reverse that? Money talks, as we know all too well; and as we can see in the hugely subsidised new tournament in India. But in India, despite great enthusiasm, football is a sadly limp phenomenon.
***************