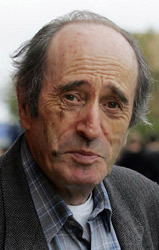 Has David Beckham developed a death wish? How many more fatuities will issue from the lips of the embattled Steve McClaren? And what hopes now of England, even with three matches to come at so called Fortress Wembley, of qualifying for next year's European finals?
Foolishly encouraged and indulged by McClaren, whose severe case of Beckhamitis seems to be in full evidence, even if he did once have the courage to drop him, Beckham astonishingly and incomprehensibly, despite his 32 years and and injured ankle, which still seems to trouble him, decided to play for England – getting, contentiously, all 90 minutes, then to fly straight back 6,000 miles to Los Angeles to play another 90 minutes the very next day for the Los Angeles Galaxy. That way, one reflected, madness lies. What is he trying to prove? Why has sheer common sense flown out of the window? Even Alexi Lalas, the general manager of the Galaxy, and manager Frank Yallop, who seems to have been finding it all too much for him – does Jurgen Klinsmann, even if he is living in California, want to assume the poisoned chalice? – have expressed their doubts and surprise.
And much good did Beckham's return do the Galaxy, beaten in the derby game by Chivas 3-0 on the stadium they share. Whether Beckham should have played for England at all in that weakened England side against weakened Germany is a moot point. That McClaren should have kept him on the field for the whole game, eventually outing an ebullient Shaun Wright Phillips in, but on his wrong foot, on the left and substituting a lively Joe Cole is highly debatable. True, Beckham did put over a couple of excellent crosses, from the second of which the substitute Kieran Dyer missed ineptly, shooting wide. But overall, Beckham was the same old same old. No dynamism, marginal most of the time, essentially a luxury player.
Showing faith in the erratic Paul Robinson in goal also cost McClaren dear. For a long while now it has been only too clear that Robinson is vulnerable on crosses; it was all too evident when England met Sweden in the last World Cup. Not only crosses; that appalling air shot in Zagreb gave Croatia a farcical but vital goal, when England lost there in the current European qualifiers. The goal he gave away so feebly against Germany arguably transformed the psychological profile of the game, brought Germany back into it and was responsible for England's dull defeat. Pushing that high cross from the right against his own crossbar, making a present of it to the lurking German lone striker Kuranyi, was a dismal moment indeed.
The thoughts of Chairman McClaren….A couple of days before the game, referring to Jamie Carragher's refusal to play for England anymore, having been so ineptly handled by McClaren, the England coach said, "The level of disappointment Jamie had at not playing; I'd like to have heard about that earlier." For Heavens' sake, if the man is too thick and insensitive not to surmise that Carragher, in splendid form, would be upset by first being played out of position at left back, then dropped entirely from the Estonia game in favour of two doubtful centre backs – Ledley King and Wes Brown – why does he have a psychologist among his bloated entourage? He produced another gem when saying of Beckham, "I don't see how rest can benefit him if he is just returning to fitness after his ankle injury, so he needs minutes on the field."
The choice in attack of Michael Owen, slowly coming back from his own injury, having played just one Newcastle reserve game and a part of a Premiership match, predictably made no sense, and to put the inadequate Alan Smith alongside him – Jermain Defoe never even got on the field – compounded the failings of the England attack.
I suppose McClaren could console himself that even Alf Ramsey failed to reach the European finals in 1972, but then Ramsey had won the 1966 World Cup. Meanwhile, all credit to the Republic of Ireland for their remarkable 3-0 win against Denmark: away! And John Toshack's Wales defeated Bulgaria 1-0 on their own soil. McLaren, alas, cannot hope to have Rooney fit for these games against Russia, twice, Israel and Croatia, but at least Steven Gerrard should be there to lend his essential dynamism. Whether he will, at last hit it off in central midfield with Frank Lampard remains a constant uncertainty. And with Robinson cashiered, can that highly gifted but ever erratic David James, who played against Germany in the second half, be relied upon? Embarrassing memories of Vienna and Copenhagen persist; but as one who was at Chelsea last Saturday I felt he was rather harshly blamed in some quarters for Frank Lampard's winning goal, when he did get a hand to the ball, after the shot had been deflected.
***************
Incorrigible Sven. His capacity for talking nonsense rivals that of his dim successor McClaren. Still no contrition for the idiocy of picking the raw teenager, as he then was, Theo Walcott for the World Cup 2006 squad, then not giving him a minute on the field. This, to the exclusion of a more experienced attacker who presumably could have been used, not least when Owen was injured and Rooney thrust back far too soon. "I don't regret taking him to Germany," burbles Sven Goran. " I just regret that he couldn't play, because he was in good shape. I had other players to play as well, not only Theo Walcott. It was not the right moment to pick him. But was it right to take him? Absolutely. (Eh?) I don't think that the alternatives to Walcott at the time would have changed anything in Germany.
"And for the next World Cup they should send me flowers (a wreath?) He has the capacity to be one of the big, big, big ones."
Eriksson has had the luck, on taking charge at Manchester City, of finding a true, big, big one in residence, in the shape of the powerful and precocious Micah Richards. What a splendid first half the Manchester City defender had at right back for England against Germany with his inspired swift and forceful overlapping. How impressively he went outside then inside the German defenders to set up Frank Lampard's goal. He should have, of course, have stayed in that role, but, in the second half, McClaren switched him to the centre where it is true he had had a mighty game in the Manchester derby. This solidified to some extent a somewhat shaky defence, but cost England their thrust down the right, with Beckham really no more than a marginal participant.
***************
How very sad to hear of the sudden death of Big Bob Vaughan, for many years, an accomplished World Soccer correspondent on Central European football. As, at the age of 68, he collapsed in the streets of Berlin and died from a thrombosis. Once a Kingstonian goalkeeper in their senior amateur days, an educationist who ran a cultural institute in Vienna at the time Porto beat Bayern Munich there in the European Cup Final, he was always a kind and generous colleague. Too trusting, perhaps, since an English journalist whom he gave hospitality in his Berlin flat decamped with all his records and statistics, worth several thousand pounds. He never got them back.
***************