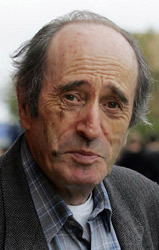 How come that no one yet seems to have posed the $64,000 question about the current Chelsea fiasco? Next time the billionaire oligarch Roman Abramovich throws his toys out of the pram, will he walk away from the club, rather than the team?
The writing was well on the wall for Jose Mourinho when at Villa Park Chelsea went 2-0 behind and the watching Abramovich turned his back on the play and flounced out of the Directors' box. Early success on the back of his massive subsidies must have seemed to him no more than what he was paying for. For those of us who had no connection with Chelsea, it seemed to sound the knell of the game. The balance of the Premiership, already such a fragile affair, appeared to be fatally distorted. Thus, while there was no doubt about the merits of Mourinho, who had worked such wonders at Porto where money was in such relatively short supply, the feeling was that any competent manager, provided with such funds, would flourish and achieve.
So Chelsea and Mourinho initially did. The impression, quite mistaken, it would emerge, was that Abramovich was a benefactor content to stay above the conflict, and allow Mourinho to get on with his job unhindered. Not so. Bit by bit Abramovich began behind the scenes to assert himself. First, that once impressive Danish playmaker Frank Arnese was poached from Tottenham to take charge of the youth scheme. Then came the current coach – not yet if at all to be denoted manager – Avram Grant; an Israeli with a modest record, no salient personality, and, whatever he might promise at his first embattled press conference, the reputation of deploying dull, parsimonious football, rather than the exciting style for which apparently Abramovich craved.
Mourinho is no saint; though what does that matter? Alex Ferguson most successful of all post war managers, cut an antipathetic figure over the Rock of Gibraltar racehorse affair, not to mention that mysterious payment over the excessive payment made to an obscure Italo-Swiss agent over the Tim Howard transfer, or that appalling blast of abuse which descended on poor John Motson when he dared to ask for television a potentially embarrassing question about disciplining Roy Keane. Brian Clough worked wonders with infinitely fewer resources than Ferguson with two East Midlands clubs, yet we know of his financial greed.
As for Mourinho, he is undoubtedly arrogant, conceited, and a rotten loser, but compare him with another Latin, Helenio Herrera, and he seems a shrinking violent. The list of charges is long. His shameful accusation in Barcelona that the Barca manager Frank Rijkaard had gone into the dressing room of the referee Anders Frisk. His whinging and whining when at Anfield a couple of seasons ago Liverpool knocked Chelsea out of the European Cup with a goal which Mourinho insisted had never crossed the line. Totally ignoring the fact that his keeper had committed a foul which could not only have conceded a penalty but had him sent off.
True, Chelsea's tactical mountain has sometimes parturated mice. Last season, the team far too often played without wingers, thus constricting their attack and playing into the defensive hands of visiting teams. But it surely wasn't Mourinho who wanted to pay a fortune in £30 million transfer fee and £130,000 a week salary for Abramovich's beloved but waning Andrei Shevchenko, plus the same excessive wages for a hardly much more productive Michael Ballack, even if he arrived on a free transfer. That was emphatically the double choice of Abramovich.
Of late, the team has been without three absolutely crucial players in Didier Drogba, the one great guarantee of goals, Frank Lampard and Carvalho. A huge handicap all too obvious on the field, and surely a relevant excuse for recent failures.
In Grant's first match at Old Trafford, a challenge to be sure, the verdict had surely to be Not Proven. Below strength again, Chelsea gave away a first goal when injury time seemed to have expired, a second on a doubtful penalty. Meanwhile, there is even doubt about Grant's credentials to run the team at all. After the effervescence of Mourinho, whatever his self regard, we have mere dullness. No doubt in time another managerial star will step up to the plate, yet one still wonders at what point Abramovich's limited patience might expire. And if he did walk away from Stamford Bridge, what hope for the club and its colossal debts? And for Peter Kenyon's daft demand that they will win two European Cups in the next 10 years.
***************
Jack Warner the ineffable. Long waiting to happen was the bitter protest of the Trinidad and Tobago players who gave such doughty performances in the 2006 World Cup at the meager payments they received.
All too predictably, FIFA are insisting that this is a "private" matter, hile the lamentable Football Association, who might at least have been expected to make a condemnatory statement, after Warner's recent, despicable attack on English football, have so far adopted their Three Wise Monkeys stance.
As has been made shamefully known, it had been agreed that the Trinidad Federation would divide the £3 million received for attaining the World Cup finals half and half with the players. It has now emerged that Warner has planned to take the 28% tax duly wholly out of the players share. Was it for this that the marvelous veteran Shaka Hislop jumped, dived and resisted that night against the Swedes? Ever vindictive, Warner has suspended all 16 members of that gallant World Cup squad.
Meanwhile from ever extravagant and chaotic FIFA comes news that huge payouts have been made to departing executives, while one who was rebuked for dishonesty by the American judge of the notorious Visa-Mastercard affair has actually been promoted. Does anybody care?
***************
One of the most fascinating aspects of Italian football is the way seemingly obscure, even discarded, figures, arise from anonymity to excel.
Such is the case of the now red hot striker Antonio Di Natale, nigh on 30 now, and scoring goal after goal for club and country. He got both Italy's goals in their 2-1 win in Ukraine, followed that up with the headed winner in Turin for Udinese against Juventus, and last Sunday scored twice more, most elegantly, for his club. Most of his career was spent with the little Tuscan club Empoli where so many gifted forwards have begun.
But in eight separate spells over a period between 1996 and 2005, he had but two seasons in Serie A scoring 18 goals only, in 60 games, and Empoli were relegated. Udinese must have seen something in him, for they signed him the following August. Just 15 goals in 68 games in his first two Serie A seasons but now, watch him fly! A Neapolitan, like Cannavaro, he stands just 1 metre 70 and weighs a mere 65 kilos. One more testimony to the physical democracy of football.