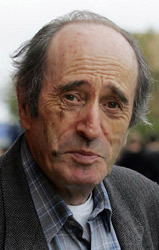 McClaren goes, consoled no doubt by his £2.5 million pay off. Brian Barwick, largely responsible not only for appointing him but for keeping him in office when his ineptitude was plain, stays.
The Croatian disaster could surely have been avoided with a halfway sensible strategy. Why put Peter Crouch , however well he played – one of the pitifully few – up on his own for the whole first half? Why, in that period, deployed an overcrowded midfield in which Frank Lampard – named by some bird brain as England's man of the match – was a lost soul for that initial period? That appalling early error by Scott Carson seemed to impugn McClaren's decision to use him, but Paul Robinson surely had to be replaced. The true charge is that he should have been replaced so much earlier. Instead of which, not only did McClaren persist with a shaky keeper, but in doing so, he failed to bed in a decent successor.
There was much talk about the appalling condition of the pitch, but it didn't stop the splendid little Modric showing just what a natural play-making inside forward can still do. Where now is our Haynes, our Hoddle, our Gascoigne? England's defence, meanwhile, was appallingly at sea. The other two Croatian goals should surely have been avoided. Utter confusion enabled Olic to get the second, Petric – whether or not Carson might have saved – was given absurd space and time to line up his shot. And to give Carson his due, he did pull off two impressive second half saves; further testimony to England's inadequate defenders.
To bring on Beckham seemed a gesture of despair. Though he did, indeed, do what he always, however static, be able to do; provide the immaculate cross which Crouch so skillfully turned into a goal. And so, you might say, Goodnight, Vienna. And Zurich, for that matter. Had McClaren been kicked out after the first Croatian fiasco, had he never been appointed at all, we might be telling a happier story.
McClaren told us, before Israel so obligingly and gallantly pulled his chestnuts out of the fire – potentially at least – that he had "known" it would all come down to England's final match against Croatia. Known? How could the deluded fellow possibly have known? Known that Israel would at least not lose in Tel Aviv, unmotivated, as they seemed to be but so triumphantly weren't, draw, let alone win, that crucial game? And if it would indeed come down as it did to the final Wembley game against Croatia, what did that tell us about McClaren's confused and disastrous regime?
He was at it again in Viennia, a match which should never have been arranged in the first place, and which he should surely have opposed. It cost him and England Michael Owen, and saw McClaren again inexplicably and irrationally pursuing his "magnificent" obsession with David Beckham.
We knew he had been all the way to Los Angeles recently not even to see Beckham play – as he did in a farcical match against a team replete with rock stars – but just to talk to him! Are there no telephones in Soho Square? Beckham had barely returned to the Galaxy team in that apology for a League, was palpably and inevitably short of match practice, yet McClaren tried to justify using him in Vienna, on the grounds that he wanted to test his match fitness! What did he expect it to be?
Shades of his self defeating and insensitive treatment of Jamie Carragher, which cost him the services of the exasperated Liverpool centre back – his weaker foot – in Tel Aviv, he dropped him completely from the next international, at which an outraged Carragher said that he would play for England no more. To which dim McClaren responded by saying he wished he had been "told" about Carragher's disappointment! And this is a man who, even allowing for his psychological ineptitude, has a "sport" psychologist supposedly working with him!
In Beckham's case, to use an old formulation, you wonder if Beckham knows where the body is buried! But another bizarre aberration by McClaren in Vienna was not only to include Alan Smith in the squad, but to bring him on to the field! Yet Smith's form this season for Newcastle gives him no claim at all to play for England, and he was predictably innocuous.
That pitiful defeat in Croatia, when McClaren deployed a suicidal 3-5-2 formation, failure to beat Macedonia at home and Israel away, the catalogue of caution which led to defeat in Moscow; even though it was indeed bad luck for McClaren when Steve Gerrard of all people missed that early second half sitter. Persisting with a goalkeeper in such abject form as Paul Robinson, who duly gave away a goal in Moscow. The name for McClaren's errors is legion, for they are many.
The prospect that England's qualification would have kept him in office for the European finals was indeed dispiriting. Let us not talk about a learning process. McClaren seems to have learned little or nothing from his multiple errors. That the various buffoons of the Football Association might have kept him in office if England had reached the finals is a wretched prospect.
***************
As for Scotland, their and Alex McCleish's luck surely ran out in that extraordinary, ill-officiated game at Hampden. In essence, you might say that the Scots cooked their own goose with that feeble display in Georgia, after such exhilarating form in Paris.
But what a strange, conflicting mélange of controversial moments was the match against Italy! The Scots had only themselves to blame for their somnambulism in the second minute, when Italy were allowed to score that traumatising early goal. The Italians were then wrongly denied a second, since Di Natale was certainly not offside when he banged in that rebound from goalkeeper Gordon. By contrast, Barry Ferguson was probably offside when he equalised. Then the Scots surely deserved a penalty for hands, while Italy's winning goal was a fiasco. Right in front of a bemused linesman, Hutton, a great success on the day, was blatantly fouled and knocked over by Chiellini. Whereupon the linesman gave Italy the free kick from which Christian Panucci headed the winner.
None the less, it was inspiriting to see Scottish football rise from the all too recent ashes. At last there seems to be a return to the day when Scottish players emerged, excelled and so often won fame and fortune south of the border.
Steven Gerrard has now added his voice to Alex Ferguson's and others to demand a limit be put on foreign footballers playing in England. The former Arsenal and England centre forward Alan Smith is of the opposite opinion. Yet there is no debate. The battle with the European Union was long lost, however gallantly fought for years at UEFA by the late Artemio Franchi. The EU rules, alas, clearly state that there be freedom of movement for all workers across the countries of the Union. And footballers, whatever some fans may think of a weekend, are classified as workers. I only wish Gerrard and company had a valid legal case.