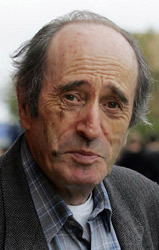 Time out of war in the World Cup. England afloat again. Brazil and Argentina strangely vulnerable. Senegal knocked out to the brutal fury of their disappointed fans, by an unfashionable but much improved Gambia.
On the same recent day, Brazil failed at home to beat Colombia, to the ire of fans who abused them rather than attacked them. Robinho observed that after the way it had played his team could not complain. Sharp contrast with all the maudlin nonsense which followed the booing at Wembley of Ashley Cole after his inept mistake. But since the same fans applaud David Beckham, you can hardly call them truly objective.
Ah, Beckham? On again in Minsk for a tiny vignette in the England game against Belarus. Does he know where the body is buried? Each time Capello allows him these cameo appearances, it means another full, illusory, cap and takes him closer and closer to the records of players far greater than he. The Bobbie Moore and Charlton especially. In Minsk, at the finish, he even had the gall to milk the England fans for applause.
England enter the hiatus with Fabio Capello suddenly elevated with areas of the popular press from failure to saviour. Yet surely the jury must still be out. All very well to point to the new improved winning sequence but how were these victories, apart from the triumph in Zagreb, won, and what do they tell us about future prospects against better opposition. The excellence and dynamism of Theo Walcott turned the trick in Croatia, where Frank Lampard, with no Steve Gerrard at his shoulder, had an impressive game. But as we so plainly saw from Minsk, Capello has not remotely began to solve the problem of this persisting dualism.
In Minsk he took the easy way out, deploying Gerrard notionally on the left flank but giving him licence to roam. This he did with supreme success when, early in the game, he scored a spectacular goal. But later on, his constant moving inside from the wing left potentially dangerous gaps on the England left flank  which a more adventurous opposing right back could and no doubt would exploit.
It really is a perplexing problem for any coach, but sooner or later, Capello will have to grasp the nettle. Shades perhaps of the 1970 World Cup when Italian coach Ferruccio Valcareggi solved, more or less, the dualistic problem of having two fine playmakers in Gianni Rivera and Sandrino Mazzola in something which Italians nicknamed la staffetta, alias meaning that Mazzola played one half, Rivera the other. Which alas came unstuck in the final against Brazil in Mexico City when Mazzola was playing so well that Rivera got on only for a humiliating six minutes.
More positive for England was the belatedly rediscovered form of the hugely talented but latterly disappointing Wayne Rooney, both scorer and maker of such stylish goals. And Emile Heskey, though he so seldom scored, has emphatically returned to form as a foil and shoulder for Rooney, just as he was years ago in Munich for Michael Owen, when England thrashed Germany 5-1. But the England defence remains a serious worry.
Even little, unfancied Kazakhstan gave it substantial and surprising trouble in the first half at Wembley. They scored once and might well have had others. Poor Matthew Upson recalled to the colours had an abysmal game at centre back, yet Capello riskily put him in again in Minsk, where he was against a disaster. Surely it might have been politic and possible to have replaced him with Everton's Lescott, no great guarantee of solidity – in the absence of the injured John Terry – but at least less likely to give so many hostages to fortune.
Hard though to blame Capello for the inadequacy at left back of Wayne Bridge who seemed the obvious replacement for the injured and highly unconvincing Ashley Cole. But on the other flank Wes Brown of Manchester United simply isn't a defender, as he showed again in Minsk especially on the occasion like Bridges – of the Belarus goal – a player of international quality. Such birds could well come home to roost.
Reverting to South America, Argentina had a still worse day than Brazil, actually losing in Santiago to Chile, thus provoking the resignation of their veteran coach, Alfio Basile, in his second spell as international manager. Yet on the face of it Brazil, not least judged on their rich pool of players, surely should be doing vastly better. As for Brazil, Dunga, once so popular an international captain, has been under withering fire as the team's manager for months Brazilian fans have never been convinced by the kind of football the team has tended to play under him, always looking for brio and brilliance, and when that football doesn't even bring results – worst of all in the home draw with Bolivia, 0-0. A team which has so seldom functioned away from the heights of La Paz, salt is rubbed in the wounds.
***************
Hey ho! Daniel Levy has given Juande Ramos the dreaded vote of confidence, and the director of football or whatever he calls himself, Comolli, seems the fall guy.
Almost anywhere else in Europe Ramos would be long gone after such a catalogue of appalling results, but the true villains of the piece are surely the Spurs leaders, ever since that deplorable day when a deputation sneaked behind the back of the unfortunate (though now, at Hamburg, flourishing) Martin Jol, to chat up Ramos in Seville. All of which at the time you may remember was duplicitously denied.
Jol it is true was going through a poor patch with the team. Yet looking further back, Spurs could so easily have gone into the European Champions Cup itself a couple of seasons back, had it not been for the fact that practically the whole team fell ill after a meal on the way to a vital game at West Ham. The Premier League refused a postponement, Spurs duly lost and were leapfrogged by the eternal local rivals, Arsenal.
This season, I don't think Ramos has made much of a job of deploying the abundant talent which is certainly at his disposal, but you cannot help hoping that Levy and co do sell their shares and that new, more acceptable, owners take over.