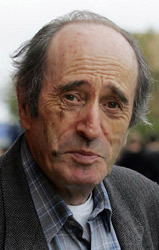 After the boredom and the mediocrity of England's last gasp win against a dreary Ukraine, Fabio Capello announced that he was pleased that his England side was turning into a team. But what kind of a team?
Throughout this dull match. Ukraine had only a couple of shots on goal. One from long range in the first half was fumbled by David James, though given the course the ball took, there was some mitigation for this. The other came when Andrei Shevchenko, with a sudden blast from the past, if one may say so, whipped the ball home for the Ukrainian equaliser, after an error by Johnson in the England goalmouth when that free kick was whipped in from the right.
A kick taken, as it happens, by Aliyev, blessedly intact after that shocking foul by Wayne Rooney. Which Fabio Capello, in the good old Italian managerial tradition, long, long ago established by Vittorio Pozzo, and carried on years later by Enzo Bearnot, dismissed as a legitimate challenge.
It was nothing of the sort; a wild lunge which did indeed take and touch the ball initially, but which followed through to catch the Ukrainian, luckily not doing any serious damage. Capello contented himself by saying that Rooney played the ball. Well so he did, initially at least, but a stronger referee than Claus Bo Larsen might have given Rooney a red card; instead he didn't even get a yellow.
Not that the analogy with Pozzi and Bearzot is wholly fair. Pozzo, whom like Bearzot I knew very well and much liked, when commissario teccnico, alias the supreme of Italy between the wars, preferred the ruthless Argentinian thug Luisito Montoi – picked as an oriundo, being of Italian ancestry – in preference to the elegant Roman centre half Fulvio Bernardini.
Pozzo told Fulvio, as he indeed told me himself, that he'd said to the Roman that while the crowd would say, "Clever Bernardini," appreciating his skills, he was in fact holding up the team. By contrast, Monti would play the ball wide to the wings. But Monti was also notorious, not least in his native Argentina, for his violence.
The great irony being that, when Italy came to play England in what came to be known as The Battle of Highbury, in November 1934, Monti limped off the field with a broken bone in his foot, after a 90th second clash with the Arsenal centre forward, Ted Drake.
Fast forward to the World Cup finals of 1978 and 1982, and Bearzot, like Pozzo a well educated man of generally high principles, picked a couple of hard men in Claudio Gentile and Romeo Benetti, each of whom in the vernacular could put it about to some alarming purpose.
Rooney was arguably the best England player on show against Ukraine, but his penchant for sudden flare-ups of red mist is all too well and established. He was after all sent off in Germany in the last World Cup, however provoked, but there was no evident provocation for his reckless challenge on Aliev.
Lies, damned lies and statistics. Some tribunes of the press were very hard on England after their weakened team, devoid of arguably their three best players, Rooney being one of them in Seville, had been largely outplayed by a superior Spain. But why such euphoria over the fact that England under Capello have won all five World Cup qualifying games, and seem well set for South Africa, when performances have been so inconsistent?
Capello has still to resolve the Gerrard-Lampard conundrum. Against Ukraine, Frank Lampard was used unprofitably deep while Gerrard was stuck out nominally at least on the left flank, again. This surely wastes a player who needs to be centrally involved, whether or not he is operating just behind a striker, such as the formidable Fernando Torres as he now does with Liverpool (it didn't work in Liverpool's last European Cup final, but it is, beyond doubt, working now) or somewhat deeper but still centrally.
Put Gerrard on the left flank, occasionally changing places with Rooney, and you deprive yourself of a genuine winger. The suggestion that Bolton's Taylor might be co-opted there seems a sensible one to me, having recently seen him play out what was virtually a personal duel at West Bromwich against the home keeper, Carson. He might or might not be the answer, you just never do know when it comes to making the step up from club to international football, but it is worth a try.
No, I won't go on banging the same old drum about Beckham. And I acknowledge that it was from his right wing service that England scraped that late goal and that belated win. I also acknowledge that Aaron Lennon, for all his pace and elusiveness, still constantly frustrates when it comes to providing that final ball. But why ostracise Shaun Wright-Phillips, who was perhaps the only England player to do himself justice in Seville, lively down the line in attack, generous in helping his defence.
Against a team with such scant ambition as Ukraine, one which packs its defence, it is always hard to go straight through the middle. Not least when like England there is no inside forward, if one may use the term – such as the insidious little Luka Modrich or one of Spain's several specialists – to find gaps in the opposition.
The wings are where progress can ideally be made but only, bar Beckham's free kicks and crosses of course, you have genuine wingers who can go down the line beat their man and pull balls back from the goal line. Gerrard with all his many strengths isn't going to do that for you, Lennon can but he isn't right now. Beckham never will for all his 100 caps, such as they are, but Wright-Phillips can.
As things stand, I can see England going through to South Africa, but even with Joe Cole fit again, doing little of consequence when they get there.