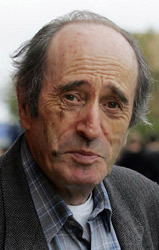 From the depths of his wisdom, David Beckham has assured us that the England team will improve. The first major step towards such a thing should surely be to consign him to the dustbins of international football history. What he is still doing in an England shirt could only be explained, if at all, through the psycho-pathology of Fabio Capello.
Yes, I admit with shame that I was utterly wrong when, after knowing and admiring the man for some 35 years as player then manager, I saluted his appointment. In fact, it has been a monumental disaster, but now I suppose not even the relentless Lord Triesman can jettison him, given his £6million a year contract.
His Beckhamitis, his utter obsession with such a busted flush, a player who cannot run, never beats a man let alone gets to the line, but still relies on those howitzer right foot dead ball deliveries from the right has no logical explanation. Against the Czechs, a Beckham corner did indeed bring an equalising goal, but to put him out there on the right in preference to such speedy young talents as David Bentley and Theo Walcott, is senselessly self-defeating.
Then there is the persisting Gerrard-Lampard duopoly. How long is it since we have known full well, in the dear dead days of the inept Steve McLaren that these two simply cancel each other out, that the presence in central midfield of Lampard, a hole in space against the Czechs, forces Gerrard wastefully out to the left flank, where Fabio against all the evidence, and against a post-match tirade from Harry Redknapp, tried to deny that he was playing.
All that garbage about lack of confidence, all that public criticism by Capello of Gareth Barry's admittedly modest on the grounds of his looming transfer to Liverpool, are the merest camouflage. Though to give Capello his limited due, he could hardly be held responsible for the failings of the supposedly resilient centre-backs, Rio Ferdinand and John Terry. Each in the first half was left standing by Milan Baros, who hadn't for all his undoubted talents scored for the Czechs in a month of Sundays.
The truth seems to be that, whatever his achievements as club level with Milan, Real Madrid and Roma, Capello is simply unsuited to be an international manager. On the not so distant horizon looms the Croatian game in Zabreb where England, inflicted by McLaren with an unaccustomed formation, died the death.
It could well happen again but it surely doesn't need to. Kick out Beckham and Lampard, restore Gerrard to the centre, use Bentley or Walcott on the right and there would surely be hope. But anyone who can so perversely and irrationally persist with Beckham is surely beyond redemption. And you wonder whether Los Angeles Galaxy's bemused multi-millionaire owners, in the club's present managerial chaos, regret paying Becks such absurdly huge sums of money. Goodbye Gullit, goodbye Alexi Lalas, who never seemed executive material to me, hello Bruce Arena. A competent enough coach, but they need a magician.
At half-time in the England-Czech game at Wembley, and not for the first time, a loudmouth with a microphone boomed from the pitch that Nationwide, the match sponsors, had generously provided entertainment. A marching band? Pop singers? Dancing girls? No, not a bit of it. In their tight-fisted generosity, Nationwide had provided for our delectation a penalty shooting contest between a bunch of anonymous fans. That's entertainment? Still, it was on a par with England's performance.
****************************
Now Thaksin Shinawatra has the monumental cheek to demand political asylum in Britain. This when he has skipped out of Thailand, where his wife has already been sentenced to three years in gaol for corruption, to avoid going on trial himself. What possible grounds has he for demanding to be protected here? He insists that the charges against are ficticious, yet it was all well-known even when the pathetic Greed Is Good League decided like Manchester City that was "a fit and proper person" that there serious charges against him in Thailand; not merely for corruption for the shocking abuse of human rights. City and, alas, Mark Hughes, who so impetuously made the short journey from Blackburn close season, are now hoist with their own petard.
Shinawatra even had recently to borrow over £2million from his exasperated predecessor, John Wardle. The Premiership, as its benighted leader Richard Scudamore has feebly told us, deems any applicant a fit and proper person until they have been convicted of a criminal offence. Meanwhile, you wonder why any other club will deal in the transfer market with City when £800million of Shinawatra's funds are frozen in Bangkok. Still, a mug is born every minute.
Speaking fluent corporate gobbledegook, the executive chairmain of City, Garry Cook, endeavours to tell us all that, like Pangloss in Voltaire's classic Candide, everything is for the best in the best of all possible worlds. Shinawatra is a nice guy with whom he plays golf. There is still money to spend, and other capitalists straining at the leash to take over. (In which case you may ask, why did City have, in their financial travails, to turn to as dubious a figure as Shinawatra in the first place?)
Cook, an Americanised Brummie, 12 years in the States where he picked up the patter and ran Nike, even believes that promotion and relegation should be abandoned in the Premier League, on the pattern of the States. Maybe he is simply whistling in the dark, trying to persuade himself that he did the right thing to give us such a good job, to jump on the deck of a seemingly sinking ship. Maybe.
That 3-0 defeat of a 10-man West Ham gave City a glimmer of light, before the trip to Denmark to try to wipe out the deep embarrassment of that UEFA Cup home defeat. But unless Shinawatra has some success of bringing in more investors – and why should they take a minority stake? – the bailiffs could be at the door. How you wonder could City pay the colossal £19million fee for Jo, the huge Brazilian striker, just back from the Olympics? Last Saturday at the City match Shinawatra, complete with wife, was smiling. Such apparent optimism.
****************************
So Brian Barwick has gone and good riddance. FA chairman Lord Triesman is no sentimentalist. Barwick deserved the chop and his impulsive and inept appointment as England manager of Steve McLaren, a panic stricken move made before even a ball was kicked in the 2006 World Cup finals; in stark contrast to the changes later made by other countries. And after Barwick's clumsily self-defeating attempt to enlist Big Phil Scolari.
Barwick, however shrewd a TV operator he may well have been, seemed out of his depth to me. Seldom more so when he felt impelled to give his first clumsy interview. In it he informed us that he got on well with the then England manager Sven Goran Eriksson, which was "significant". Indeed it was, but hardly for the reasons he envisaged.
Then, absurdly, he criticised Alan Smith for withdrawing from the England squad, adding inexplicably, "I never played for England." Only to be contradicted the next day by Eriksson himself, who announced that Smith had withdrawn with his blessing. But in his reforming zeal, I do hope Triesman spares the chief England PR Adrian Bevington, who seems a sound, well-balanced figure to me, hardly responsible for the incompetents he has to represent.
****************************
I was at Craven Cottage last Saturday to see Arsenal go down so surprisingly to Fulham and they deserved no better. What struck me most forcibly, though surprisingly it seemed not to surprise my Press colleagues, was the huge hole left in the Gunners' central midfield by the absence of Cesc Fabregas. How badly they missed his pace, his dynamism, his intelligence. How absolutely the substitute pair of Emmanuel Eboue and Denilson were overplayed by the rampant Fulham pair of Danny Murphy and Jimmy Bullard. Eboue is not a central midfield man and it was surprising to see him deployed there. You wondered why, at least at some point of the game, Arsene Wenger did not risk bringing on the precocious 17-year-old Welsh midfielder Aaron Ramsey, who showed in the FA Cup Final with Cardiff that great occasions don't alarm him. At least he might have provided the flair so badly missing. And Wenger's strange substitutions in the second half of Theo Walcott with striker Nicklas Bentner made little sense, Wenger bewilderingly telling us that he wanted to give his team "balance" in the shape of 4-3-3. What?
****************************