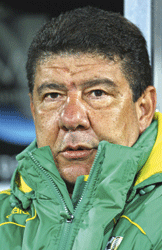 World Soccer: What is your relationship like with your players? Some coaches try to be close to their players, others prefer to cut themselves off so that they achieve results almost by intimidation. What is your style and philosophy?
Joel Sanata: Football, in the end, is down to players. The coach can contribute a lot but, once the kick-off has happened, the players are on their own out there. They have to make decisions instantly on any given situation. You try to prepare them for all the eventualities of a game but they make the decisions. A coach can only sit on the bench. Or shout from the touchline…but that is only a reaction to the tension.
That is a general philosophy, but how difficult did you find it to adjust to South Africa and football there?
When I came here it was difficult. I didn't know the players, I didn't know the country, and I didn't know the people and their way of life. That is a big challenge because the coach has to understand the players and they have to understand me. I have to develop confidence in what they can do, but they must also learn to trust the coach.
So, during a game, how do you get your messages across?
Football life, for me, is like family life. My players are like my children. That is how I treat them. If a player does something good then I am happy and he knows it. But if a player does something wrong then, like my children, I only need to look at him in a certain way and he gets the message! But we are all members of the same family and we know what our life and responsibilities entail. We have to do well in the Confederations Cup and then in the World Cup beyond that. We can't escape it. It is approaching very fast.
So what are you trying to teach the players at this stage of your project?
I want to develop confidence, so I like us to play a lot of matches because the more matches you play then the more matches you will win. Winning becomes a habit, and winning a lot of games generates confidence, which helps you win more games. It's a circle effect. Just like in the game against Cameroon; I had the confidence to bring Bernard Parker into the team in the second half and he responded to that gesture of confidence by scoring our third goal. I had faith in him so he was able to repay it.
Which coaches taught you this "fatherly" approach to your players?
One was Carlos Alberto Parreira, who is a top, top coach. The other, going back a long way, was Elba De Padua Lima [known as Tim, who played for Brazil in the 1938 World Cup]. He was one of the most technically aware coaches I ever met. Players need to know that the coach understands football out on the pitch, not just in press conferences.
Playing for the host country means a level of expectation none of your players will have experienced before, even the ones who play their football in Europe. How will they cope?
This comes back to the issue of confidence. But, also, you need to understand that players draw a great deal of self-respect from the very fact that, firstly, they have been considered good enough to play for their country and from the fact that, secondly, the pride which that gives them. The sort of pride so they look presentable when they are away from the stadium and the training ground. It's like extra adrenalin. The work we are doing now
is to help them feel the freedom to play their game without worrying about mistakes; because we are human beings, we all make mistakes. They have to remember they are playing a team game; they are playing for their country, not for themselves. Everyone is with them. Millions of people are kicking the ball with them and for them.
Have you any special ideas to prepare for the level of competition you'll meet at the Confederations Cup and the World Cup?
Some of our players do not play at a high enough level, that is true, because they play their football here in South Africa. So it's important that we get international games against big teams such as England, Germany, Holland, Italy, Spain and so on. Then, on the big day, the players will know exactly what level they have to reach. Also, we are building team spirit, so you always make sure you have players who love the game. You make sure you know which players are best to share a room together, who likes a big breakfast and who likes none. My players call me "Papa Joel" because I see them as my children. And, as with children, discipline and respect are essential mutual qualities.
What is your team's potential?
Difficult to say, at this stage. After the Confederations Cup I will have a much better idea of what needs to be done for us to be in the best shape possible for the World Cup and how we need to improve. We have identified most of our players but that's not to say others will not be brought in – as long as they can adapt to the spirit of harmony in the squad. Football is team game; a good individual player can win one game but he cannot win a tournament.
Do you have any players in your squad who you would consider key to your success?
None. It's a group of players, a squad, and you cannot place one above another. It would be an injustice to build around one or two players, that would endanger team spirit. Team spirit is not the key to success but a lack of team spirit is certainly the key to failure.