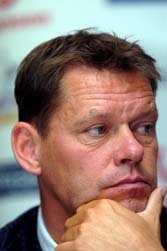 Frank Arnesen's office at Tottenham Hotspur is spartan, the walls bare save for a few shelves of match videos and soccer reference books. The sole memento of his own outstanding playing career is a tiny picture from the mid-1980s Danish Dynamite team.
He talks with verve about those heady days, saying nothing will ever beat playing. But he's almost as effusive about his role as a technical director, currently at Spurs and for the previous decade at PSV Eindhoven.
Arnesen waves a thick wad of paper as he talks – his famous wish list. It is a precious document because the Dane has earned a reputation over the past decade as Europe's most effective transfer wheeler-dealer. He took Ronaldo from Brazil to Eindhoven as a 17-year-old, and spotted Ruud Van Nistelrooy, Arjen Robben and so many others. Now he is using the same system to search for sparkling new talent for Tottenham.
"I have a wish list of players across the world," says Arnesen, who left Denmark along with Soren Lerby to join Ajax at the age of 16. "We scout everyone, from the age of six or seven through junior and youth football to players at other senior clubs. We try to leave nothing to chance.
"It is all about securing the future of the club by bringing in talent. My work here is for the future, for tomorrow. You also want to be in a position to replace players in the first team if necessary. I always want to know we have two or three possibilities for every position.
"I have a big meeting of the scouts every week. I talk to agents all the time. I have the list, which keeps developing and changing. I think it's a system that works." Arnesen's record bears that out.
It is an imprecise science, though, and one that becomes more difficult as other clubs follow his lead and regulations alter. "I started at PSV in 1994," he says. "You could take Brazilians at the age of 16 then. That's what happened with Ronaldo. It couldn't happen in England today because the rules are stricter about foreign players and they are all already known. I couldn't get a Ronaldo for Tottenham, not unless he had an EU passport, from a Portuguese grandfather, for example.
"We do have Defendi, a left-footed stopper. We took him on his 18th birthday from Cruzeiro because he has an Italian passport. His grandfather was Italian. I knew him from my PSV scouting, he was on my list.
"You do have to be careful with young footballers, however. Some are mature, some are not. I don't like to take players from other countries at a young age, like 13. But you never say never. People call it slavery, but that's wrong. For example, you have a family with only a mother and 10 children and the talented young footballer is the oldest. She wants him to leave so she doesn't have to feed him. What's right and wrong here? In our comfortable world we don't think about it like that."
Many critics believe the system of a technical director won't work in English football, where the manager has traditionally reigned supreme.
Naturally, Arnesen disagrees. He has a close relationship with Dutch coach Martin Jol and says: "I run the business all around, to make sure Martin can work on the training ground every day. The coach only has to worry about the team. I am the highest man in the football side of the club.
This profile was published in the June 2005 issue of World Soccer – shortly before it emerged that Arnesen had beeen approached by Chelsea to become their Technical Director.