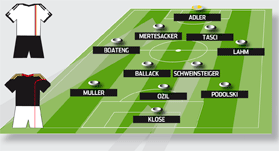 Not so long ago the Nationalmannschaft seemed wedded to their tried and tested 4-4-2 formation.
But with the ever-innovative Low at the controls, standing still is not an option and it is to his great credit that the current team displays far more operational variety than sides led by predecessors such as Berti Vogts, Erich Ribbeck and Rudi Voller.
If Low has a weakness for one system, it is the 4-2-3-1, which he successfully switched to midway through Euro 2008 and again turned to in the vital 1-0 qualifying win in Russia last autumn. The formula is most likely to be wheeled out in South Africa for tough games against technically accomplished sides with a short-passing style; the object of the exercise being to stiffen the midfield and hit opponents on the counter.
In this configuration, four out of the five midfielders – the two holders Ballack and Schweinsteiger plus the wide men Muller (right) and Podolski (left) – are expected to put in a double shift of pressing and tackling. The key man of the quintet is playmaker Ozil, whose brief is to invent and offer as much support as he can to lone front-man Klose. The left flank is Germany's favourite attacking avenue, with Ozil often working out there in conjunction with the dynamic Podolski and adventurous left-back Lahm. As an alternative to Ozil, Kroos stands by.
High up the pitch
It is not an especially pro-active template. But when Germany do win the ball back – the aim is to do so as high up the pitch as possible – they move instantaneously into top gear, looking to overload wide areas or put the striker or midfield runner through on goal with a sharply struck vertical pass. Low expects his side to be compact; his back-four keeps a high line and he insists that only 30 metres or so separates the rearguard from the forward line.
Up against weaker opposition, Germany may well revert to the 4-4-2 set up, which features two midfield enforcers and a pair of creators out wide. Gomez or Kiessling will be the extra striker, with Ozil moved out to the left.
Other templates include a 4-3-3 and a 4-1-4-1. When chasing a game, one of the defensive midfielders is immediately sacrificed to produce a 4-1-3-2.
Team – 4-2-3-1
Adler; Boateng, Mertesacker, Tasci, Lahm; Piotr Trochowski, Schweinstiger, Podolski, Ozil, Muller; Klose.