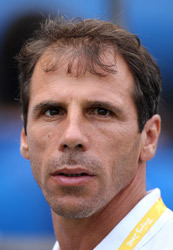 World Soccer: Was it been hard making the transition from player to manager?
Gianfranco Zola: It's been a challenge because playing football is one thing, coaching the players is another thing entirely. Sometimes you have to tell a player everything, sometimes you just have to give a few details. Sometimes you tell a young boy to control the ball and pass it, when you should be saying: "This is how you control and this is where you should be looking to pass it." Sometimes you assume that he knows things already. That's what makes very good players good at playing but maybe not so good at coaching. That's why I preferred to start my coaching career with youngsters [working with the Italian Under-21s] who can learn from experience and let other people deal with the football. I'm still learning.
Your appointment by West Ham was a surprise. We thought you would return to England as Chelsea manager!
I know this is a big risk. I am putting myself on the line. All the goodness I've done is on the line and I'm going away from Chelsea to another Premier League club, but I like a challenge. The bigger the job, the more responsibility and attention you get, so every mistake is going to be in the spotlight.
Are you worried you might fail?
I'm not afraid of making mistakes. I became a better footballer by missing penalties and crying after that but it's all part of the process of becoming better. I know that there may be a risk but can you imagine the reception I'm going to get from the club, it's going to be fantastic. That's what I am thinking about.
Will you be introducing more young players?
I believe every club should have a strong youth foundation. One of my main
aspirations when I came here to be manager was that this is what I want at the club. I believe very strongly that there should always be a possibility of allowing young players to come through the first team. It is part of the project I have taken on here as manager.
In Italy, leading coaches like Carlo Ancelotti and Roberto Mancini were great players but here in England the likes of Wenger and Benitez were not well-known as players. Is it important to have been a player?
No, there's no rule. In Italy, we had Arrigo Sacchi, and other good managers who did not play at a high level, like [Luigi] De Canio [ex-QPR], he wasn't an important player. It's not a rule that applies to everybody. To be a good coach, you don't have to have been a good player.
What is your assessment of Fabio Capello?
I never played for him, I always played against his teams. He's a very strong character, he has a mean streak, he doesn't ask, he orders! Capello is a manager who has always had good results wherever he has been. And England need results! I don't know whether he will be able to do it but in terms of credentials there's nobody as good as him around.
What advice can you offer him on making a successful transition from Italy to England?
He's a clever boy, he doesn't need my advice on how to handle the job. He'll certainly learn quickly by studying a lot, just to make sure everything goes right. Also, he won't try to change the mentality of the players, he will certainly to modify it, but not change.
But Italian football has a different mental approach.
Yes, but they are also different in Spain. They have a different approach but it is still 11 against 11, the pitch is the same. So he's got the experience, the knowledge, to make it work. Whether he's going to succeed, I don't know, it will also depend a lot on the players, whether they are willing to follow him, whether they are good enough to win. Certainly he can do a job.
At the 2006 World Cup, the Italians had a much more focused attitude than the English, who were more relaxed.
We are different to you. You don't need to tell Italians what to do, they know. The players perform best in those conditions. Historically Italians give our best in those conditions. It was the same in 1982 when we were going through a big scandal and we won the World Cup. In those situations we really get together well and we perform well. And don't forget, we have quality players as well.
Is there still an Italian way of playing?
There's still a distinct Italian style although the influence from foreigners is growing, at Milan and at Inter. There are so many foreign players there now.
Remember that game at Wembley when you scored right at the end, that was a classic Italian style, wasn't?
Yes, defend, defend, defend, then attack!
But is that still the Italian way?
It's changing. It's partly a consequence of the introduction of three points for a win. That has changed the way people see games. Teams prefer to win two games and lose one than draw three games. That has influenced attitudes. So they try to play offensive football. We use a lot of tactics, the tactical side of the game is still very much exploited in Italy. They work on it a lot. They try to get the three points without risking too much! The style is still Italian but it's more offensive than it used to be.
Players seem to be bigger nowadays. Would you have been as successful today?
It's very difficult. How can you say that Pele would not have been as good a player now. Pele was a fantastic player in his time. I was a good player in my time. Whether I would have been as good a player right now, who knows? But it's true, the game is becoming more and more physical, the players look after their bodies much more.
Is football still enjoyable to watch?
Obviously when the game becomes so physical the quality of the game loses a bit, otherwise you'd be a monster! If you can keep high quality with high speed, you are a phenomenon. So the quality of the game is not the same, you enjoy the rhythm, but not the pure quality of the game.
Do you keep in touch with your old Chelsea team-mates?
Of course, I speak often with Gustavo [Poyet], with Dennis [Wise], Graeme Le Saux. And Kevin Hitchcock is my big mate.