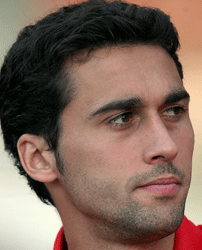 World Soccer: You began your career at Real Madrid. Moving to the Bernabeu from Liverpool last summer must have been like a homecoming for you…
Yes, but it's a different Madrid and a different me. When I left I was a kid and I wasn't ready. I left without a buy-back option, thinking the door would remain shut. I'm glad to have been wrong. I took a decision that I thought was right at the time and I still think so. It's hard to make the first team. The pressure is intense; there wasn't the stability that a fantastic generation of youth teamers perhaps needed. And, as for me, I wasn't ready. This summer, I was. Things have fallen into place: the return of the president [Florentino Perez], my situation at Liverpool, my development. I've been lucky.
How important were Liverpool and Rafa Benitez in your development?
Hugely important. It was a wonderful opportunity and a great experience. Rafa is very, very, very demanding. He pushes you extremely hard. To work with him you have to have patience and understanding; you need to accept what he's like. There's no doubt that if you can work with him, he improves you. He's correcting you every single second, always wanting more. That was good for me. So was going to the Premier League because it's so much more physical. It made new demands, developing sides of my game that I hadn't developed in Spain.
What stood out most about English football?
The fans, the folklore, the atmosphere, the feeling, the intensity. There's a respect, a kind of deference, towards tradition and identity. In Spain, the team has to carry the fans; in England it's the other way round. Madrid's fans demand the best, Liverpool's fans help you produce it.
What are the biggest differences between Manuel Pellegrini and Rafa Benitez?
Pellegrini gives players more freedom, he's not so intense and has more of a soft approach. The style is different. We play two-touch, there's more willingness to take risks; Rafa doesn't want you to take any risks ever. Rafa's happy to score the first and sit back; Pellegrini is the opposite. He's more focused on possession. They're different concepts, and both perfectly acceptable.
But should Liverpool and Rafa let go a bit? Do they need to be freer, more creative?
Rafa was a bit more attacking last season. Liverpool follow Rafa's instructions very closely. What Rafa wants, the team does. Rafa works hard during the week and a lot of the time the team plays on memory. That's very good in certain situations, but there are moments that you need to think for yourself and do something unexpected. If the opposition works you out, you need another option. Sometimes, within [Benitez's] framework, doing something unpredictable is hard. Every player knows what he wants. The 1-2-3 you work on in the week is the 1-2-3 you produce in the matches. At times that can be a bit robotic.
Was it a relief to leave Liverpool?
I was sad to go, but as soon as I saw I had this opportunity there was no way I could turn it down – the chance to come home and to be part of an incredible project.
Last time, the galactico project failed. Can it work this time?
It is working. The coach has worked very well. When you have a squad like this with very good players but also – and just as importantly – good professionals, then it will work. But the demands are colossal. If we don't win 5-0 and play wonderful football it's not enough. Then there's Barcelona; that increases the pressure. We have to be perfect – play well, beat Barcelona, win big…
You mention "good professionals". Are we wrong to see huge egos when we look at players like Cristiano Ronaldo and Kaka?
Yes. Sometimes the image players project doesn't correspond to reality. Cristiano is the obvious case. Besides, it's good for players to have that touch of arrogance, an ego, the desire to compete, to play every minute, to improve, to slaughter their opponents. It helps the team improve; it's the key to competitiveness.
Are footballers egotistical by design?
Yes. I think we're all a bit egotistical. We all want to play, we all want to be the best.
So, conflicts are inevitable?
Yes, I think that's normal. Not just here. I've never been at a single club where there hasn't been tension on occasions. That happens in football and in all workplaces. What every player wants is for the team to win, sure, but also that he's part of it. So far there hasn't been any problem; there have been minutes and opportunities for everyone.
Are you suggesting team rotation is therefore necessary for psychological factors rather than physical reasons?
Yes, for sure. If you have a player who hasn't played for five or six games, there's the risk that he will switch off. He'll not give his all, he won't train as hard. It's not just about making sure all the players are physically right but that they come to training thinking they have a chance of playing, that they compete – and, as a consequence of that, oblige their team-mates to compete too. You make sure people are happy and working. To do that they have to know that there's a place to fight for. Players want to play, especially in a World Cup year.
You've played at both right-back and left-back. Ultimately, what do you see your role being? What are your aims?
You look at the bench, or in the stands, at the players who aren't even playing and they are brilliant footballers. I know it's hard but my mentality is to fight and persuade Pellegrini that I deserve a place – in any position. One thing is very important: if I'm left out it's because someone has decided, not because I failed to give everything.