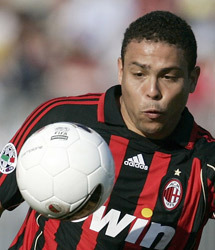 This time, are we looking at the final curtain? That question was on the minds of many after 31-year-old Ronaldo suffered a serious knee injury during Milan's 1-1 home draw with Livorno on February 13.
Almost eight years after he had badly torn ligaments in his right knee playing for Internazionale against Lazio in the first leg of the Italian Cup Final, the unfortunate Brazilian had now ruptured a tendon in his left knee.
From the moment he crashed to the ground in the Livorno penalty area, the severity of the injury was clear. And just as in the Cup Final, it happened with no other player near him.
Ronaldo was operated on by Dr Eric Rolland at the Pitie- Salpetriere hospital in Paris, the same place that looked after him eight years ago, and he now faces a nine-month to year-long recuperation period.
Will he make a full recovery? Will he play again? Obviously, when he faced the media in Paris a week after his operation, Ronaldo could not answer those questions with certainty, but his words and overall demeanour suggested that even he does not really believe he can come back from this one.
"My heart is telling me to keep going but, for a while now, my body has been telling me that it is tired, that it has suffered a lot and that it now needs a good rest," the forward said.
"Eight years ago, I didn't worry about being able to play again, and I am not worrying about that now. Right now, I've just got to concentrate on making the best possible recovery.
"If my knee doesn't hurt me and if I feel well, then I'll keep on playing. Otherwise, I'll have to take a very difficult decision, I'll just have to call it a day. The motivation to get me playing again would be my love of football and of scoring goals, and also the idea of ending my career with Flamengo [the club he supported as a boy].
"So far in my career, I've achieved what I wanted with hard work, with sweat and with tears. At this point, I feel I have done all those things I wanted to do, both personally and professionally."
Ronaldo could have taken some comfort from the fact that both Milan (where his contract ends this summer) and Flamengo have left their doors open for him.
"I think and I hope that he will want to play on. If he does, Milan would be happy to have him again," said owner Silvio Berlusconi.
Flamengo president Marcio Braga said that the club would "receive him with open arms".
But the despondent Ronaldo merely observed that no club wants "a broken-down player".