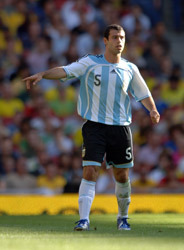 World Soccer: Why did Argentina struggle to qualify for the World Cup?
Javier Mascherano: I do feel the team was undergoing a process of renewal and change during the qualifying campaign and I think that contributed to us struggling. Each time we took to the field to play, we were anxious about reaching the finals so the pressure was huge. Argentina with no World Cup would have been a disaster for the country. Qualifying by any means became our only priority.
The players were heavily criticised in the qualifiers. Was that justified?
We all accept criticism when it is about football issues, but we got upset when it got personal and untruthful. It was said that the Argentinians who play in Europe, like myself, were not eager to play for the national team. That was unacceptable and hurtful. There were also alleged problems between certain players in the camp, but again that was false. We can take criticism, but I also believe that when faced by such tough moments the team improved.
Argentina have not won a major trophy since the Copa America in 1993. Why has it been so long?
It's hard to explain. We've had good teams but things haven't always gone our way. Argentinian football has had much success at junior levels recently but we haven't translated this to senior level. Several formations and coaches have been tested, but unfortunately we have felt frustrated for a long time.
Describe the experience of playing for Diego Maradona?
He gives us a simple message and, importantly, he asks players to play in the positions and in the style which we are familiar with at our clubs. His idea of how he wants to play the game is always clear – there's no confusion. His passion for the team and the success of Argentinian football burns bright. He's the most important player to ever represent Argentina and his performances speak for themselves.
How has your game and style of play changed since you arrived in England?
I already had a reputation as a physical player but even I had to adapt to a faster, more dynamic style in England. I feel my style suits the Premier League well, but there is more running than perhaps in any other country. In the Premier League, there's a big emphasis on recovering the ball when it is lost because the action is so fast and that means there will always be a role for a player like myself who is willing to tackle and compete for the ball.
How difficult is it to build a successful international side from a set of players who play in many different countries?
It's difficult and a constant challenge as we usually meet for an international fixture just 48 hours beforehand. We have many things to work on before a match and so little time to prepare properly. But we are at peace with the situation now that we've qualified for the World Cup as we will have much more time together in the summer before the tournament begins. For now, the pressure has been released.