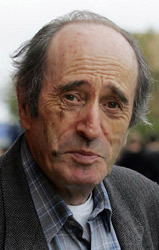 At the end of last season, I expressed to my old friend Roy Hodgson, much travelled and highly experienced manager of Fulham, my doubts and fears over Fulham's participation in Michel Platini's new, half-baked, misguided new European tournament.
Alas, I seem to have quickly been proved right. In the second round, against the most remote team in Russia, Amkar Perm, Fulham's star striker, Andy Johnson, was brutally felled by the thuggish defender, Dimitri Belorukov, dislocating his collar bone; and putting him out of action for weeks.
An inept Portuguese referee merely waved a yellow card at Belorukov, when it manifestly should have been a red. This robbed Fulham of their only attacker with real pace and how plainly debilitating this was, when one saw them play powerful Chelsea, just three days later at Craven Cottage.
With no threatening speed up front, and the Fulham team notionally tired after the exertions of the previous Thursday, so Chelsea – though I'm still not sure about their present Ancelotti devised formation which places such an overlapping burden on their adventurous right back Bosingwa – strolled to an easy victory. Fulham throughout didn't get a proper attempt on goal.
Facing them was, the following Thursday, a 4,500 mile round trip to Russia for the return against Amkar Perm. I suppose you couldn't wholly blame Platini for this parody of a tournament since he inherited the tournament disaster cooked up by UEFA: intimated by the big European clubs into allowing them up to four at a time into the so called Champions Cup. Which now of course is nothing of the sort; indeed we even have finals contested by two clubs which haven't even won their own country's Championship.
So the often-entertaining European Cupwinners Cup went by the board while for some seasons, we've had a UEFA Cup in which, ludicrously, teams knocked out of the senior "Champions" Cup were allowed to participate. And here too, analogously, we have seen such teams confront each other in the UEFA Cup Final.
***************
Schadenfreude, the German word which signifies delight in other people's misfortunes, is perhaps, allowable by soccer people in the recent tribulations of the Harlequins Rugby club.
Once and not so long ago such a perceived bastion of good sportsmanship, integrity and fair play. And now? It is alas, the Harlequins who have been comprehensively disgraced over the cut that never was. Or, at least, never genuinely was till a mouth wax deliberately cut in the dressing room by medical person or persons so far unknown. The mouth belonging to the hapless wing Tom Williams; who had left the field after releasing a blood capsule in his mouth. The object of the perverse exercise being to enable Williams to be substituted by a goal kicker.
The Harlequins rugby director, the previously much respected Dean Richards, hides his face in shame after being banned for three years as instigator of the plot. All too significantly, Harlequins' chief executive, Mark Evans, alleges that faking blood injuries is common in the game.
Not long after that horrific eye gouging incident by a Springbok against a British Lion comes further bleak evidence of the turpitude in Rugby football and the absurdity of its long held claims of moral superiority to soccer.
I've long remembered that there was, incredibly, a 40-year gap between the sendings off of two All Blacks, the first and only the second to be sent off in an international game. In 1924, a referee called Freethy, at Twickenham, an England – New Zealand match sent off an All Black called Brownlie. The New Zealand people would never speak to Freethy again.
40 years later at Murrayfield, Colin Meads, a large, tough forward whom I actually met and liked on an All Blacks tour, was sent off for a foul. I make no great moral claims for soccer but, by and large, soccer does not sweep its dirt so proficiently under the carpet. Of course, Rugger players are well known for "respecting" referees. Referees are so accommodating.