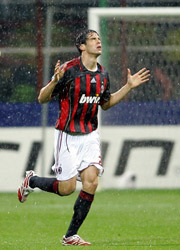 World Soccer: You had already played in a number of very important finals, but the Champions League Final in Athens was the first in which you were the key player. Did you feel the weight of responsibility?
I always know what my tasks are within the team, and can say at any time: "I'm ready". It's not a burden for me. It is a responsibility, but not at all a weight.
Do you think that the game against Liverpool was the most important in your life?
No. The most important match in my life will always be the next one. You mustn't dwell too much on what has been achieved – or else you run the risk of losing motivation. Milan also played in the 2005 Final, another important match, but we had to keep looking ahead.
What do you feel when you play in that kind of match?
I love playing in important matches, the ones that make the difference. You face them with even greater motivation, if that is possible. Matches such as the semi-final against Manchester United or those played for Brazil give you this extra enthusiasm. But nothing beats the Final of the Champions League.
Some say that, without Kaka, Milan's season would have been a disaster.
Not at all. I played my part but I'd like to make it clear that a player cannot win anything on his own. It is essential that the whole team does its work, otherwise success does not happen.
What was the key factor in beating Liverpool?
Adopting the same attitude that we had at San Siro against Manchester United. Our objective was to play as well as we did in the semi-final.
Were you afraid that Rafa Benitez had planned a marker for you?
Both teams knew each other very well, and in this type of game any player can make the difference. It wasn't the first time in the competition that we had to play against a team that locks itself up at the back. Bayern, for instance, created problems for us by closing down space. But I have always trusted in our own ability.
Did you fear the ghosts of Istanbul?
It was always unlikely that something like that would happen again. But in the world of football you must always be wary. Manchester United and Barcelona won the competition by turning the match round in the final minutes. The Final is always spectacular.
Did you have thoughts of revenge when you knew you would be playing Liverpool?
No. The important thing was to win the title. It would have been exactly the same against any other opponent. To lift the European Cup was my only motivation.
In 2005 you touched the Cup when you went on to the pitch, and this year you didn't.
I don't think I made a mistake in Istanbul. To touch the Cup had nothing to do with what happened later. But I didn't want to risk the same thing happening again.
What differences are there between the Milan team that lost in Istanbul and the one that won in Athens?
We have much more experience and we have become more mature. There have been changes of players, too, but I think that the great difference was the way we reached the Final. In these last few months we have grown a lot as a group.
How would the Milan fans have reacted to another defeat against Liverpool?
I think our supporters were already happy with the fact that they had reached another Final. In 2005 the unthinkable happened, but they know that no one ever goes on to the pitch with the intention of losing. We always give our best. And our fans know that.
You were top scorer in the Champions League with 10 goals, a bigger tally than normal because you were playing further forward than in previous seasons. How did that come about?
We tried out a new formation after a difficult period when we couldn't find the right balance. The coach [Carlo Ancelotti] moved Clarence Seedorf forward and decided to push me up,
too, as one of the two attackers, a new position for me. Before, my duty was always to create goalscoring situations for the forwards. But now, with our new system, I am the one up front, so when I get the ball I must run with conviction towards the goal and try to score. It's worked quite well.
Seedorf admits that he is delighted to play as an attacking midfielder. Do you like your new position?
I feel a bit more comfortable there now, though I cannot say that I have grown used to it yet. I used to like having two players ahead of me. At the beginning I was a bit mesmerised, but then I said to myself that I had to try to learn, to change, as the team played better that way and felt more balanced. Little by little I have acquired the movement and the tempo my new position requires and now I feel very comfortable.
What is the secret of your adaptation?
I have learned to have the mentality of a striker, because before I had a midfielder's mentality, and I still do, which is that of making the last pass. But forwards don't work that way. So now I have to finish the move myself.
Was it nagging you that although you have been tipped to win the World Player of the Year award, you still did not have a Champions League winner's medal?
No, because I still think there are many things left for me to do. This is possibly one of the most important moments in my career. If after that I'm choosen as the world's best player, it will be nice, but it is a decision that can only be based on results. And this season, with Milan, results have been very good.
It seems that this year's award will go to either Cristiano Ronaldo, Didier Drogba or you. Does the fact that you wonthe Champions League give you a certain advantage?
I don't know. These individual awards make you really happy, give you enormous satisfaction. But to get one is down to the successes of your team. After having won the most important trophy in the world at club level, I could well be among the favourites. But there is still a long way to go and the competition is very high.
What is your opinion of Cristiano Ronaldo and Drogba?
I think there is very little to be said about Cristiano Ronaldo that has not been said already. The whole world knows him. He is probably one of the best players in the world and can get even better. I like Drogba very much, too.
Which particular match or which victory made you understand that Milan could become European champions?
I think against Manchester United, because they're a very important team and because at that time they were the fittest team in Europe.
What was Milan's secret this season?
Maybe the ability to stay motivated, despite the club's great history. We have learned to peak at the right time, just when the season's decisive matches come round.
But you did get a little distracted from Serie A.
That's true, especially because we qualified for next season's Champions League with a few games to spare. That was important after everything that happened here last year [Milan nearly missed out on the Champions League because of their part in Italy's match-fixing scandal]. And we couldn't stop thinking about our match against Liverpool.
How do you feel about Internazionale winning Serie A?
After all that took place last summer, Inter were the great favourites to win the title and no one can say that they didn't deserve it. They beat us home and away, so their triumph is legitimate.
How important was Ronaldo's arrival?
Very, because of what he is as a person and as a player. He has brought a lot of quality to the team. His arrival helped us definitively in the Champions League, even though he could not play in the competition. Can you imagine what it will be like with him next season?
Milan were the only non-English semi-finalists in the Champions League. What are your thoughts about the Premier League?
I love it. When I lived in Brazil I used to follow it very closely, along with the Italian and Spanish leagues; they are the most exciting championships.
But the English style is the one imposing itself in Europe. You saw Manchester United and Liverpool at very close quarters.
Liverpool's style is the outstanding example of the British playing style – very tactical, very physical. United try to play in a different way.
Do you think this may have been your last Final with Milan before moving on to Spain?
I am happy here, I owe this club a lot and am very grateful to them. My contract with Milan expires in 2011 and that is all I can say at the moment.
Knowing how important the Brazilian national side is to you, how hard was it for you to write the letter to the coach, Dunga, and the Brazilian federation asking to be excused from the Copa America?
I'd do anything to be able to wear the national team shirt. I dream about playing for my country and I want to be in all the matches. But I think that all players have a physical limit and need certain periods to rest. I haven't stopped in three years and have always attended all call-ups. I took the decision in fact because I want to build an important future with the Selecao.
In what sense, specifically?
Next year I would really like to play at the Olympic Games. In two years' time, there's the Confederations Cup, and in three years' time the World Cup. So if I don't go on holiday this year, I could find myself with six or seven years of non-stop playing.
What exactly did you say in the letter?
That it had been a very hard decision for me to take and that I had given it a lot of thought. I said I thought the right moment had come for me to take a holiday. I insisted that on taking that decision I also had the national side in mind.
Are you still disappointed by Brazil's defeat against France in the last World Cup?
A little, but I take comfort from our victory in 2002.
What went wrong with Brazil in Germany?
Many players have had to learn that talent, in itself, is not enough in football. There was no side more talented than ours – but that wasn't enough. In the end, Italy won. They had something different, something superior, on their side.
At Milan you play alongside Paolo Maldini, a former Italy stalwart. What is he like as a player and as a person?
When I came to Milan, Paolo was the player I always studied carefully. I was always struck by the fact that a player with so much success, such great fame, was always the first to arrive for training, the first to do everything. I used to ask myself: "Where does he get the motivation from?"
And what did you discover?
That it all depends on character. His is constant and he is a true winner. That's how he was born, and that's how he'll continue to be. You don't learn such huge determination anywhere. His character has always made the difference throughout his career.
Athens was his eighth European Cup Final. Do you see yourself completing a sporting career like Maldini's?
I don't know. Paolo represents a style, a leadership, a player that fits 100 per cent into the definition of a true professional, of excellence in this game. I can say only that to me it is a great honour to be in the same team as him.
Many see in you his worthy successor, because of your cheerfulness, elegance, talent and style.
It will be nearly impossible to walk the same path as his. I would be delighted if I could get closer to him in any of these facets, but Maldini is unique. I can only take him as an example and learn from him.
Having reached the summit of world soccer, do you often think back on your past, on how everything started?
Yes. I started kicking the ball just for fun. But little by little I fell in love with the game and thought about the possibility of becoming a professional player. In the end I have reached places I had never dreamed of getting to.
You always say that your model was Rai. What importance did he have in your training as a player?
Absolutely essential. He was an example to me. When I was a boy, he was the best player at Sao Paulo and I started to study his style of play.
Some years later you cracked your spine in a swimming accident. What effect did that have?
It was a crucial experience. It made me understand that you cannot take anything for granted
in this life. It bestowed value on everything I had around me, especially the people closest to me. And, above all, it made me see that we owe everything to Him above.
What happened next?
I was out of circulation for three months and then I started my career as a professional with Sao Paulo, being well aware of how lucky I was with everything that was happening to me.
Are you happy with yourself right now?
Very. But I would like to underline that I am happy because of Milan's season, because we attained our objectives, something that many thought impossible in the winter. With our victory in Athens, we have neared perfection.
Interview by Andrea de Pauli/ESMe/em>