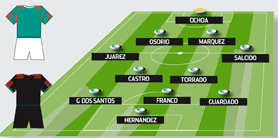 Despite playing 4-3-3 for most of his tenure as Mexico coach, Aguirre seems to be poised to switch to a 4-2-3-1 for the opening match against South Africa to accommodate for the emergence of Hernandez and Blanco's lack of form.
In that scheme, Franco would play as a second striker behind Hernandez and Mexico's most dangerous chances will arrive from the wings, with Guardado and Giovani Dos Santos providing the crosses for the two forwards.
However, as his defenders lack height, he could revert to the 4-3-3 against France, with Juarez moving up to play as a third anchorman, Osorio being the right-back, and the taller Rodriguez or Moreno taking the remaining centre-back spot. In the scheme, Guardado and Giovani Dos Santos would be pure wingers but the team would press from high up the pitch, with Franco or Hernandez as a lone striker.
On form
If Guardado is not fully fit by the time the World Cup starts, Vela could take his place – but the team would miss the Deportivo star's pace and crossing skills, and Aguirre will have to hope the inconsistent Arsenal youngster is on form.
In the second half, it's almost a certainty that Aguirre will use Barrera, no matter the result, as the Pumas winger's pace is a lethal weapon in counter-attacks and his long-range shooting is useful when trying to open up opposing defences.
If Aguirre needs further attacking force, he could call on Castillo, while if he needs to preserve a result, then Rodriguez or Moreno would be sent on with Marquez moving forward to play as an anchorman.
Team – 4-2-3-1
Ochoa; Osorio, Marquez, Juarez, Salido; Castro, Torrado; Dos Santos, Franco, guardado; Hernandez.