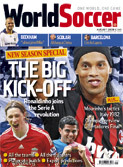 Welcome to the latest World Soccer newsletter. This month we bring you an exclusive interview with David Beckham, in which the LA Galaxy midfielder discusses his decision to finish his career in the United States, and reaffirms his desire to represent England at the 2010 World Cup. Also, regular columnist Brian Glanville looks at the club v country controversy that has overshadowed the Olympic football tournament, while World Soccer editor, Gavin Hamilton, wonders whether the summer's big spenders have bought wisely.
The new issue of World Soccer looks ahead to the forthcoming season in Europe with in-depth features on the new seasons in England, Spain, Italy, France and Germany.
Elsewhere, our country feature turns the spotlight on Holland, while Belgrade is the location for this month's Soccer City. Our Memories section turns the clock back to 1982 and Italy's World Cup-winning side, while the Tactics section analyses how Jose Mourinho has achieved so much success in recent years.
Remember, you can discuss all the latest developments in the game, give your opinion on anything in World Soccer and keep up to date with all the latest news at www.worldsoccer.com