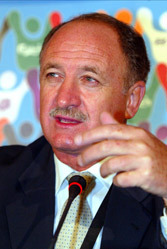 World SoccerWhy have you taken your first job in European club management at the age of 59?/strong>
Luiz Felipe Scolari: It was not just about money, as some people have said. I see this as a challenge that I could not turn down, and I have never had an opportunity like this in my life before. It is a difficult task, but the invitation from Chelsea was impossible to ignore and I'm ready to accept the pressure that goes with the job.
Will you give owner Roman Abramovich the beautiful football he craves?
Football can be beautiful, but you have to find a way to win as well. Both at the same time are perfect, but this is not always possible. If I have to do something else to win some games, the beautiful part may not be possible, but we will see. Don't forget, I am Brazilian, so in an ideal world we will play perfect football.
Are you concerned that Abramovich may try to interfere with your work at Chelsea?
My meetings with Mr Abramovich have been very pleasant and we speak about our ideas. He wants Chelsea to play beautiful football and to win. I agree with this idea totally. He did not try to tell me his opinion about who he wants in the team. We talked about different players and shared our views. He is very keen to have a happy team unit, and we are very close on this.
Abramovich has a passion to win the Champions League, so is this your top priority at Chelsea this season?
This is not the case. If I say that my only focus is on the Champions League, just imagine what kind of effect this may have on my players. They will go into a Carling Cup game and say we don't have to push so hard here. The same is true with the FA Cup and the Premier League every week. I don't want to get to the situation where we are looking at Europe and saying this is our main target.
The Champions League is the one trophy Chelsea have failed to win, so you can
understand the desire to win the competition.
Absolutely, and I want to win the Champions League as well. It is the world cup of club football, and as I have already won the real World Cup with Brazil in 2002, it would be amazing to add the European title to my memories. I have said before that I want to try and win every competition we enter this season, and this is true.
The previous Chelsea manager, Avram Grant, was sacked after missing out on the Champions League by one penalty kick in May, so do you feel you need to win the competition to survive at Chelsea?
I am not afraid about losing my job at this moment! I have only been here a few weeks and don't think I will get sacked yet. But yes, if I do not win titles this season, I know what will happen. The same is true for the coach at Arsenal, Manchester United and Liverpool. We are all expected to win, and the ones who fail suffer the consequences.
Jose Mourinho and Rafael Benitez have been criticised for changing their teams too much during their time in English football. Will you try to find a settled team?
This is not the way football works. I will select those who show the hunger and desire to succeed. I need players who are passionate for every game and I will have no priority in my teams. I spoke about this when I arrived in front of the players. It's my job to choose a team to take to the field and the seven to sit on the bench. If some players are out for one game, two games, they should not panic. If they work hard, their chance will come.
So you don't believe in the notion of having a first-choice 11?
Not really. Do not forget my history when it comes to making team changes. The only two players I didn't use in my squad at the 2002 World Cup with Brazil were the spare goalkeepers, and with Portugal there were only one or two outfield players I didn't use for major tournaments. If a change can help the team, I make it.
Do you fear you will miss the challenge of international football?
I will miss Portugal and our project there. I don't agree that club football is better than in national teams because it's so fantastic when you are in a World Cup or European Championship. The atmosphere and excitement around the big games is so incredible, and it's hard to beat that.
So what do you see as the advantages of being in club management?
You miss the idea of living day to day with your players in the international job and getting to know how they work. In a national team, you feel more like a politician representing a nation in a world meeting, but club football is different and I am looking forward to this at Chelsea.
Will your philosophy change now that you have more time to get to know your players in the club environment?
It won't change too much. Lack of professionalism is the one failing I cannot tolerate and it was the first thing I said to my players when I came to Chelsea. Obviously, I knew all the players from the television and it will take some time to understand them as players and
psychologically. I also don't want to be stuck with one formation and one way of playing. You need to be versatile to win big competitions.