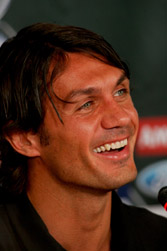 How hard is it going to be to finally hang up the boots?
I've been very lucky. I played all my life in Milan, for a very good team, and I've always had my family around me. Everything has been perfect. Everything that I wanted to do in my career, I did it.
Is your body telling you the time has come and that you have pushed it far enough?
Ironically, I'm much better this year than for the last three seasons. After my two knee operations everything is much better and I am training regularly. I could keep on playing but I don't want to. This year I thought I would be playing just a few games – and here I am playing in them all.
So there's no way we will see you back here for the start of next season?
No, no, I am stopping all right. I mean, when I look at my career, I have really stretched it as far as you can go. I started in Serie A at the age of 16 and here I am still playing at 40.
You say you have no regrets, that you have done everything you wanted to. But surely the 2005 Champions League Final loss to Liverpool in Istanbul hurts a bit?
Why would that be a bad memory? That was one of the best Finals I ever played in. We played really well, much better than Liverpool, and we really deserved to win much more than them. But that's football. That defeat, though, meant that when we met them two years later, again in the Final, we were really keen to get our revenge.
The second Final maybe wasn't a great game, but it was real proof of how determined we were – and then we went on to beat Boca Juniors [in the Club World Cup] just to prove the point that we really were a very good team. We played better than Liverpool in Istanbul and we deserved to win but, you know, that's life. I won a lot of things in my career. I can accept a defeat. We did our best.
Is there any game that you regret? One that you wished you had never played?
A game I would happily not have played in was our European Cup quarter-final return match with Marseille [in 1991]. That certainly did not end the way I would have liked.
[With the score at 1-0 on the night, and with Marseille winning the tie 2-1 on aggregate, Milan were clearly on their way out of the competition as the match went into to injury time.
Then the floodlights failed, offering what seemed like a lifeline to Milan director general Adriano Galliani. In a distinctly unsporting move, much criticised in Italy, he marched the team off the field and refused to play out the last three minutes of injury time. The Milan ploy was obvious: they would argue that the game had to be replayed because of the floodlight failure. UEFA, however, took a rather different view and banned Milan from European competition for a year.] It's one thing to do your best and get beat, that's too bad. But to walk off like that… [Shakes his head ruefully.]
With 126 caps, you are the most capped Italian of all time. Given your long career with Italy, was it difficult to watch them win the World Cup without you in 2006? After all, you had played in every World Cup and European Championship finals tournament from 1988 through to 2002.
I was in America for the 2006 World Cup, a long way away, so until it got to the semi-final stage I saw hardly anything. I saw the Final all right. I was very happy for them but disappointed for myself because we had gone so close so often when I played. But, you know, I've had so much out of life that I cannot complain.
Did Italia 90 not hurt? Should Italy have won that tournament?
Italia 90 was a great experience, even if a disappointment. Maybe we weren't destined to win it, but we should at least have made it to the Final. Remember, we got to the semi-final without having conceded even one goal.
Any other World Cup memories?
The 1994 tournament in the USA was strange. I remember our opening game against Ireland in the Giants Stadium game when they really caused us problems. We were expected to win that game, but defeat really started our World Cup on the wrong note. Then in our next game, against Norway, our goalkeeper was sent off. Oh dear, dear, what a traumatic start. We ended up in the Final, losing on penalties. That's football.
Is there any one game that you recall above all others?
My first-ever Serie A game. I knew then that I could be a Serie A player. Our coach [Nils] Liedholm was probably the perfect coach for a youngster. He was very calm and encouraging. He didn't add to my stress, which was good because I was already all worked up on my own.
Have you any specific plans for the future? In the past you have said you absolutely do not want to coach. Is that still the case?
Definitely. I am not going to coach. It's a great job but very stressful and it involves some of the things that I like least in football. At the end of a game, I see [Milan boss Carlo] Ancelotti do seven different interviews, answering the same questions seven different times.
Also, I wouldn't be at ease having to go to Coverciano [the Italian federation's technical centre] to be taught about football, just to get my coaching badge. I have two business interests that I intend to follow up more closely. I have a clothing line with friends and we also have a company that does house restoration. But, apart from that, I simply do not have definite plans and I don't want to say I will be doing this or that when at the moment I don't really know.
Who were the best of all the opponents you met and of all your Milan team-mates?
Maradona was the best. He was so talented and he was a great guy. Among team-mates, technically speaking the best was probably Van Basten, but the one from whom I learned the most was Franco Baresi.
This is an extract from Paddy Agnew's interview with Paolo Maldini. The full version can be found in the June issue of World Soccer.