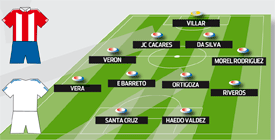 Gerardo Martino has developed a team that can either sit back and break on the counter, or seek to take the initiative. However, expect his side to display the more conservative version of their game, particularly against the likes of Italy.
Martino's 4-4-2 can look like a back three, with Veron sliding in while Morel pushes forward, keeping the pitch wide and allowing Riveros to cut inside towards goal.
The team is much more attack-minded when Bonet is installed at right-back. In this line-up, both full-backs will push up. In order to give the pair the freedom to do so, Victor Caceres might be introduced in the holding role.
Genuine back three
Another option is to go with a genuine back three, with Veron inside and either Bonet or Vera at right wing-back, thus permitting the side to play three in central midfield.
Playing three up front is another possibility. In this case, Cardozo comes into the line-up with a midfielder dropping out. The front three was easier with Cabanas, who began as a midfielder and can move back to set up the play. Even so, it was tried in a recent friendly against Athletic Bilbao and could return, especially against New Zealand.
In their qualification Paraguay managed to surprise Brazil and win 2-0 by adopting a front three. But will they be bold enough to show such a brave face in South Africa?
Team – 4-4-2
Villar; Veron, Caceres, Da Silva, Morel Rodriguez; Vera, Barreto, Ortigoza, Riveros; Santa Cruz, Haedo.