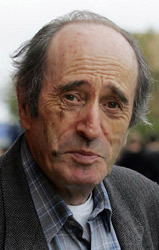 What a furore over Olympic football! Not just the deadlock, the stand-off, between Europe's leading clubs and both FIFA and the various competing teams but, looking ahead to the 2012 games in London, between the three non-English associations, and the British Olympic authorities.
According to FIFA, clubs can refuse to release players over the age of 23 – it being in essence an under-23 tournament in China – but not players under that age. Barcelona, determined not to release the brilliant 21-year-old Argentine winger Lionel Messi, insist that there is no obligation to do so. By sharp contrast with FIFA's president Sepp Blatter, who insists that there is. Liverpool, incidentally, have most reluctantly released a key midfielder in Javier Mascherano, and the Dutch winger Ryan Babel. But several clubs have defiantly confiscated the passports of players who've been called up. Such as in the case of two Bundesliga-based Serbs, Dusko Tosic of Werder Bremen, who also wanted to withhold Diego from Brazil, and Gojko Kacar of Hertha Berlin.
As Karl-Heinz Rummenigge, once a World Cup star with Germany now a big wheel at Bayern says: "As the Olympics are not included in the harmonised international calendar, the obligation to release players for national team matches does not apply." Behind it all of course is the old question of money.
The Olympics rely heavily on the football tournament to make it for them, even more than the drug-ridden athletics. Even at the Los Angeles games, when pro soccer had such a shaky foothold in the USA, attendances at matches were vast.
Meanwhile, in England, the Lords Seb Coe and Colin Moynihan are having forty fits over the refusal of Scotland, Wales and Northern Ireland, to supply players for the 2012 tournament. Since they are understandably concerned that the South American countries and others could use this as a lever to demand that Britain in future field an all-British team in major competitions, rather than four.
Years ago when he was an unimpressive Minister of Sport I remember calling Moynihan "small but imperfectly informed". As for Coe, he may have been a great runner, but he is no kind of politician. He stands guilty of bringing the dreadful Olympics to Britain with a financial forecast ludicrously below what it will be in ghastly reality.
And as head of the so-called quite invisible Ethics Committee (please don't laugh) of FIFA, he has been the merest hole in space. Ethics, in a body whose two representatives last year in the New York court case over FIFA's attempt to ditch MasterCard for Visa – Jerome Valcker and Chuck Blazer – were bluntly accused of lying by the woman judge.
Historical footnote. Moynihan and Coe, as they burble away about their determination to have a British team, albeit if necessary all-English, in the 2012 Olympics, should be told that in both the 1908 and 1912 games, the title was won by an all-English United Kingdom team, consisting of the top amateurs of the day, most of whom were playing in the first division.
The famed centre forward Vivian Woodward of Spurs and Chelsea was one of them when the 1908 title was won at the White City. Ivan Sharpe played on the left wing in the 1912 team in Stockholm having played for Derby County alongside the prolific Steve Bloomer. Later, of course, he became a first rate, far seeing journalist, editing the Old Athletic News, then writing a column for the Sunday Chronicle: another of those papers which alas bit the dust after many a good year.
***************
Giorgio Chinaglia's extraordinary career has taken another dramatic turn. An alarming one. At the same time that seven thugs from the Camorra, the Neapolitan Mafia, have been charged with menacing the present Lazio president, Giorgio, domiciled in the USA, himself faces serious charges, of which insider trading seems the least.
I've known him for some 35 years, and have marvelled at the extraordinary trajectory of his life in football. Born in Carrara, famous for its marble quarries and the hard men who quarried it, Giorgio was brought to Cardiff by his father as a small boy. A talented schoolboy footballer. He was signed by Swansea Town, but there things shuddered to a halt. A tall, powerfully built centre forward, he fell out with his manager Billy Lucas (1969-72) and was so often fined that by his own admission, his breakfast consisted of milk bottles stolen from morning doorsteps.
It's said that after a furious confrontation with Lucas, Giorgio's father took him back to Italy. After three seasons in Serie C football, the first with a local club, two more at Inter-Napoli, he joined Lazio. After a modest start, he excelled in season 1973-74 when a profusion of goals gave Lazio their first ever Scudetto and made him an icon for their fans.
It was also the season when at Wembley he almost casually rounded Bobby Moore on the right-hand goal line to present Fabio Capello with the simplest of tap-ins. Italy's first ever victory on English soil.
Alas, when it came to the 1974 World Cup finals in West Germany things would go badly wrong. Against modest Haiti in their opening game in Munich, Italy even went an embarrassing goal behind though they'd eventually win 3-1. Ferruccio Valcareggi, the Italian manager, pulled Chinaglia off and was abused for his pains. Giorgio then went into the dressing room and smashed an array of mineral water bottles. Full, some said; empty, he insisted. Lazio's president flew out to Germany to plead for him. Giorgio was allowed to stay on but didn't play again. He did however, win another four caps, making 14 in total.
Then, in another radical development, he moved to the USA to play for the New York Cosmos, where he became the protégé of the chief owner Steve Ross, the head of the huge Time Warner company, who made him club president. Nor did things end there. Returning in due course to Rome, Giorgio himself became the president of his old club Lazio; even finding himself an apartment in the historic, central Piazza di Spagna.
It was said that the Italo-American businessmen who had subsidised him were disappointed to find themselves marginalised. All perhaps a little too good to be true; Giorgio lost control of the club and returned to New Jersey, though still nurturing the ambition to regain control of Lazio. One way or another.
***************
Scarcely had Alex Ferguson eulogised his fine young goalkeeper Ben Foster after a splendid display on the Manchester United tour of South Africa, though carefully praising his renowned giant Dutch veteran, Edwin Van der Sar, as well, than a Sunday newspaper dedicated a long column to England's goalkeepers: and never gave Foster a mention.
Even Peter Shilton, carefully insisting that Scott Carson despite that appalling error at Wembley against Croatia should be given another chances, had nothing to say about Foster. Who astonished me last season when, at long last fit enough to fill the breach for United at Derby County, showed no sign at all of rustiness, making two superb saves to preserve United's 1-0 lead.
Previously, as we know, he had scintillated when on loan with Watford, then a top division team. My own regret is that United have not let Foster go out on loan again, rather than play second fiddle to Van der Sar, who distinguished himself in the Dutch goal in the recent European Championships; even if Andrei Arshavin did push the ball cheekily between his legs after ridiculing the defenders.
The idea of Foster being confined to the bench when England are in such desperate need of a decent keeper – Foster is already an international – is depressing in the extreme.
Please, not David James yet again, one pleads. Calamity James, so badly found out in Vienna, Copenhagen and Moscow. Calamity Jones who, in England's last unnecessary international against Trinidad in Port of Spain – that shameful attempt to cosy up to the ineffable Jack Warner – raced ludicrously and superfluously out of his goal when Rio Ferdinand was ready to clear, out of his box, smashing into that accomplished striker Kenwyne James, and so badly smashing up his knee ligaments that there is still no sign of when Jones will be fit to play for Sunderland again.
Yes, yes, I know, and acknowledging that it was all an accident, that there was no ill intent that James didn't even concede a free-kick, let alone receive a yellow card. But, as a once famous comic actor Robertson Hare used to say in the old Aldwych Farces: "Oh, Calamity!"
***************
Kevin Keegan tells us that Joey Barton, just released from jail after serving his sentence for a shocking assault, deserves a second chance. By my calculation it would be more than a third chance. Barton is what the criminologists call a recidivist. Put more simply, someone who keeps on doing it. Reportedly, his millionaire chairman and directors do not share Keegan's sunny optimism. Bolton have changed their minds over acquiring Barton, who has been on a massive £70,000 a week, but if Newcastle let him go, I'm all too sure that some other club, as optimistic as Keegan, would pick him up. Until the next time.
***************
Gary Mabbutt, once an honest and effective midfielder for Spurs and England, has done his best to make a case for South Africa staging the next World Cup. An ambassador for the tournament, he assured us that appalling statistics of murder, rape and robbery have been highly exaggerated, that 30,000 new policeman are being trained for the tournament. That tourism is growing apace. Even if it wouldn't be wise to drive through the township in the dead of night. Given that poor devils of immigrant workers have been slaughtered and burned in such places, I can but agree. Reports suggest however that the major cities themselves, not least Johannesburg, are hotbeds of crime.
"There's no way that FIFA," says Gary, "having done all their tests, would ever give the World Cup to a country they didn't feel could do it." How trusting of him. And what's all this talk about Brazil.