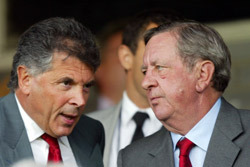 World Soccer: Do you miss being directly involved in football?
David Dein: Categorically, yes. Football's been part of my life, starting as a fan, at the age of about eight, and then spending nearly 25 years at Arsenal, and of course being involved with the politics of it all. Then representing Arsenal at Premier League meetings and the Premier League itself inside the FA, not to mention my work with UEFA, FIFA and G-14. Now I am chairman of Red and White Holdings, which is the group to whom I sold my own Arsenal shares and which is now the single largest shareholder [24.2 per cent]. I go to almost all Arsenal matches and undertake many speaking engagements at conferences and schools. Nothing's changed as far as that is concerned. I still see many games elsewhere, too. For example, earlier this year I spent two weeks at the African Cup of Nations in Ghana. It was wonderful – and everyone so well-behaved, by the way.
Where do you watch Arsenal games from now?
From an executive box – which is a very comfortable environment but a different daily routine. I used to be the first one there and the last to leave. But I've always supported them and will go on doing so.
Presumably you miss the Arsenal work even more than the work with the FA and UEFA?
Well, it's all wrapped up together. But I do miss it, the day-to-day involvement. But life goes on. I've been flattered by the approaches I have had from other major clubs from abroad as well as in England. But I couldn't be involved in any other club.
Stick of rock syndrome, then. You have Arsenal running through you?
Yes, that's it, though during the last six months various chairmen have come to ask for assistance and consultation and I have given them as much help as I can.
Do you miss working with Arsene Wenger?
Yes. I see Arsene regularly. He is a close friend and we go back a long way. I speak to him regularly and our friendship will never alter hopefully, because he is a neighbour and we have been very close and we had a very special working relationship, nearly 11 glorious years. I call him the miracle worker. Arsene brought a whole new dimension to the club. In a lot of clubs there was a drinking culture. He changed players' dietary habits and training habits. Now they are fitter than ever before and technically more adept than ever before. The game is much quicker. He loves this expression: explosive pace. He loves to see players running at defences. I could talk about Arsene for ages. He is a remarkable guy.
Can Arsenal survive after Wenger?
When he and I worked together over nearly 11 years – of course, I brought him into the club – our net expenditure was under £30million. Some clubs spend that on one player. So that's an extraordinary record and an extraordinary balancing act, to build a stadium and finance it but still keep the team successful and qualifying for the Champions League every year.
Oddly, fans might think you stood more chance of returning to power at Arsenal if the team were to be less successful. Is that a dilemma for you?
As a fan of more than 50 years, I only ever want Arsenal to win. I only ever want to do what is best and right for Arsenal. The club that I have supported since a child, since the 1950s, has been a huge part of my life. That will never change.
Many Arsenal fans believe your divergence with the other directors was because you wanted to take the club to Wembley. Is that true?
The starting point is that we had to move away from Highbury because we had only a 38,000 capacity, couldn't develop the site and couldn't compete with Manchester United. There was never any doubt we had to move, despite all the emotion and the history of Highbury.
At the same time as moving, I was absolutely determined that a new stadium should not be built at the expense and sacrifice of the resources needed to bring success on the pitch. I only ever wanted Wembley to be fully analysed as an option. Once the Emirates came up it was a natural because it was a stone's throw away from Highbury and within our home borough of Islington.
How did you meet Alisher Usmanov [who bought Dein's stake in Arsenal]?
He was just introduced to me as someone who wanted to invest in some shares.
Do Arsenal need a mega-rich investor?
Obviously that is a sensitive question. As a devoted Arsenal fan I don't want to see them left behind. The fact that they have now got effectively two billionaires [Usmanov and Stan Kroenke] as shareholders puts them in good stead for the future, no matter what might happen. We are in a different game here. Nothing lasts for ever; football must move with the times. For example, the Arsenal team Arsene Wenger inherited was all-English. Changes on the pitch, changes in the boardroom. You always have to be
open-minded. Anyway, if you have foreign players on the pitch it is hypocritical to say you can't have foreign ownership or overseas directors.
Sepp Blatter would say sports values are different from commercial values.
But sport is about the athletes. Does an Arsenal fan worry that Cesc Fabregas comes from Spain? Arsene says that when he sees a player he doesn't look at his passport – he looks at his talent. English clubs should develop English players and Spanish clubs should develop Spanish players because they do have a social responsibility. It's not that clubs don't have academies – we're just not producing enough players, that's the root of the problem.
Do you expect to return to working in football?
I hope so. I'd like to get back into the politics of the game. I'd like to think that with 25 years' experience I have something to contribute.
Everyone thinks of you as having had two roles – at Arsenal and the FA. How do you see the balance between club and country?
As long as I can remember there has always been the club v country conflict. Club managers are only really concerned with their players playing for their team because they are judged on their success at club level. You can understand how the manager feels. Should the quality player be released for a friendly international then he may have to be sacrificed for the next league game because he's come back injured or tired after a long journey. But everyone knows that this is a part of football, that the national team is important.
Did you have mixed emotions about that when you were running Arsenal?
You do have a responsibility to the country. You can't say England doesn't matter, because it does. In 1966 when England won the World Cup you were proud to be English, no matter which club you supported. Every time England play in a World Cup or a European Championship there is a national fervour. You need to keep that going. There can be no greater honour for any sportsman than to represent his country. So one can't dismiss this and say that only league football matters. There has to be a balance.
How do you view the future after FIFA and UEFA's deal with G-14?
G-14 was only ever a pressure group campaigning to ensure that the clubs' views were taken seriously. It had three major objectives – an acceptable structure for Europe's club competitions, payment for players on international duty and compensation for clubs whose players were injured in those matches. Significant change has clearly been achieved. I hope everybody can work together in the future.
Newcastle's Michael Owen is one player who was sidelined for a long time after getting injured on international duty, at the last World Cup.
That got a bit ugly. Look at the consequences: Newcastle lost a player for one year – a quality player. They had paid £16m for him and had subcontracted his labour to someone else and he was crocked for a year. That's wrong. So you can understand the clubs saying we're paying the player £4m or £5m a year so we need to make sure we get compensated for the player's salary and, if he does get injured, then we want compensation for that. Both those things seem very logical. The counter argument has always been that it's an honour to play for your country so you have to release him. But that argument just doesn't hold water in today's world when the club loses out so badly, so there needed to be a compromise. These were the cases that G-14 was always arguing.
FIFA and UEFA are claiming a victory but surely it's even better for the clubs, who have their foot in the door and a concession on compensation?
It works both ways. It was always destined to be settled because no one wanted to see this run into the courts. There had to be an adult compromise, which has been achieved. I don't believe that the [financial] numbers are excessive, but it's a starting point. The good news is everyone has to work together and UEFA has got, in the Champions League, the best club
competition in the world.
How serious was the concept of the super league?
When I was president of G-14 a super league was brought up in the media but we never discussed it in meetings. All we ever discussed was how we could get the governing bodies to understand that we needed to be compensated when players were injured playing for their countries. I suppose a super league is still seen as an ultimate threat but it would be very boring indeed if you had the same 12 or 14 teams. It's a sterile situation.
Many fans think football's major problem is that all the money and talent at the top stifles the rest of the League. How do you deal with that?
The cream is always at the top. A world-class player will always get a world-class salary and talented players will always play for the biggest teams because that's how it works. That's their ambition. Historically, the glamour teams, the big-city teams, attract the biggest audiences so it's not just about having the best players. The big-city teams, by and large, will have the bigger stadia and the best sponsorship, get the most TV revenue and have the most corporate entertaining and everything else that goes with it.
Are you in favour of the Premier League's international, 39th round idea?
I think what happened was that the idea was not released, it escaped! I think it needs more consideration. Certainly, managers, players and fans need to be included in the process.
It's revolutionary, taking games out of England, and what would that mean if it promised to be successful? But we can't stand still. In 1983 I went to the Football League annual meeting representing Arsenal and proposed having two substitutes at a time when there was only one allowed. It was turned down. I remember one chairman complaining that it would mean another hotel room, another bonus. But we got there in the end. In 1992 I went along to the Premier League and held up shirts with the names of Tony Adams, Ryan Giggs and Alan Shearer on their back, and another chairman objected they didn't have space in the laundry room for all the shirts they'd need [if names were printed on them]. But we got there in the end. Maybe it will be the same with the 39th round. It's too radical for many people now. But when it's been refined, then who knows?
Are fans wrong in thinking that the new wave of foreign investors in English football are only in it out of financial interest?
All the very wealthy football investors I've met are in it for the sport. They want some fun out of it. They're not looking for a return on their investment. OK, they don't want to lose anything, they have put in good money, but, invariably, it represents only a very small part of their overall wealth. It is a passion investment. They could put the money in the bank but that would be boring.
For the Glazers at Manchester United, Thaksin Shinawatra at Manchester City and Roman Abramovich at Chelsea the reward and the dividend will be when their team win a trophy. Don't forget, Chelsea won nothing for 50 years. All of a sudden Abramovich lands his spaceship in south-west London and they win two championships. That's his job satisfaction. The man at Manchester City, for example, is not expecting to recoup five or seven per cent or whatever you get in the bank today. Football clubs are not an investment.