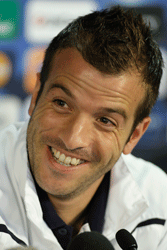 World Soccer: It must have felt like a big step down leaving Real Madrid for Tottenham. Did you ever have any doubts about the move?
Rafael van der Vaart: Joining any club after Real Madrid is a step down, but I preferred to look at the positives of the move to Tottenham. I was frustrated that I couldn't play at Madrid and lost some of my enthusiasm for the game, but this move ended those problems. I had to make a decision very quickly as the move came about on the final day of the transfer window. I made the right choice.
Were you disappointed that none of the major English clubs tried to sign you?
Not really. I always wanted to play in England and, even though there was some talk that Manchester United or Chelsea were interested in me in previous times, Tottenham were attractive to me as they were in the Champions League for the first time and a team on the up. Also, I wanted to join a team that could win trophies and my belief is Spurs can do this.
Despite playing for Ajax and Real Madrid, you have not won too many medals in your career. Is this your chief motivation now?
Winning trophies is a big target for me. You want to play on the biggest stages, in the biggest competitions and, at the end of your career, being a winner is the main target. I haven't won too much in my career and I want to put that right at Tottenham.
Can Spurs win the Champions League?
We are not the favourites, but everything is possible – as our manager always reminds us. My first game in this competition for Spurs came against Werder Bremen and our first-half performance in Germany confirmed to me that this team could do well in the Champions League. Then the Internazionale game at home was very special.
Do you see Spurs challenging the top sides in Europe for many years to come?
This Spurs team have players who can challenge anyone in the world, and when you look at guys like Gareth Bale and Luka Modric, they are world class. Jermain Defoe is one of the best strikers I have played with and Crouch is also a big threat for us. If everyone stays here and we build as a team, we can challenge for every trophy very soon. There is no reason to doubt ourselves.
How does the Premier League compare to playing in Spain?
England offers a bigger challenge in many ways. More teams are competitive in the Premier League; in Spain you just have Real Madrid and Barcelona, who win nearly every week. You notice a big difference in the competition in England because every match is a different challenge.
Does it annoy you when people constantly ask about your formative years living in a caravan?
Not really, I have no problem talking about it. A lot of people seem interested that I have gone from this lifestyle to something very different with my football career. I was happy with my life as a kid growing up, and being in a caravan with the rest of my community was not a problem. I'm lucky that I have been able to buy my parents a house now, but I'm not ashamed of my past.
Finally, do you see yourself staying at Spurs for a long time?
I'm very happy here and feel more relaxed at this club than any I have been at before. You could say that I have learned to love football all over again at Spurs and this shows how good this move has been for my career. I have moved around too much, so the time has come to settle in one place now.
This extract is taken from an interview published in the April 2011 issue of World Soccer