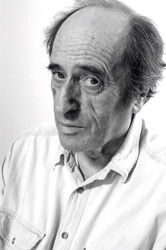 BALANCING ACT
Well, at least Chelsea didn't win it. We can take that slight consolation from the last, squalid days of this season's Premiership. Though I find Jose Mourinho an antipathetic figure, I have nothing against his club itself. It is simply that the advent of Roman Abramovich's billions has simply and disastrously unbalanced the Premier League. The beautiful irony being that in this season at least, they have plainly unbalanced Chelsea themselves.
The implicit denouncing of Andriy Shevchenko and Michael Ballack after Chelsea's hard and bravely won draw at Arsenal last Sunday clearly rose from a well of bitterness. Mourinho never wanted either of them and neither remotely delivered. Shevchenko, surprisingly, looked a busted flush or, if you prefer it, a cannon firing blanks. Ballack, who enraged Mourinho for going back to 'Germany' at the crescendo of the season for an operation, without his permission, by an large had strolled around the field looking little interested though just now and then there were flashes of his undoubted class.
These plainly were two highly costly players wanted by Abramovich himself. Just as the abrasive Boularouzh, who one had seen very properly sent off in the recent World Cup, in a match when he should have been expelled far earlier, was not the choice of Mourinho but reportedly of the Danish executive Frank Arnesen. And Boularouzh it was who clumsily gave away the penalty whereby a flaccid and mediocre Arsenal team took the lead last Sunday at the Emirates. Only to lose it and very nearly to lose the match when Chelsea came to exuberant life in the closing minutes. All very well for Arsene Wenger to talk afterwards of his team transiently "losing focus." They were simply and undeniably prosaic and toothless. Nor did it help that for most of the game, till the arrival of Alexander Hleb as a substitute, that they should operate without a winger.
So there was much applause for Manchester United and Alex Ferguson, but why? Their Premiership success came hard on the heels of a dismal display in Milan where they were simply brushed aside. Sheer weariness almost certainly accounted in large measure for their debacle, but under heavy rain they were never at the races, with even the likes of Rooney, Scholes, Ronaldo and Giggs, so ebullient in the first leg, laborious and ineffectual. Would Rio Ferdinand have been fit had not Ferguson thrown him prematurely back into action at home to Middlesbrough? Paying a heavy penalty when, instead of pulling a plainly incapacitated Ferdinand off shortly before half time, he gestured for him to stay on; which arguably cost United a vital goal, and a draw.
The day before watching Chelsea come so close at the Emirates Stadium, I watched Liverpool reserves lose to Fulham. Much as I had watched those same reserves a week earlier fail at Portsmouth. There is surely a League rule, more honoured in the breach than in the observance, that every club must always put out its strongest side for fear of punishment. United had done just that versus Everton days before going to San Siro, winning a very hard fought game 4-2, and in Milan they clearly paid heavily for such honesty.
By contrast, the weakened Liverpool team went down 1-0 to a Fulham side which thus probably saved itself from relegation, where a full Liverpool team would probably have brushed Fulham aside. Making the relegation crisis into sheer fiasco. Fulham's fellow strugglers had every right to feel bitterly aggrieved. And Fulham were fortunate indeed not have Michael Brown sent off for a blatant head butt on Xabi Alonso. Just as Manchester City should definitely have had Michael Ball sent off for viciously stamping on Cristiano Ronaldo.
Then, of course, there is the West Ham and their Argentinians affair. Glossed over you might think – again to the outrage – of the other clubs in trouble, Fulham among them, by a complaisant Premiership tribunal, which offended logic and objectivity by making the tender feelings of West Ham's fans one of the reasons for fining the club £5 million, rather than deducting the points which would automatically have had them relegated.
The infuriated rivals, however, when they talk of taking civil action in court, seem unaware of the fact that FIFA rules expressly forbid it, at pain of expulsion for the national Federation or Association which allows it. Meanwhile Alan Curbishley is being lauded as the hero of the West Ham revival but this is something I fail to see. Carlos Tevez has rejuvenated the team, but initially it was only the West Ham crowd which forced Curbishley reluctantly to use him and remember that he didn't use him at all in the humiliating collapse at Reading when at least his sheer energy and commitment could have galvanised a side which simply lay down and died.
***************
Brian's latest book is the Arsenal Stadium History, the official illustrated history of Highbury Stadium. The book is published by Hamlyn and is available online and in all good bookstores.
A new revised edition of Brian Glanville's definitive World Cup book, The Story of the World Cup, has just been published and is available from all good bookshops.