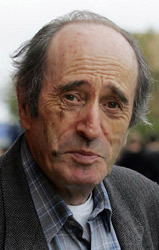 ALL HAIL MCBETH!
All hail, McBeth! Gloriously tactless and offensive though you be. I refer, of course, to John McBeth, drummed out of the Zurich brownies last week for saying the unsayable.
How dare he for a moment impugn the bona fides of such an upstanding citizen of world football as Trinidad's ineffable Jack Warner, king of CONCACAF, gallant survivor of the fierce accusations made against him by that ace investigator, Andrew Jennings? Honest Jack, whose son – not himself, mind – was last year involved in a World Cup scam worth a million dollars, to be fined, in deadly secret, please note – the same amount by FIFA.
How dare McBeth, on the eve, the very brink, of being appointed to a FIFA vice Presidency, accuse the African and Warner's own Caribbean members of corruption? Corruption in Sub-Saharan Africa, where officials grow rich and players – whether they be Liberian, Togan or Nigerian – have constantly to agitate for their due rewards?
Warner, with as little – nay less, sense of irony or shame as the mighty Sepp (51 bad ideas a day) Blatter, newly re-elected, unopposed, President of FIFA, has used McBeth's indiscretions ("I know two or three of FIFA who, if I shook hands with them, would have me counting my fingers," Whom could he possibly mean?) as a stick to beat the British representation.
How dare McBeth, whose candidacy was cancelled before he could even take office, call sainted Blatter "a tricky customer"? That McBeth, four years President of the Scottish FA, is a classical loose cannon, who could deny? He seems paranoically anti English asserting that "the rest of the world hates the FA's guts", he calls Rangers and Celtic "a cancer within the Scottish game." But how refreshing to hear his FIFA strictures almost concurrently with the opening of the new FIFA building which, in the shameless, irony-free, words of Blatter, will "allow light to shine through the building and create the transparency we all stand for."
The transparency which, a few months ago led a woman judge in the States to give a damning decision against FIFA and the executives (one of whom, after all were suspended, has just returned to high office – who tried dishonestly to scrap the long running, valid, contract with Mastercard, and hand it, instead, to Visa. The verdict has been appealed, but it is hard on the shocking evidence, to see how it can be overturned.
Shameless? How about all the powerful European nations, including our own, Germany, France and Italy, who seem quite content to let Blatter continue unopposed in office? But if there is a cloud on his horizon it must, of course, be in the shape of the doggedly formidable Swiss lawyer, Thomas Hildbrand still pursuing the case of collapsed ISL, its corrupt executives, and its prolix relations with FIFA themselves. Oh, and FIFA, if you please, now have a so called Ethics Committee, to be presided over by, of all unlikely people, that great athlete, Seb Coe. Rather as if Switzerland had a navy.
***************
Graham Poll, he of what I once termed the Three (Yellow) Card Trick, has bitterly resigned from refereeing a year before retirement was due.
Authority, he believes, has failed to back him, above all in the case of his expulsion last season of John Terry during a Spurs v Chelsea derby when he felt that Brian "I never played for England" Barwick sat on the fence when he should have supported him. Symptomatic, Poll clearly feels, of the way authority bows to the big clubs.
He himself, however, makes a fragile defence of an episode which grated on me at the time when, in an Arsenal-Manchester United game at Highbury, he allowed Wayne Rooney to follow him around the field, abusing him. "Foul language is not an offence," he insists, in a classic of casuistry. "It has to be offensive, abusive or insulting to result in a red card." Rooney, he admitted, had told him to F… off, but, "That's not offensive or abusive to me. That's Wayne saying go away or don't say that. That's not him calling me something. That was frustration at himself, the pressure of the match. I would argue I was right not to send him off." So now, belatedly, we know.
***************
At Wembley last Friday, the crowd exalted Beckham from the first, but booed Frank Lampard. The applause for Beckham, all World Cup mediocrity forgotten, was plainly based on hope – or desperation – rather than any objective assessment.
Things for England under McClaren had been going horribly wrong, but now there was Beckham who might put them right. Which he duly did, in his sublimely limited way, with another of those perfectly calibrated free kicks, enabling John Terry a spectacular goal. Yet though he did many intelligent midfield things in the course of the game, his weaknesses were, as in Germany where too, he fashioned set piece goals, as manifest as his strengths. To wit his noted inability to do what a true winger does, to take on the opposing full back, beat him with skill, and pace, get to the byline and pull back the most dangerous pass in the game.
Before this match a once great England winger, Tom Finney, was lamenting the inability of current English players to do this. Actually, some of them can, not least Aaron Lennon who alas was injured; and Jermaine Pennant who, almost concurrently with the Brazilian game, was trumpeting his own virtues and begging for a place on England's right wing. To which on the basis of his outstanding display in Athens for Liverpool against Milan he is surely entitled. Or entitled, at least, to have his chance. I've seen him variously, under the colours of Watford, Birmingham City and Arsenal, show irresistible form in classic winger's style. True, his off field life has been a somewhat tormented one, including even a spell in gaol, but his talents are undeniable.
As for Lampard, to boo him was cruel and superfluous. Undeniably he and Gerrard cancel rather than complement one another. Even against Brazil, where Gerrard was eulogised for his defensive work, we didn't see the full, fine scope of his abilities, thundering into attack. McClaren's gamble in restoring Beckham after dropping him so significantly and indeed justifiably at the start of the season came off; but only in terms of emphasising how limited are the attacking options (admittedly in the absence of Wayne Rooney) of this England team. And having almost surreptitiously dropped Lampard for the Andorra game, what does McClaren do but bring him back?
We hardly saw the real Brazil at Wembley. How could we, on that cart track of a pitch? Nor can you ever be sure how far the Brazilians are exerting themselves in a mere friendly though they certainly did last August when one saw them beat Argentina on Arsenal's ground.
They no longer, as we know, play with real wingers, haven't done so, indeed for a long time now. But the likes of Garrinha, Julinho or Jairzinho (who criticised the recall of Beckham, from the depths of his own retirement) would surely have run rings round the new England left back, Shorey. Which reminds one of the absurd choice of Jamie Carragher, such a resourceful centre back, out of position on the right. For Brazil, the multi-gifted Kaka and Ronaldinho notionally operate on the flanks but are essentially all court players. Kaka complained that he was subjected to rough treatment and may well have had a case. The German referee Merkel has always seemed far too permissive to me and once made a permissive hash of a European Cup Final.
But in the absence of Fred, the abandonment of Ronaldo – still good enough to score goals for Milan – the fading of Adriano at Inter, the Brazilians deployed as sole striker the lightweight Wagner Love, unquestionably talented but ill equipped for a lone role. Meanwhile, surely the cleverly creative and opportunist Diego who headed the late Brazilian equaliser deserves to start in a midfield which looked, centrally, pretty prosaic without him.
So goodbye Giggs, at least from international football. I still rate him the finest British player of his generation. But why do Wales so often – as they did again last week – disdain the temperament and talent of Robert Earnshaw, deployed a minute from the end?
***************