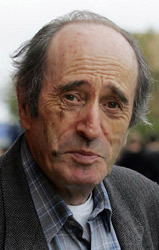 As Chelsea prepare for their coming return European Cup game at Stamford Bridge against Inter, at least they can be encouraged by the fact that John Terry has at last returned to form.
And perhaps by the knowledge that though Inter scored twice against them at San Siro – the first goal by Milito being very much John Terry's fault – they have lately been having trouble scoring goals in the Campionato. Having failed again at home last Sunday. Terry's return to form and solidity, not to mention his penchant for popping up to head goals in the opposing penalty box, as he duly did against Stoke City, last Sunday in that FA Cup tie.
"That was another superb performance by him," said Ray Wilkins, once a young Chelsea star himself, now assistant manager, after the game, conveniently forgetting four dire displays by Terry before things improved when playing for England against Egypt at Wembley. One early error was followed by a competent performance, making light of the silly sporadic booing.
But it will hardly help Chelsea to be without Petr Cech, their injured goalkeeper. Against Stoke, who belatedly came to life in the closing minutes, Hilario did make one excellent save, the only one he was called to do in the match. The more laudable in that it's always hard for a goalkeeper to stay alert and agile when he has had so little to do. But overall, Hilario hasn't elicited great confidence. And Ashley Cole will be missed by Chelsea as he was so palpably missed by England against Egypt.
Fabio Capello must pray that Cole will be fit in time for South Africa, with his spectacular and swift overlapping. Against Egypt, Baines was an almost timorous figure, reluctant to run in the abundant space on the left created by Steven Gerrard, perpetually deserting his wing and moving into the middle.
England remain an unbalanced team in this respect, with Capello still seemingly incapable of grasping the bull by the horns and ending the negative dualism of Gerrard and Frank Lampard. In fact the team played arguably better against Egypt when both were off the field.
Quite why Capello should fail to bring on the excellent, versatile James Milner so late in the game defied all logic. Gift horses looked in the mouth and all that. Ideally, Milner could have played out on the left where he did so well as a substitute in the match against Holland. Up front, Wayne Rooney, in such devastating form on the same pudding of a pitch just three days earlier for Manchester United against Aston Villa, wasn't as effective, but then as his manager Sir Alex Ferguson lamented, he was nursing an injured knee and arguably shouldn't have been playing at all.
It was displeasing after the game to hear such harsh criticism of Theo Walcott, who admittedly faded away after one dazzling run, both from Chris Waddle and Ian Wright, who accused him of lacking a football brain, whatever that is.
Pots and kettles. Did Waddle himself in his earlier years demonstrate the good sense to go with his undoubted pace and control? As for Ian Wright, he always had to play in his preferred way. Chasing the ball that went over the top, to the frustration of Alan Smith, the other Arsenal striker at the time, who once complained to me that he had to moderate his own game, essentially making him a feed from behind Wright. Without whom, in the Cup Winners Cup final in Copenhagen, Smith had one of his fines games for Arsenal, scoring the winner against Parma.
To the satisfaction of his manager, Arsene Wenger, who rightly felt Walcott had been unfairly censured, the winger responded three days later with an ebullient display against Burnley, scoring a fine goal with his left foot and laying on chances clumsily missed by Bendtner. You wonder whether Wright had an axe to grind in downplaying Walcott, who was replaced at half-time by his own stepson, Shaun Wright-Phillips. While who can forget Walcott's dramatic hat-trick against Croatia?
Geoff Hurst, hero with those three goals of the 1966 World Cup final, has opined that in South Africa England will get no further than the semi-final. I'd be surprised if they get past the quarter-final. Still, at least against Egypt we had the massive compensation of not seeing David Beckham come off the bench for yet another of his cameo so-called performances, rewarded with yet another of his cheap caps. Has he really surpassed Bobby Moore?
Good to know that the Greed Is Good League has jettisoned the fatuous idea that there should in future be play-offs between clubs for fourth place in the European Cup. Of course, in an ideal world, the whole idea of four clubs from any country qualifying for the tournament would be anathema. Which indeed it is.