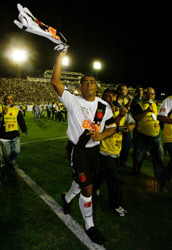 World Soccer: Are you happy that you played in your era and not today?
Romario: I am pretty sure that I was born at the right time and I never waste time thinking too much about what it could have been. Everything worked fine for me in my career and I am not the nostalgic type. Basically, after Pele, I was the greatest Brazilian player ever.
Are players today paid too much?
Financially, the game has evolved a lot in the last few years, as a consequence the wages have rocketed. But my generation made a lot of money too. I don't really think we can complain. Maybe the guys who played in the 60s or 70s might feel a bit hard done by.
What is your fondest memory from your playing days?
Nothing will ever surpass the feeling of lifting the World Cup in 1994. The hairs on the back of my neck still raise when I think of that moment that meant so much for a generation of players and for the Brazilian fans. There were a lot of young fans who had never seen Brazil win it, since the last time had been with that 1970s team. Another good memory is a game against Uruguay in 1993, a crucial qualifier for USA 94, where I scored two goals after being away from the team for more than a year.
How different was your era from today?
The game has certainly declined in technical terms, judging by the games I have seen on telly, and I don't really feel like watching any more. There is too much emphasis on the physicality these days and the quality of the game is suffering. I blame it on the coaches – especially at youth level, where technique is being put aside and kids are instead stimulated to go to the gym. They are also taught too many defensive moves. I've always thought that attacking is the best defence.
If you could have your career all over again, is there anything that you would want to do differently?
I was left out of two World Cups [1998 and 2002] and the 1996 Olympics for reasons I have never understood. Maybe I'd like to go back in time and try to do things differently…
Which players in the past 50 years have you most admired?
Pele, Maradona, Ronaldo, Zidane, Van Basten and Michael Laudrup. A lot of people get surprised when I mention Laudrup, but he was the best partner I have played with. He had two very good feet and was a brilliant passer. For a striker, playing with him was a blessing.
Who was the biggest influence on your career?
I grew up watching Reinaldo. He was a great striker who unfortunately never got the chance to really shine too much at international level thanks to a knee injury. But he was a great finisher and for decades he retained the record for having scored the most goals scored in the Brazilian championship. But my greatest inspiration was my father, Edevair. He was my best friend and the guy who put the right things in my head. He passed away a couple of years ago and is sorely missed.
You're standing in the Rio state elections in October. What was your motivation to go into politics?
I am in politics to help people, to give back something to them after all these years where they supported me and put their faith in me. I am particularly interested in projects for the well-being of underprivileged kids, including the ones with special needs [he himself has a daughter with Down Syndrome]. Politics are simple: you bring help to what people need and I intend to do that as an MP.