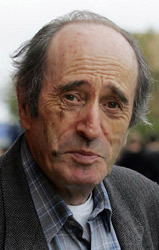 The Greed Is Good League begins under a deep, dark, malodorous cloud, extending all the way from West Ham to Manchester, wafting across the London offices of the League itself and the flaccid Football Association.
Not a word of comment let alone condemnation from the League's supremo Richard Scudamore or the chief executive of the F.A. Brian Barwick on the subject of whether the former Thai President Thaksin Sinawatra, wanted for alleged corruption on a vast scale in his own country and accused by Amnesty International of shocking violations of human rights, is indeed "a fit and proper person" to acquire, as he has, Manchester City.
And West Ham's battle with the mysterious MSI organisation, though it may by the time you read this be somehow resolved leaving Tevez free to join Manchester United, will still leave salient questions unanswered. Not least where the money came from to buy Tevez and his fellow Argentine international Javier Mascherano from Corinthians of Sao Paolo in the first place. How did this famous old club whose finances don't remotely match that fame contrive to pay a whopping $19m for Tevez. Initially, the Brazil central bank wouldn't even allow MSI money to come into the country. And when it did, the Corinthians club council ratified the deal though some of the councillors transpired not to have read the contract.
Whatever happens now, ISL, whose front man the young Iranian Kia Joorachian is – how own English based companies are of negligent weight – MSI are hardly going to get their money back. And who runs them anyway? The ubiquitous Russian oligarch Boris Berezovsky, domiciled in England, denied any connection though the Brazilian courts want to arrest and extradite both Kia and Berezovsky. Some chance, if even the Russians have tried in vain to do as much, Berezovsky, being bitterly and openly anti-Putin; one of the oligarchs who made his billions winning the patronage of the late Boris Yeltsin and his daughter.
Having filed a court action against West Ham for $30m, Kia promptly let it be known that he was prepared to settle which presumably will happen one way or another. West ham reportedly demand a transfer fee of about the £5.5m they were fined by the Premiership – who should surely have deducted points instead – for their initial malfeasance and false statements over the transfer of the Argentines.
The Hammers insist they have a contract with Tevez sill 2010, Kia declared that they have no contract at all. But when West Ham also suggested a £1m payment to them to halt the legal action, the Premiership said no. Who however have to go along with West Ham insisting that they had the right to tear up the contract which established the third party agreement; unenforceable, they claim in law.
Yes, it will all work itself out, if it hasn't already, but what a squalid business it has been from the first. Though not remotely as squalid as what's gone on at Manchester City. How appropriate, you might think, that the two clubs are due to meet at Upton Park on the first Saturday of the Premiership season.
***************
Chris Oakley recently came back to Hampstead to resume his practice as a psychoanalyst, having been at the Copa America in Venezuela. 63-years-old, he'd till be playing Saturday amateur football today he says, were it not for a cruelly painful cruciate ligament injury – all his own fault he admits – playing at 48 against Corinthian Casuals veterans at Tolworth.
His new book Football Delirium (Karnac) is a remarkable synthesis of psychoanalysis and soccer, of Freudian insights into the behaviour of players, teams and crowds, interspersed with his own memories. Such as being rebuked by police at Scarborough of all places, for abusing a linesman, or standing on the crumbling terraces of Limerick, watching an Irish 2nd Division game.
He is steeped in soccer, at every level, yet deals cogently with such themes as football as therapy, football as religion, and the mysteries of disappointed fans who always somehow come back for more.
I was especially interested by his admission that as a fragile schoolboy his great inspiration was Tommy Harmer, the tiny Spurs inside forward whose dazzling skills made light of his fragility. I told Chris of how, aged 19, on an August day in 1951, I watched Harmer, on his debut, run rigs around the massive Bolton defenders; then came away in an old blue car, jammed against him in the back seat, given a lift by a kindly local reporter. Imagine that happening now; when Tommy would be a well-deserved millionaire, instead of ending up as a messenger for an Anglo-Israeli back in London. Unforgettable too, was his return to White hart Lane as a veteran Chelsea player, when he duly turned the Spurs defenders inside out.
***************