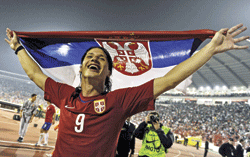 Is it too much for Serbian fans to hope that their team can enjoy their first World Cup finals without the usual internal wrangling?
When it comes to the country's football team, rational opinion is somewhat rare in Serbia. For every wild optimist who believes that a place in the semi-finals at their first World Cup is theirs for the taking, there is a doom-monger predicting an early flight home for Radomir Antic's side.
The middle ground is rarely an option but, if it was, it would surely be fair to suggest that a place in the knockout stage is the very least of which a team boasting the likes of Nemanja Vidic, Dejan Stankovic and co is capable.
Antic has a good team at his disposal; certainly one that ought to be better than Ghana and Australia, having finished above France in their qualifying group. However, there were games in that campaign – such as those at home to Austria (only won 1-0 thanks to a penalty) and France (a 1-1 draw, despite the visitors playing with 10 men for all but 10 minutes) – that should serve as a reminder that nothing can be taken for granted.
The pessimists remember all too easily the painful experiences of past World Cups, when the national team – either as Yugoslavia or Serbia & Montenegro – failed to live up to high expectations, usually because of internal wrangling and associated problems.
Authority and charisma
With Antic's authority and charisma, however, once in the second phase of these World Cup finals, anything is possible – perhaps even a big success – so long as the pressure to succeed doesn't overwhelm the players.
It would be nice to accept that qualifying for South Africa was in itself a fine achievement and just allow Antic's team to just get on with doing their best this summer; in other words, to have a "normal" World Cup.
Unfortunately for Serbia, "normal" would have to mean a World Cup without interference from officials and agents in the selection of the 23-man squad, and one without rows over prize money or without internal conflicts.
Last but not least, it would also have to be one without unrealistic expectations.
The view from Serbia
"I am always cautious but especially now that I see the mood among people is so optimistic. For the past 10 years Serbian fans haven't believed that much in a success of our national team. It frightens me a bit because I fear euphoria. We are very emotional people and I don't dare to think what will happen if we lose or draw the first game against Ghana. Otherwise, I do believe in the quality and potential of this team. I have a high opinion of coach Antic. The success in the qualifiers was mostly down to him."
Dragan Dzajic, national team star of the1960s and 1970s
"The national team will have a chance at this World Cup to play for the first time without troubles caused by money, political circumstances, unfulfilled promises. This time the players focus solely on football. Antic has succeeded in creating a good ambience within the team. The atmosphere is excellent, the players are like a family. I think that this is a very important prerequisite for a solid result. The minimum should be to reach the round of 16, perhaps the quarter-finals."
Vladimir Stankovic, sports journalist