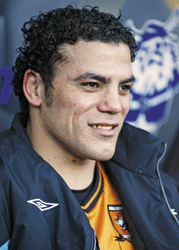 World Soccer: You're back in the Premier League after falling out with Wigan Athletic last season. How did the move to Hull City come about?
Amr Zaki: I've been working since last May trying to get a move back to England. It was really hard. I was waiting for a summer transfer, that didn't work, and then in October a lot of clubs were interested. There were two left and I decided on Hull because they needed a striker and I felt from the manager that I would get the chance to play.
Did you think the Premier League was easy after starting last season so well for Wigan?
It is not easy but I had someone like Steve [Bruce, then manager of Wigan] who gave me the confidence to play. I really wanted to do something special for Wigan because the fans gave me such support.
You scored 10 goals before Christmas and suddenly Real Madrid and Liverpool were rumoured to be interested. But then you fell out with Bruce and were sent back to Egypt. What happened exactly?
I had come from Egypt and started scoring goals straight away. I thought a lot about those other clubs and the press. That took a lot of concentration. It was a mistake, I've learnt. That will never happen again. If you hear Real Madrid or Liverpool want you, you know it will be a good move and you think a lot about it. Steve was telling the press: "Let him concentrate." And that was the main point between me and Steve. He didn't think I was concentrating, and he was the one who brought me here, so he was a little, let's say, jealous about it. It was also a lack of experience [on my part]. When I went to Egypt I stayed for four or five days more than I should and Wigan didn't find this acceptable. I'm used to it in Egypt, it's not a big problem. Here it is different. It was a big mistake by me.
How do you view your former manager now?
I can never disrespect Steve Bruce because he brought me to England and let me play in the Premier League. Without Steve or Wigan I would not play in the Premier League. I am looking forward to the next game against him to show I'm a good striker. We play Sunderland on April 24. I will score.
Was it difficult being sent back to Zamalek, after being coveted by Liverpool and Real Madrid?
When I went back to Egypt I couldn't adapt. It's like a Turkish or Dutch player doing the same. When you play in the best league and play against the best players, and suddenly you fall back to where you began.
You played in the World Cup qualifier against Algeria in Cairo, when you needed to win 3-0 to reach South Africa [Egypt won 2-0]. What was the build-up to that crucial game like?
We were taken to a hotel far out of town so that we were isolated and could prepare. We weren't allowed to talk to the press or anything, so it was quite calm. But then you got to the pitch. The atmosphere, the players, the staff, the fans, the spirit; everyone was together. We just wanted to go to the World Cup because Egypt, as a team, deserve to go there. We were nervous before the game, maybe that's why we didn't score more goals.
Did the president talk to you before the game?
Yes, two days before the game he visited us and said: "This is a game of football. Do your best, if you win or lose. If you lose, there's nothing to be ashamed of. Just do your best, and play with spirit."
And what was the atmosphere like in the stadium?
Of course it was an experience. We didn't have any option but to win. There was only one thing in the country: the game. And when we scored the first goal it was a good step to qualification. But the negative was that we felt we had won already. We then went to Sudan [the World Cup play-off was played in a neutral venue, where Algeria won 1-0] and everyone was too relaxed thinking we had qualified already.
Algeria's team bus was stoned in Cairo, but the press said they made it up. What did you think?
It's always like this between the countries, so we knew what to expect. They have qualified and that is the end of it. I don't want to talk about politics.
It was reported you wouldn't sign for Portsmouth as there were Algerians and Israelis playing for them. Is that true?
After the game it was really frustrating what happened. I knew a lot of children and women who were there [in Sudan] who were threatened by Algerians.
It had nothing to do with football. I had to calm down before I spoke to the press. But there are Algerians playing for Hull City, [striker Kamel] Ghilas, so I have no problem. Also after the African Nations Cup when we won [Egypt beat Algeria 4-0 in the semi-finals] there was no trouble after the game.
And what about Avram Grant at Portsmouth?
No, I don't take a decision based on these things. I played at Wigan with [Daniel] De Ridder. His mother was Jewish. If Portsmouth had enough money, and were in a better position, I'd move there, no problem!
Do you think Africa's best team will be absent from South Africa?
Well, when we played against Chelsea, Didier Drogba said to me: "It is sad, you have the best team in Africa. It's a shame."
Will you be supporting Algeria at the World Cup, given they are the only Arab team at the finals?
[Laughs] No, I will go for England.
Egypt travelled to England for a friendly in March. Did you do some spying for your coach?
There was no need to say anything because all the Egyptian players watch the Premier League so they knew everybody there.
Egypt are ranked 10th in the world by FIFA, so why do so few Egyptians come to Europe?
We have two main problems. You want to be going when you're 21, but they [the clubs] let you go only after you make trouble to leave at 26 or 27. The clubs in Egypt also ask for a lot of money, which stops young players from getting opportunities abroad. The more that we play abroad, the easier it will be for us to qualify for the World Cup.
What do you want to achieve this season?
The first target is to not go back to Egypt. The second is to show the Hull fans I deserve to be here.
Interview by James Montague