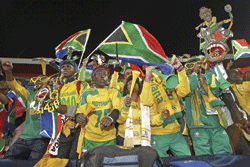 The hosts are counting on a fervent support to stop them creating unwanted history
Over the last few years, South Africa's national side have been getting as much airtime on television comedy shows as they have for playing matches in front of the cameras.
Bafana Bafana's slow plummet down the FIFA rankings and mediocre returns on the pitch have seen them suffer a seemingly endless run of derision, stung continually by the sharp end of almost every performer's wit. Hardly a day goes by without some joking reference from the media about the team and its level of competency or potential.
But as the World Cup edges closer, the attitude seems to be changing – perhaps because Bafana Bafana have not played much of late, but likely more because of the mounting excitement and anticipation ahead of the tournament.
In recent weeks, pundits have ventured for the first time to suggest South Africa might make it through the first round, which for organisers would be a dream scenario.
There was not the same mood last December when South Africa were drawn with France, Mexico and Uruguay in Group A – the same trio that hosted England on their way to a home triumph in 1966.
South Africa will go into the World Cup facing the ominous possibility of becoming the first hosts not to reach the knockout stage as only North Korea are lower in FIFA's rankings.
Parreira has been attempting to lift spirits by suggesting that, with passionate support and enough intimidatory noise in the 95,000-seater Soccer City, a positive result could be achieved in the opening match against Mexico and the momentum gained could give the team a proper tilt at the knockout stages.
Fitness objective
Preparations have tried to emulate the recipe of Guus Hiddink's Korea in 2002 with fitness the primary objective. Parreira has had two intensive training camps, in Brazil and Germany, a total of seven weeks overall in March and April. But unlike Korea, South Africa have been doing all their preparatory work without the rump of their team. Parreira had the fanciful idea he could persuade club managers to release stars such as Benni McCarthy, Steven Pienaar, Aaron Mokoena and Tsepo Masilela from the last two months of their club seasons to go training with the locally based players, whose league finished early to allow the national side three months of preparation.
In reality he is likely to have many key players in poor physical condition when they arrive for the final preparations in mid-May.
The view from South Africa
"Much depends on getting a positive result in the opening match against Mexico. A win and the confidence of the players and fervour of the nation should see them through to the second round. Defeat and the opposite will take effect. Making the second round would be deemed a success, making the quarter-finals a dream, and anything beyond that purely miraculous."
Nick Said, South African football reporter
"If we can be disciplined in our play and focus on the job at hand, I think we have a good chance of making the second round. None of the teams that we are playing are easy, but we are at home and they must come here and beat us. When the crowd is behind you it is a fantastic thing, but sometimes in South Africa when the crowd gets going the players like to slow down and start doing tricks and stuff. There must be none of that, we must be disciplined in how we play and never let our intensity drop."
Cyril Nzama, 2002 World Cup defender