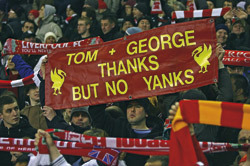 It started as the friendly takeover, even a love-in. But, just a year on, it is staggering to recall the warm, wonderful Scouse welcome Tom Hicks and George Gillett received when they walked on to the Anfield pitch bearing red and white scarves having just bought Liverpool.
They were hailed as the men who would spirit the club back to the championship-winning ways that have eluded them for almost 18 years. These North American
businessmen – Gillett is Canadian, Hicks a takeover tycoon from Texas – would finally fund the building of the huge stadium in neighbouring Stanley Park that had been proposed for almost a decade. Now with their own billionaires, the fans believed their club would soon compete again with those that have outstripped them in recent years – Manchester United, Arsenal and Chelsea.
The club's plan, which may have been flawed in itself, was to find wealthy new owners to buy out the existing shareholders, then the club would have the clout to
support borrowing to build the 60,000-seater stadium, the projected cost of which has risen to £400million.
Liverpool had wrestled, argued then fallen out with a fan and businessman, Steve Morgan, who said he wanted to pay as little as possible to the shareholders so that more of his money could go towards the stadium. The club looked further afield, and at the end of 2006, confirmed leaked news that they were in advanced talks with an odd-seeming buyer, Dubai International Capital.
Liverpool's chief executive, Rick Parry, and chairman David Moores, both fans of the club who prided themselves on trying to maintain the "Liverpool way" of dignity and discretion in their dealings, were at pains to say they believed DIC would honour those traditions.
The fund was at arm's length from the man whose oil fortunes it principally invests: Sheikh Mohammed bin Rashid Al-Maktoum, scion of Dubai's ruling family. The chief executive, Sameer Al Ansari, was a Liverpool fan who had met Parry at the 2005 Champions League Final triumph in Istanbul; they do things properly in Dubai, and the Liverpool board was confident that DIC could be trusted with their great club.
Then another report leaked that DIC would be looking to make a mighty return on any investment in Liverpool, and the deal began to falter as DIC took their time. Suddenly, Gillett made an approach, introduced Hicks, reportedly the wealthier partner, the duo made a higher offer than DIC's, and before you knew it, the two Americans were striding on to the pitch promising to cherish Liverpool's traditions and honour its heritage.
Although Hicks has admitted he knew very little about the club, or English football, the pair knew what supporters wanted to hear: that they would respect the club, wanted the best for it and were not buying it to make a quick buck. Soon the new owners were taking their seats in the directors' box for a dazzling, passionate European night against Barcelona in the Champions League first knockout round, and who could believe they were not captured by the magic when Liverpool, having dispatched the Catalans and then PSV Eindhoven, beat Chelsea too to reach the Final?
Hicks has also said that he and Gillett learned how not to do the PR from the Glazer family, who chose to say very little even as their 2005 takeover of Manchester United was bitterly opposed by the supporters and the club's board. But the Glazers had shown the duo the way financially, awakening them to the fortunes English clubs were making from the sale of TV rights, as the Premier League has been taken to an expanding global audience. Hicks said he "researched it" after Gillett came to him with the proposal and realised that English soccer was a very likely investment, that "Reds", as he struggled not to call Liverpool, were a very big name, which he was struggling not to call a franchise.
Debt imposition
The two men also said they were not going to do the deal the way the Glazers had with United, which had so distressed their opponents – namely to saddle the club with the cost of being taken over. This "leveraged buyout" involved the Glazers borrowing £540m to buy United, with most of that debt imposed on the club, which, chief executive David Gill recently confirmed, paid £42m in interest alone last year.
Yet when the official documentation from Hicks and Gillett came out, it was clear that they, too, had borrowed to buy Liverpool. And while the Glazers had had to find £272m of their own money to buy United, Liverpool's pair had borrowed the entire purchase price, £174.1m, from the Royal Bank of Scotland. At £5,000 for each share, Moores, who owned 51.5 per cent of Liverpool, was sent a cheque for £89.6m. Nevertheless, Parry, who worked closely with the former chairman, said it was "the worst day of David's life" because all he ever wanted was to run Liverpool.
Hicks and Gillett borrowed a further £11m to pay legal and professional fees on the takeover, £45m to absorb the debts Liverpool were carrying at the time, and £68m for initial work to keep the stadium project alive, and to give the club some money to spend on transfers. That made a grand total borrowing of £298m.
The fans were delighted when, last summer, manager Rafael Benitez signed top-class Spanish striker Fernando Torres for £26.5m and talented young Dutch winger Ryan Babel for £11.5m. Hicks and Gillett were praised for "putting their hands in their pockets". In fact, the money was drawn down from that £68m they had borrowed from the bank.
The £298m was loaned for just a year, so towards the end of 2007, Hicks and Gillett were negotiating to refinance it on new terms. By then the first discontent was rumbling through the Kop, after Benitez was given a public dressing down by Hicks about asking for more money to buy players. Having delivered the club the 2005 Champions League and 2006 FA Cup with smaller financial muscle than that wielded by Liverpool's big three rivals, Benitez is loved by the fans, who are desperate for a long-serving manager to believe in, another cherished tenet of the Liverpool way. Some fans were unhappy enough to mount
a "Rafa stays" demonstration.
In January, unease turned into outright hostility when Hicks, out of the blue, told the Liverpool Echo newspaper that during the period he and Gillett were having
"communication issues" with Benitez, they had talked to Jurgen Klinsmann about taking on the manager's job.
To an extent, there is not a great deal to object to in that. Klinsmann was between jobs so they were not tapping him up. Whatever the fans feel, the owners could feel some justification for not wanting to be publicly arm-twisted by Benitez before the January transfer window, as he had re-stocked so amply back in the summer.
And – whisper it – Benitez has not quite had the golden touch of late that he once appeared to possess. There is a feeling that while cup competitions focus his mind and tactical decision-making acutely, he is over-worrying for routine Premier League games, shuffling his teams too much, and Liverpool's results are not worthy of his players.
Yet Hicks' mistake, which he did acknowledge, was to talk about the Klinsmann approach in public. Benitez now wears the look of a dead man walking, it was widely felt to be deeply unfair to him, and it was a long distance from the Liverpool way of keeping fallouts in the family.
The outrage hit Hicks and Gillett just as they were finalising the refinancing of their loan, and suddenly, DIC's name resurfaced with strong rumours that it was interested in buying out the pair. The company never confirmed it officially, but it was known to have made an approach, which was rebuffed by Hicks, who still believes his sporting investment will take him into the money.
Club paying interest
On January 25, the announcement was made. Kop Football Holdings, Hicks and Gillett's company which owns Liverpool, had borrowed £350m to refinance the previous £298m, including further money to spend on the stadium.
The announcement was not clear in itself, but a spokesperson for Hicks subsequently made it clear that the club themselves will be paying the interest on that loan, which still includes the £174m Hicks and Gillett borrowed to take over the club. It is a little difficult to see how that differs at all from what the Glazers did, and still Liverpool have a new stadium to build. They are expected to have to borrow another £300m to see that project through.
So, the search for new owners has delivered to Liverpool Messrs Hicks and Gillett, who, in 12 months, have travelled from much-loved American uncles to hate figures, and £350m borrowed, before a patch of Stanley Park has been dug up. Can this modern football fable really have a happy ending?