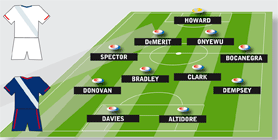 The USA's defensive strength goes straight down the spine of the team, with an exceptional goalkeeper in Howard, two rugged centre-back in DeMerit and Onyewu, plus Bradley and Clark in midfield as hard-tackling, dominating players. However, the side looks neither comfortable or convincing when playing a defensive game and it is at its best moving the ball forward.
This creative side of the USA's game tends to come from the flanks, via their overlapping full-backs – or, more particularly, with Donovan and Dempsey playing as wide midfielders. The exceptional stamina of both Bradley and Clark enables them to join in attacks and retreat rapidly if the ball is lost.
With his ability to get past defenders while on the run with the ball, Donovan is the key to the USA's ability to break down opposing defences.
Big worry
The big worry is over the fitness of Onyewu and Davies. Without Onyewu, Bocanegra would likely move to centre- back, with Bornstein coming in at left-back.
Meanwhile, if Davies is not fit, moving the versatile Dempsey up front is a sound option, with Edu replacing him in midfield. However, if Dempsey is retained in his midfield berth, Ching would be the likely partner for Altidore, with Johnson also in the running.
Team – 4-4-1-1
Howard; Spector, DeMerit, Onyewu, Bocanegra;, Donovan, Bradley, Clark, Dempsey; Davies; Altidore.