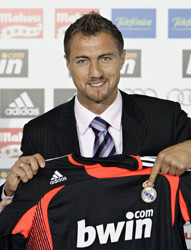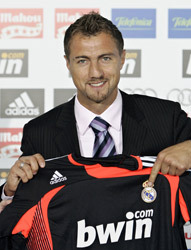 World Soccer: Your name will for ever be linked to Liverpool's incredible Champions League Final victory over Milan in Istanbul, particularly that double save late on from Andrii Shevchenko.
Jerzy Dudek: The save is still hard to explain. Luck played a part. On the first save I could only push the ball away. I fell into the goal, the ball dropped to him again, and I thought: "Get up quick! If you stay here, it's a goal." So I threw myself forward and I stuck my hand up and – bang! Normally, the ball would hit your hand, break your hand, and end up in the net, but I kept my wrist and palm strong and the ball just travelled high, high, high…Shevchenko was so angry to have missed the first shot and because we'd got back into the game that he smashed the ball. If he'd gone for technique, just placed it, I'm sure he would have scored.
What was your immediate reaction?
I looked at the scoreboard and said to myself: "That's what you wanted!" John [Arne Riise] kissed me, and I said: "What now?"
Well, penalties…
I was confident because in a shoot-out a goalkeeper has nothing to lose. [Jamie] Carragher jumped on me and was like [puts on Scouse accent]: "Listen, Jerzy, put them under pressure. Whatever you do, do something. Be crazy! Do you remember Grobbelaar?" I told him to let me focus.
I looked at the notes on penalties: Shevchenko right, Pirlo left…but I couldn't remember all of them so our goalkeeping coach said he'd signal which way to dive.
I was focused, the penalty takers were nervous, and I took Carragher's advice. Afterwards, the goalkeeping coach said: "Good job, but why did you dive the opposite way to what I told you?"
It must be difficult to go from hero to substitute straight away.
You're in heaven and then suddenly…I knew [Rafa] Benitez would buy a goalkeeper and I'd be on the bench, but I needed to stay and enjoy the moment, even though there were frustrations.
I became friends with [his replacement] Pepe [Reina] and never blamed him. I was only a little bit angry with Benitez but I couldn't understand why he didn't let
me go. Then I found out why and had to recognise that although it didn't suit me, he was clever.
What was the reason?
He wanted a good No 2, a foreign No 2. That way he wouldn't have the pressure of having an Englishman there, with people saying: "He's our hero, he's our future" – blah, blah, blah. That happened to me with Chris Kirkland, and that's why Rafa always loaned out Scott Carson. Scotty is a very good goalkeeper who should be at Liverpool but Rafa didn't want Reina to have that pressure.
Having endured the frustration of being a sub at Liverpool, why join Real Madrid, where the situation was likely to be the same?
I knew I could learn things here. I learned a lot under Benitez, about the way to manage a club. I'd never considered it before, but under Rafa I started to get involved. I started thinking: "Oh, this is interesting, what he's saying, what he's doing." And when Madrid came in, I thought: "This is the best team in the world, I want to know how it works; to see it on the inside." It was the best school for me for the future, as well as an education off the pitch: new language, new culture.
So would you like to be a coach?
Possibly. I've started analysing what my coaches do, and why, and I think I'm better prepared.
What was different about Benitez to other coaches you have worked with?
A player can take the good and bad from all his coaches, all his experiences. In England, you need to be physically prepared; in Spain, you don't have to be physically prepared, you need to be a better technical player. Every country has its own right way. If you prepared Madrid like an English club, it might not work. It's great for me: I'm getting a real insight.
What qualities would you highlight about the coaches you've played under?
[Poland coach] Leo Beenhakker is a very steady guy, everything's under control. Sometimes he seems switched off but he's always thinking. [At Liverpool] Gerard Houllier was fantastic with the players. He built a social club, a family, where the people who worked in the kitchen were treated with the same respect as the people up in the directors' box.
And Benitez?
Benitez came and he was like: "OK, now we have to know what we're doing. It's not just a case of me telling you to run up a hill and you doing it. You need to be asking me why you're doing it, what you're gaining from it, the reasons we do things." Tactically, he was the best, too. Tactics are very boring, there's nothing worse than tactics for a player because you just stand there for hours while the coach says: "In this play, you move up there, you stretch out here, you close off that side." But Rafa did it and it really works.
What about Bernd Schuster at Madrid?
Schuster is like Beenhakker. He has fantastic experience: when you come into big games he knows what to expect because he's lived it.
Does that mean it's an advantage for a coach to have been a player?
Not necessarily. Your respect has to come from him as a coach, not from what he was as a player. Otherwise, you think: "I'll never be as good as him, I can't play as well as he did." That happened when [Zbigniew] Boniek was Poland coach. When he took over, we were all thinking: "Oh, our hero is now our coach." He was always bigger than the team. There were times when we should have taken responsibility but we didn't because the attitude was that Boniek is so big that he'll do it. The key is to take the best qualities from all those coaches but build your own identity as a manager. I am trying to learn from them all; it's a great education.