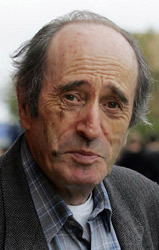 No excuse at all of course for the rantings and ravings of Didier Drogba and Michael Ballack at Stamford Bridge, where Chelsea were beyond doubt – I was there myself, denied by an inept Norwegian referee.
Who must now in West London, for those with long memories, be the most detested Norwegian since the collaborator Quisling. Tom Henning Obrego was beyond doubt an over promoted disaster but at least he was neither hit nor kicked by either Chelsea player though each now faces condign punishment.
Not so the hapless offender Ortiz de Mendibil, the Spanish referee whose scandalous decisions condemned Liverpool to defeat in May 1965 against Inter in San Siro. Liverpool who'd won at Anfield were eliminated on aggregate; and their hard midfield man. Tommy Smith, by his own admission, literally kicked De Mendibil, all the way to the dressing rooms after the game. De Mendibil did not, it seems, protest and no one was charged let alone punished. Not that this exonerates either Drogba or Ballack.
Another sidelight on the affair, Guus Hiddink Chelsea's manager whose replies at the press conference over Drogba's reactions and those of his team were somewhat ambiguous, himself benefited – beyond doubt quite innocently – from some dire decisions during the 2002 World Cup.
First, when his Korean team eliminated Italy, then when it got the better of Spain. In the second round game between South Korea and Italy, in which Bobo Vieri had missed the clearest of point blank chances, the game went to extra time. In which Vieri himself seemed to have atoned with what looked a perfectly good goal, only to have it refused for a phantom offside. So to the quarter-final. South Korea – Spain in Gwanju three minutes into the second half. De Pedro sent in a free kick, to which Ivan Helguera responded by leaping above a knot of players to head home. For no obvious reasons the Egyptian referee, Gamal Gandur, gave South Korea a free kick.
Worse, or something arguably as bad, was to follow. In extra time, Joaquin crossed from the right and Fernando Morientes headed in. On the insistence of the linesman, Michael Ragconath, the goal was disallowed on the spurious grounds that the ball had crossed the right hand goal line in its trajectory. And when it came to the penalty shoot out, when Joaquin himself took what proved to be the fatal kick, Lee Woon-Jae in the Korean goal quite plainly came off his line to save. So as far as Hiddink is concerned, you might say that what goes around comes around, however unfairly.
Suggestions that there was dirty work at the cross roads at The Bridge have no evident basis in reality. As one who has spent many years investigating the referee bribing of Inter and Juventus in the 1960s and 1970s. I know better than most people what a huge gap there is between evident refereeing error and proved conspiracy.
Seldom so well illustrated when, some years ago, Franco Zaffirell, the famous director of film, theatre and opera, appealed to me for help when being sued by Juventus. The club you may recall, at the centre of the infamous scandal of their attempt to bribe Franciso Marques Lobo, due to referee the Derby County-Juve second leg semi-final of the European Cup, in 1973. Lobo refused, blew the whistle if one may coin a phrase, on the attempt by the Hungarian "hitman" Dezso Solti to bribe him; only for UEFA, deplorably, to sweep the dirt under the carpet.
We were given a "cough", originating in Budapest at the Sunday Times. Juve, shamefully and shamelessly exonerated by Hans Bangerter, the UEFA secretary, at the time, had escaped Scot-free. Despite our revelations, only Solti with a feeble one-year ban was brought to book. And Inter had been at it right through the middle 1960s; twice in semi-final successfully, once, on their third attempt in 1966, not, when a brave Hungarian referee, Gyorgu Vadas, refused all bribes before the return match against Real Madrid, but alas, at that time and for many years afterwards, never blew the whistle like Lobo.
Zaffirelli, a passionate Fiorentina fan had impugned Juve on the grounds that a number of filmati TV clips, showed referees making dubious decisions in their favour. But, quite rightly, that cut no ice at all. Where was the proof, the substance, of his top of the head accusations? Maybe every referee was guilty, maybe the lot of them were innocent, but such accusations in the void, like those against Obrego, now have no substance.
If you don't get a "cough" you don't get anything and even if you do get one, as we saw so sadly and disgracefully in the Lobo-Solti case, it is just as likely that nothing will happen. Franco paid heavily.