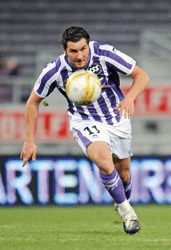 Not one to tinker with a winning formula, of the 15 goals Andre-Pierre Gignac had amassed by early March, none were scored with his head or his left foot. The right boot is the
Toulouse striker's weapon of choice – and what damage he has wreaked with it this season.
Unusually for a such a prolific goalscorer he is no penalty-area predator. The lone front runner in Toulouse's 4-5-1 system, the 23-year-old does his best work outside the box, where he latches on to through balls, powers forward and lets fly at every opportunity.
"I'm a spontaneous sort of player and if I have the chance to shoot, I go for it," says Gignac, who was born and brought up in Provence but served his footballing apprenticeship at Breton club Lorient.
"It often pays off because I strike the ball very well. But I'm aware too that I could be more unselfish at times. I must work on my vision, be more prepared to pass to team-mates in better positions. I suppose I'm like all strikers in that I can be egotistic."
His current hot streak stands in rather marked contrast to his nightmarish fortunes last season following his £3.3million move from Lorient.
For most of the last campaign Gignac served as understudy to first-choice striker Johan Elmander, and when he did start his performances were laden with muscle and energy but lacked thought and composure.
Events last summer would, however, offer him a second chance. The sacking of coach Elie Baup and his replacement with assistant Alain Casanova meant a clean slate for everyone at the club. And with Sweden's Elmander leaving for Bolton Wanderers in the Premier League, there was a vacancy up front which "Dede" gratefully stepped forward to fill.
"Suddenly I felt that the coaching staff and my team-mates were counting on me," says Gignac. "It was a tremendous boost to my confidence. I began to work harder in training on my weaknesses."
That endeavour also earned the striker his first cap, coming on as a sub in the 1-0 World Cup qualifying win against Lithuania in Paris in April.
Of course, Toulouse do not want to lose the man responsible for most of their goals this term and they recently extended his contract by another year, signing him up until June 2012, but a move to foreign climes is far from out of the question. If Spanish and English clubs like what they see they will not be deterred by legal ties or the £12m price tag Toulouse have put on his head.
If Gignac does go, he will hope that the transfer is not such an acrimonious, protracted affair as his last move when he initially agreed to quit Lorient for Lille, only for Toulouse to arrive late on the scene and gazump them. Lille remain sore about it to this day, understandably angered by the glut of goals which slipped through their fingers.