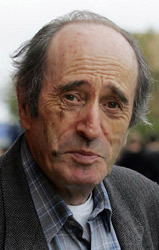 If getting the 2018 Wold Cup for England means grovelling to the likes of the ineffable Jack Warner, can the game be worth the candle? That this outrageous figure should in the past few days have been treated at his own ludicrously exaggerated valuation, that he should for a moment have been taken seriously as an arbiter of world football, instead of the proved operator that he is, simply takes the breath away.
Even he among his various pompous and self important statements, his impertinent advice on how English football should conduct itself, was perceptive enough to reflect on the absence of the FA Chairman Lord Triesman from Port of Spain for the Trinidad-England game, "The reason some people give me for why he's not here, I'd not like to tell you. I would hope that they are not the truth, that he didn't want to associate with me for all kinds of reasons."
All kinds indeed. Surely not forgotten are the spiteful and baseless criticisms Warner voiced only a few months ago about English football and its supposed unpopularity in Europe. Now he has been drivelling away about how England should integrate itself with the European game. What evidence has the deluded fellow that our football is not integrated with the European game, so soon after two English teams contested the final of the European Cup?
If you want to read the full, deeply depressing account of how Warner made himself fortunes out of FIFA and obtained huge sums of money to build a training centre which should never have gone to so remote a venue as Trinidad, how he managed against all logic to bring the Under-17 World tournament to Trinidad, then ran it abysmally badly – the Australian team were incensed by their wretched accommodation, the way they were made to play in the heat of the day – then read Foul! The alarming book by Warner's Nemesis, that excellent investigative writer, Andrew Jennings.
Most recently, there was the World Cup finals ticket scam of 2006 in which Warner's son carried the can. And after the Trinidad and Tobago team had given such a splendid brave account of itself in the Finals, when one saw them, down to 10 men, hold Sweden to a draw 0-0, their players bitterly protested that Warner hadn't paid them what they were due. The money, I believe, was prised out of him eventually.
The problem is that, having wormed his way to the dominance of the dubious CONCACAF Confederation, with the help of the corpulent Chuck Blazer, some months ago publicly accused by a New York court judge of lying over the Mastercard-Visa affair – he virtually controls 34 FIFA votes. Which means that he can do pretty well what he likes – as Jennings plainly shows – with Sepp Batter. Which is odd in a way, given that Blatter is supposedly on the last leg of his controversial Presidency and would, therefore, no longer be in need of those 34 votes at an election.
To his credit, Jeff Powell, in the Daily Mail, didn't follow the feeble and mindless party line in taking Warner at his own valuation, referring to Warner as a "FIFA rascal." It wasn't so long ago that, under pressure from the late and by me hardly lamented Tony Banks, the FA caved in to the government and bullied Manchester United out of the FA Cup tournament, though they were the holders, to take part in a meaningless, confected, Blatterseque tournament in Brazil. But grovel is as grovel does. It didn't work then and there is no certainty, given all the candidates, that it will work now. And even if it did, it could surely not be worth selling out to the vanity and the 34 votes of such as Jack Warner.
***************
Lord Triesman, FA Chairman, a man of substance, intelligence and integrity, must surely wonder at times what he has left himself in for at Soho Square. For we also have the sheer scandal of the exoneration of Manchester United's Alex Ferguson and Carlos Queiroz after their shocking abuse, not only of the referee Martin Atkinson but of Keith Hackett, the referees overseer, following Portsmouth's FA Cup win at Old Trafford. No wonder an FA spokesman announced that, "We are surprised and disappointed by the verdict." And that the FA have thought about appealing; which they can now do and which they surely should.
Beaten by a Portsmouth penalty when, in all truth, they should have had one themselves, Ferguson trumpeted "I cannot explain it!….That performance should not be accepted by our game." Portsmouth, he averred, knew "the referee was on their side."
Queiroz chimed in, while Ferguson then turned his guns on Hackett. "I think Keith Hackett's got a lot to answer for. I don't think he's doing his job properly and he needs to be assessed. He's got his favourites, as everyone knows. Steve Bennett, Mark Clattenburg, Phil Dowd, all these people – we never get them at home, always away, and I think that tells you everything about him (Hackett). Clattenburg: Oh Jesus, God!" to which Queiroz added. "The referees is a disgrace. What we cannot accept are referees who watch only one side. This referee deserved somebody to come to the side of the pitch, give him a red card and pull him out of the game."
What sort of a "four man commission", seemingly including a QC, acquits such men of such manifest excesses? One law for the rich and another for the poor?
***************
Still no real sign that Fabio Capello is getting things right, that there is any immediate cure for his severe case of Beckhamitis; however often and excessively he enlarges his entourage. At Wembley, against the USA, he at first, quite apart from using David Beckham ahead of David Bentley, persisted with the folly of using Steven Gerrard and Frank Lampard together, which condemned Gerrard in the first half to isolation on the left wing.
Beckham would be an ideal asset, were soccer played like American gridiron football, enabling stoppages of play to take place, wherein goal kicker specialists would come briefly on to the field. Whatever the undoubted value and merit of Beckham's crosses and free kicks, he remains a static player who could never beat a man and cross for a goal as Bentley did, when he came on belatedly, in the second half. And quite how Capello, with all his knowledge and experience could compare Beckham with Cristiano Ronaldo, who can actually run, boggles the mind.
David James showed in Port of Spain that reckless penchant which whatever his undoubted natural abilities, has cost club and country so many goals. There was absolutely no need for him to come belting out of his penalty area to intercept the unfortunate Kenwyne Jones painfully, when Rio Ferdinand had the situation well in hand. It may or may not have been a foul, but it forced Trinidad's best player and best hope of goals off the field, with a ligament injury which could put him out for weeks.
As for Joe Hart, who replaced James in the second half, his two feeble attempts to deal with successive left wing corners hardly suggested he is ready for international football yet. For me, Ben Foster is still far and away the best bet and I hope he will soon be fixed up with a major club, either on loan or as a permanent transfer from Manchester United, where the way is barred by Van der Sar.
***************
If he'd good enough, he's old enough, surely? Why did John Toshack find no place in his Welsh squad, let alone the team for the wonderfully precocious 17-year-old Aaron Ramsey of Cardiff, in the matches versus Iceland and Holland?
***************
Good to see so much last week of Giovanni Trapattoni, whom I've known since he played left half for the Italy 1960 Under-21 Olympic team. Six times winner of the scudetto as manager of Juventus, once, at a canter, with Inter, 17 times capped for Italy, including his subduing of Pele in 1963: Italy 3, Brazil 0. He has of course also managed Italy, with varying results, in the 2002 World Cup finals and the 2004 Euro finals.
What can he do now as manager of Ireland? Not a great deal, I fear, having seen their wholly unmerited 1-0 win over a far superior Colombia side at Craven Cottage: though, ever the optimist Trap insists Ireland can qualify for the next World Cup. At last they have rediscovered a superb veteran keeper in Dean Kiely, back after five years, in place of the injured Shay Given. He and his fine saves kept them afloat after a very early ricocheted goal by captain Robbie Keane; who Trap hopes will be his Totti; "I'm not as good looking," Robbie smiled, but nor does he spit in opponents' faces or smash up dressing rooms.